This March, we want our Empowerment edit to make you feel more empowered. We've carefully picked an amazing selection of makeup, skincare and haircare products that were either created by small businesses that have grown into global influencers, by brands that support local communities through fair trade, or by innovative and go-getting entrepreneurs.
Dream big Glossies, we want their stories to inspire you…
What's In Your 'Empowerment GLOSSYBOX?
Plump And Protect Your Lips
The first sneak peek from your 'Empowerment' box is a plumping lip balm that restores and protects dry lips. Its thick and creamy formula is softening and smoothing, while the hints of peppermint and capsicum plump your pout and enhance its natural shape. It was created by BYBI, a 100% natural, vegan and cruelty-free beauty brand founded by two best friends.
I'll be interviewing them later in the month for all the inside gossip! In the meantime, read this blog to find out more about your first sneak peek.
Your Second Sneak Peek: Confidence-Boosting Primers And Perfectors
If you want to give yourself a confidence boost this month, we've got your back. Your March edit will include one of five priming and perfecting products that will make you feel empowered and ready to face anything the world throws your way. Keep an eye on the blog for the full reveal!
A High Impact Makeup Product
We'll also be treating you to a makeup product with a serious colour payoff. Get ready for a smooth matte finish that lasts for hours!
You'll have to wait until you receive your box to uncover the other products. Until then…
Here Are The 6 Exciting Things Happening This Month
1. Meet Four Inspiring Women
I've spoken to four inspiring women who all successfully started their own businesses. From SheerLuxe founder Georgie Coleridge Cole to MyBaba creator Leonora Bamford, I'll be sharing their success stories and their top tips on how to feel empowered.
Keep an eye on the blog. The first one is heading your way tomorrow!
2. Our 'Mother's Day' Limited Edition Box Is Coming Soon
Our special design 'Mother's Day' Limited Edition box will go on sale on Monday 11th of March. I'll be revealing all the products from Monday 4th of March. For now though, read The Story Behind The Box for more information.
We'll also be hosting a 'Mother's Day' edition of our Facebook Live on Monday, 11th of March at 7pm. Deepa and Lois will be unboxing all the products inside our special Limited Edition.
3. The GLOSSY Lounge Is Here
We've got some amazing deals for you in the GLOSSY Lounge this month from top brands like Illamasqua, Ameliorate, NastyGal, Boost and more!
On the 15th of  March, we'll be introducing a new set of incredible offers from must-have beauty, fashion and lifestyle brands. Stay tuned!
To enjoy the VIP experience, simply log into your subscriber account and shop the offers.
4. Our Facebook Live
We love our monthly Facebook Lives! It's a great opportunity for us to interact with you lovely Glossies and answer your product-related questions. In February, over 160 thousand beauty lovers joined us.
This month, Lois and Jess will be hosting our live unboxing on Monday 18th of March. They'll have all your insider tips and tricks. Plus, they'll be giving you the chance to win an amazing bundle of prizes. We'll also be doing a special live giveaway. Don't forget to tune in!
5. Download This Gorgeous Phone Wallpaper
If you're on a mobile phone, just press down on the images until the options menu pops-up and select 'download image'. If you're on a computer, simply right-click on the image and select 'save image as' to download this gorgeous calendar.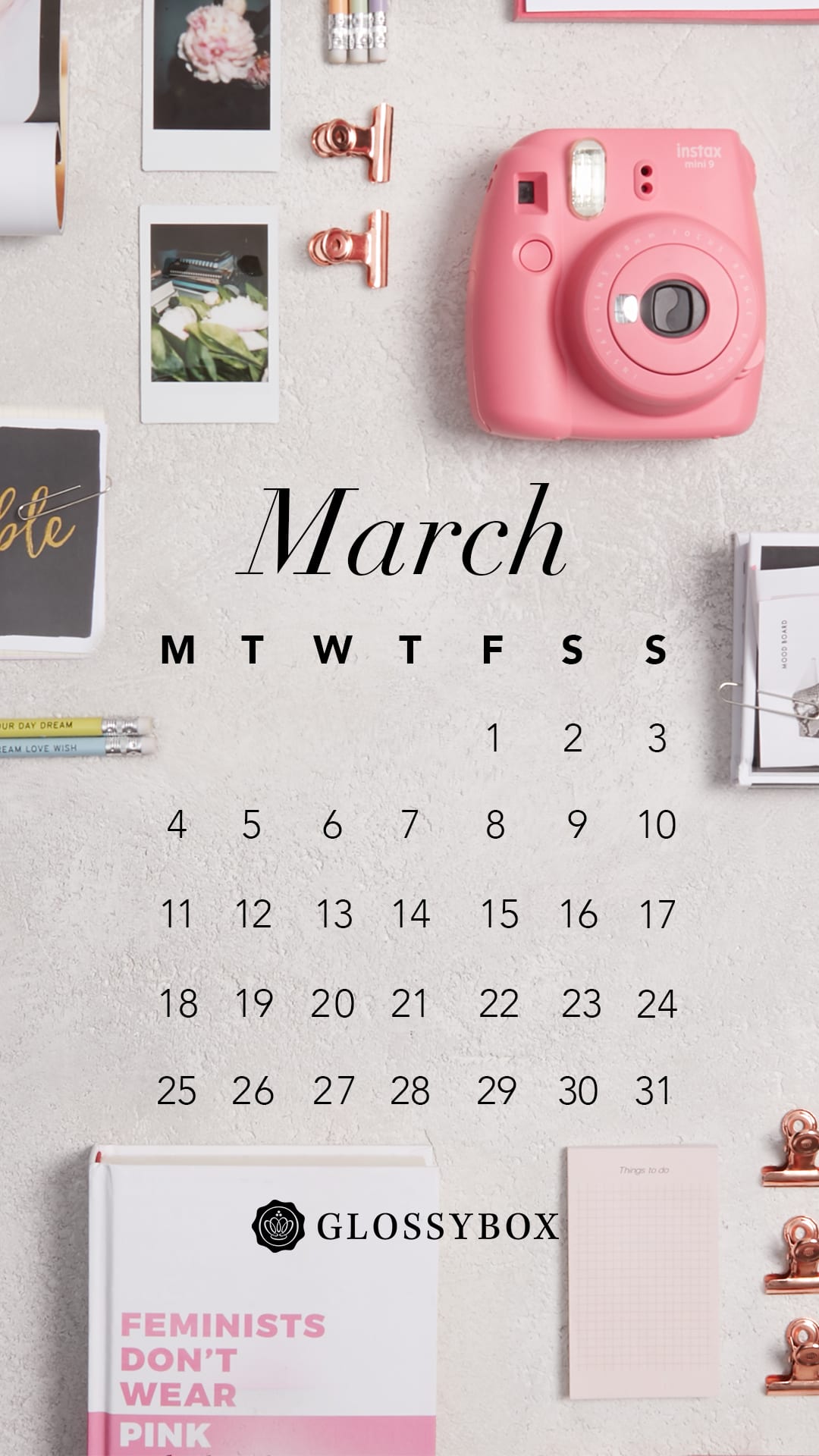 6. Get Your GLOSSYBOX Empowerment Jumpers
We're selling Glossy-exclusive jumpers and mugs this month! You can either get the lovely black 'YOU CAN' sweatshirt, or the white 'DON'T QUIT' sweatshirt, while the mug has an adorable Glossy pink font. Click here to buy yours now!