Happy Holi Festival Glossies! Holi is the Hindu Festival of Colour that takes place every year from the 1st March till the evening of the 2nd March to celebrate the start of Spring! Many of us, including Kim Kardashian, have already started booking appointments to brighten our hair, add a few highlights or try a whole new colour to compliment the Spring and Summer months.
We understand a dramatic new hair do can strain your bank account and take up a lot of time. We teamed up with our friends at Fudge to test our their Paintbox Hair Colourant! GLOSSY team member Amy jumped at the chance to try out the Pink & Lilac shades on her hair – as you can see the results below are incredible!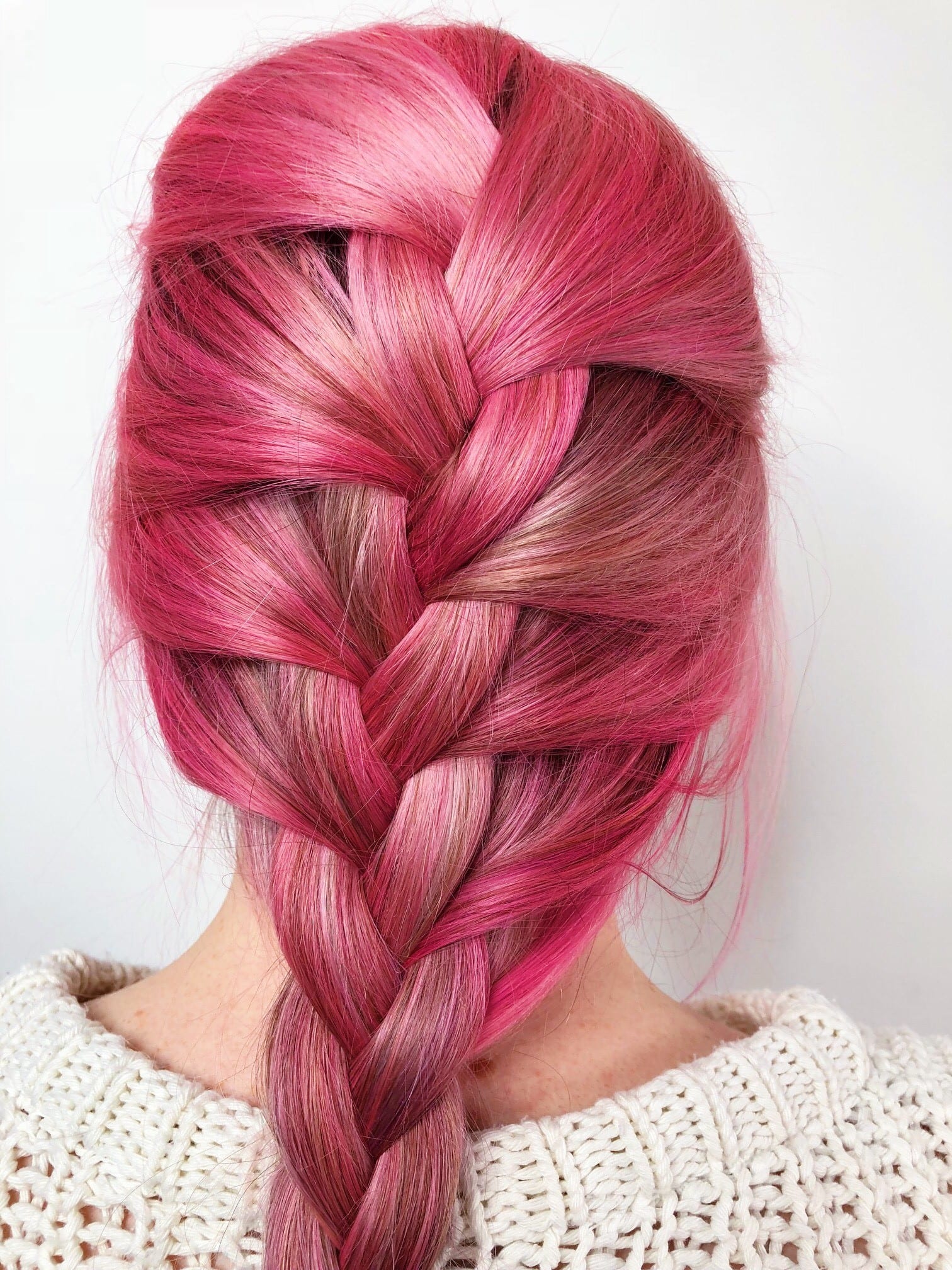 The formula is enriched with moisturising agents and keratin proteins that stains the hair's cuticle for long-lasting effect
Fudge Paintbox Hair Dyes
Fudge Paintbox Hair Colourant are semi-permanent hair dyes available in 'Pink Riot', 'Raspberry Berry', 'Lilac Frost', 'Chasing Blue', 'Coral Blush', 'Gold Coast, 'Purple People' & 'Red Corvette'.
They can be applied alone or with other shades in the range to create a customised look (perfect for Holi Festival or the Festival season in general!).
The formula is enriched with moisturising agents and keratin proteins that stains the hair's cuticle for long-lasting effect, whilst conditioning and hydrating strands to leave hair luscious and healthy-looking with enhanced shine which is a rarity with home dyes.
We wanted to know more so caught up with Amy about the process.
How did you apply the Fudge Paintbox Hair Dyes?
Amy: "I started off washing my hair with shampoo as normal (although I was careful not to scrunch my hair too much) and gently towel dried. I emptied the Paintbox tube into a small plastic bowl and mixed in a little conditioner to pastelize it a bit.
To apply the product I separated my hair into small sections and started painting from the root down to the ends, careful not to stain the scalp, and then massaged the colour into the hair – wearing gloves!
I applied the 'Pink Riot' to the top of my head and then used 'Lilac Frost' for the root. When applied, I left the colour to process for 30 minutes.
It was really easy to wash out! I hopped back into the shower and rinsed out the colour, then applied some conditioner to the lengths."
Did you prefer one colour over the other?
Amy: "I think my favourite colour is 'Lilac Frost', it's a really pretty shade, not too light not too dark and would suit a lot of people."
Any words of advice for our GLOSSIES?
Amy: "Be brave (it's only semi-permanent!)"
I love it! It's relatively quick and easy to do compared to traditional hair dye, and the colours are nice and strong. I would like to try it again once this colour fades, maybe just painting strands, or with different colours.