If you caught our Facebook Live today, you will have seen an unboxing of our February 'Galentine's' GLOSSYBOX, with tips and tricks on how to use the products with Sarah and Amy!
We also gave those who tuned in to win an AMAZING beauty bundle worth over £450, including products from brands such as Ciaté, Sleek, Studio 10, Skin Chemist and Sanctuary Spa! This competition is open till Tuesday so make sure to Like, Share and Comment for your chance to win.
I loved your comments during the Facebook Live! I've gone through the comments and answered your questions below so all you GLOSSIES can benefit from our tips and tricks.
Cat Leech
"Can you use the Steve Laurant for eyeshadow or a blush too? It's so creamy!"
I am a huge fan of the Steve Laurant lip tint , that was in this month's box as I have a pale complexion and the nude shade really compliments it. The shade is very subtle and I have used it to add a little colour to my cheeks. It applies very well due to its texture and is perfect to blend. I wouldn't recommend using as an eye shadow as it is very creamy and may not hold due to the moisture on your lid.
Kelly Louise
"Will the 24-hour Aqua Repair Facial Serum help my tired mummy eyes?"
This moisturiser specialises in soothing and hydrating the skin all day. If you're a mum constantly on the go then it's the perfect product to pop in your bag for a quick zap of hydration and brightening. It is not advised to apply directly to the lid of your eye but, when applied on the bags of your eyes in the morning, the boost of hydration is extremely refreshing and awakening.
Additionally, it specialises in reducing the appearance of fine lines and wrinkles that you could be seeing due to stress or exhaustion.
The 24-hour Aqua Repair Facial Serum by skinChemist , £64, works as a great primer and is suitable for all skin types to answer Sammie Jade Richardson's question as to whether we know a good primer for sensitive skin.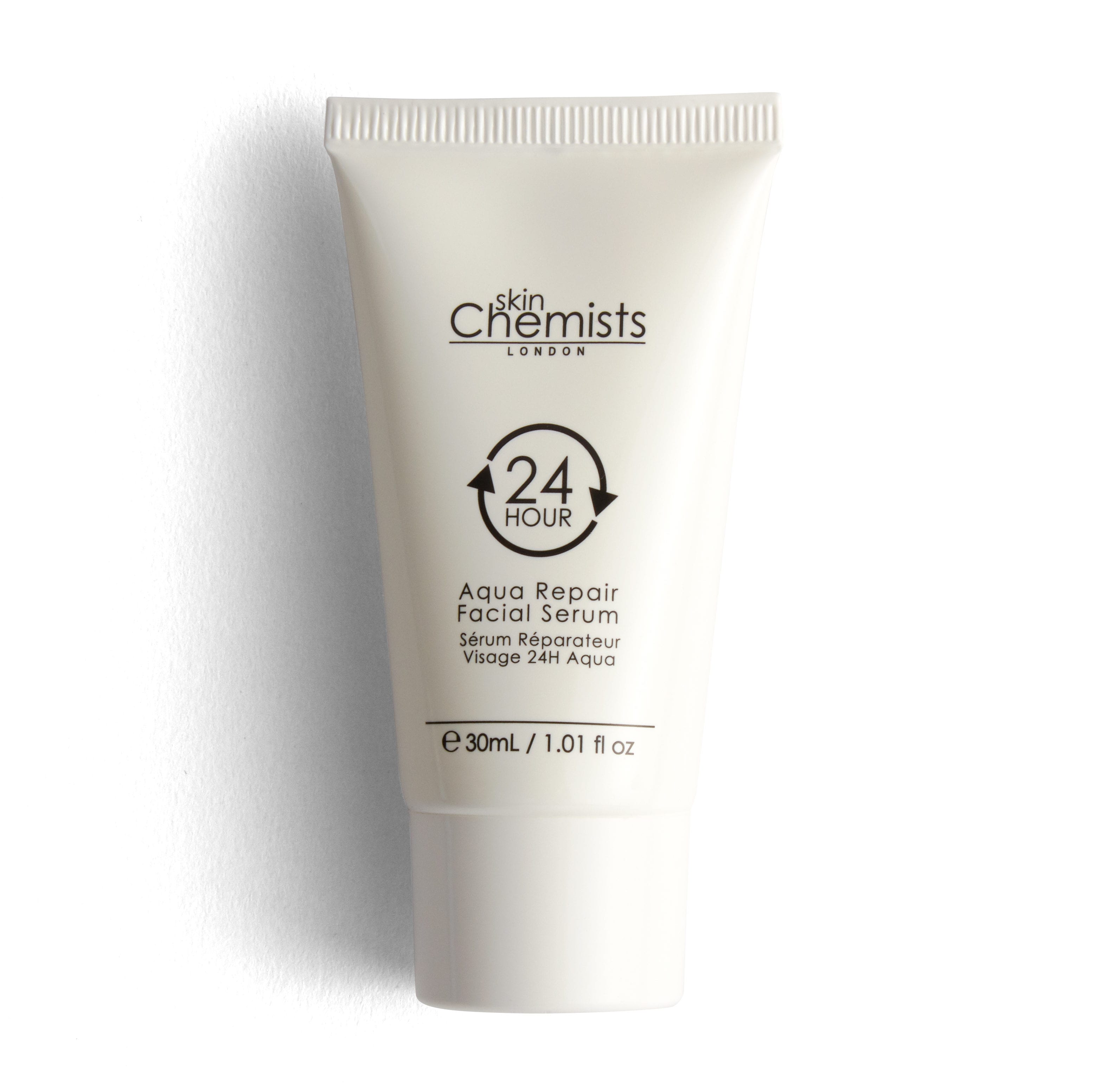 Thomasine Walkey Olinga
"I have hazel eyes and would love the green in them to pop. What colour would you suggest for eyeshadow and eyeliner?"
In this month's box our Glossies received either the 'Vintage Romance' or the 'Storm' , £8.99, Eye Shadow Palette by Sleek. Both palettes have a wide variety of shades with amazing pigment to really make your eyes pop.
With hazel eyes, I would recommend using the purple, grey or gold shades found in both palettes to blend over your lid. Then, apply a black or brown eyeliner to really make the green in your eyes shine.
Glossy tip: Due to the amazing pearlescent pigment of the eye shadow, I have started using the lighter shades in my 'Vintage Romance' palette as a highlighter across my cheek bones and the bridge of my nose.
Hayley Collingwood
"I  cannot apply fake lashes, I'd love some tips. It's my 33rd birthday on Monday and I would love some gorgeous lashes"
I struggle with having short lashes and hate the effort of applying fake ones as my eyes always water. Plus, I always struggle to find a mascara that works for me. The Icona Milano mascara from this month's box is exactly what I've been looking for. The thin brush allows all my small lashes to be coated with the black, creamy formula to create dramatic volume. Plus, the mascara is waterproof which means it doesn't smudge when my eyes water.
Nikki Harwood
"What do you use to remove make up at night?"
I love to use the Garnier Micellar Gel Wash to remove my makeup. Everyone is different so choose what suits your skin type. Amy mentioned in the Facebook live that she prefers to use Micellar water with a cotton pad across her face to cleanse and purify whereas Sarah recommends using Caudalie's Foaming Cleanser which is really gentle and has a natural formulation using grapes.
Cleansing can be quite harsh on your skin so make sure you remember to moisturise after removing your makeup by using a product such as the 24-hour Aqua Repair Serum by skinChemists.