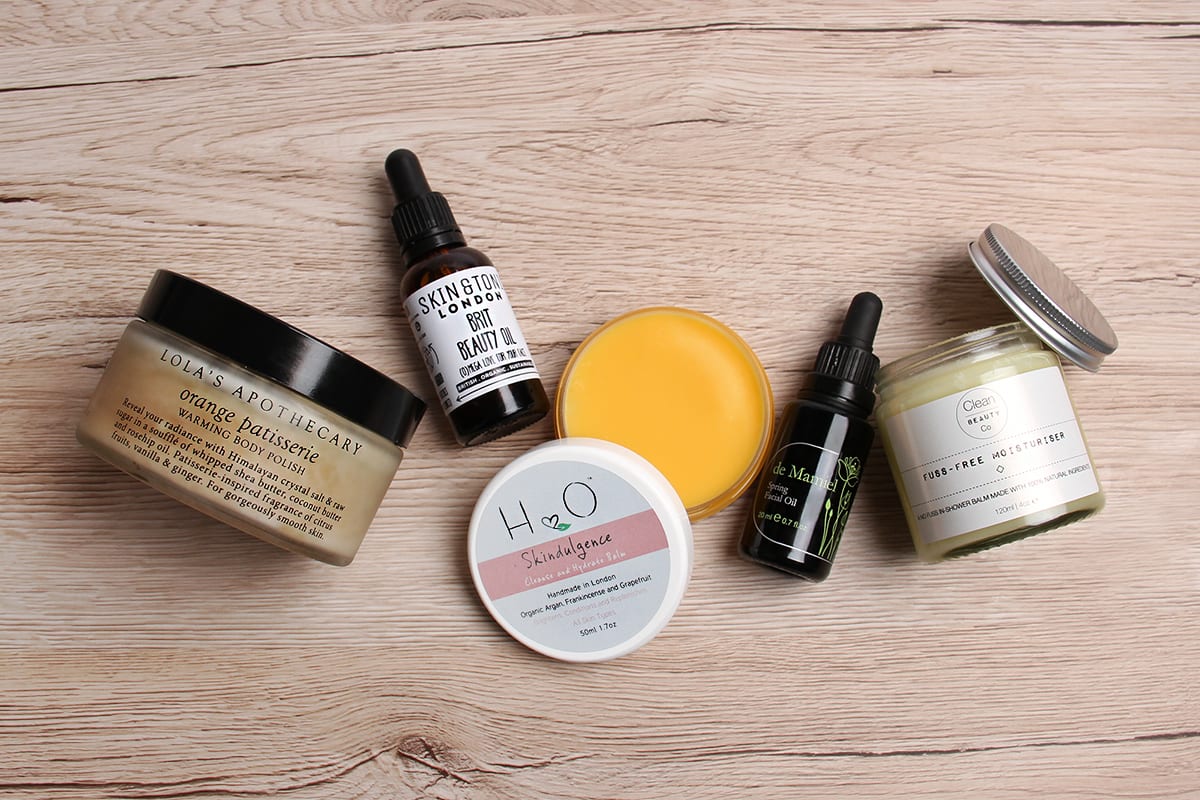 Whether they're lovingly whipped up in someones kitchen or carefully crafted in super small batches, we have a major soft spot for artisan beauty products. Don't get us wrong, the power players of the beauty world will always have a firm place in our routines, there's just something ever so satisfying about applying a facial oil that someone has cooked up using their very own hands.
Usually blended using the most natural of ingredients, the main reason many of these handcrafted brands started is because their founders wanted to create products to tackle their own skin concerns, from sensitivity to blemishes.
Here are five small batch beauty brands to have on your radar…
Skin & Tonic
Created in Hackney, London, Skin & Tonic came about after founder Sarah re-trained in Aromatherapy and Skincare Formulation, then started mixing up her own blends using using simple, organic ingredients.
The whole collection of products, from face oils to masks, is crafted in small batches using, where possible, locally sourced ingredients. We're particular fans of the Skin & Tonic Brit Beauty Oil, £28, as it's made with omega-rich oils that are distilled right here in the UK. It smells incredible, thanks to the combination of neroli, chia and thistle, and leaves your complexion utterly silken and radiating health.
H&O Skincare
Utilising the best sustainably and locally sourced plant-derived ingredients, H&O's organic and natural skincare collection is handmade to suit all skin types.
The best-selling Skindulgence Cleanse and Hydrate Balm, £42.50, is hand blended and melts into your complexion to remove every last spec of makeup, leaving your skin super soft and nourished. You can also use it as an overnight treatment to quench the most parched of complexions.
Lola's Apothecary
The story behind Lola's Apothecary reads like a feel-good movie script. She was inspired to create her own beauty products that marry effective, natural skincare with the incredible smell of perfumed formulas – minus any chemicals. So Lola and her partner Dominic bought a little farmhouse in Devon, and started mixing up concoctions for Lola's Apothecary.
Our favourite product so far? The Orange Patisserie Warming Body Polish, £30. It's a combination of Pink Himalayan crystal salt and raw cane sugar, to gently slough away any dead skin, while shea butter, coconut butter and rosehip seed oil leave your skin super smooth.
de Mamiel
One of our favourite things about de Mamiel, is that founder Annee hand-blends a specific facial oil to suit every season of the year, from summer right through to winter.
Using a combination of plant extracts, each oil is designed to help your complexion deal with what's happening around it, from pollution to harsh weather conditions. The Spring Facial Oil, £70, will stimulate and revive your skin – and it smells utterly incredible.
Clean Beauty Co
Using high potency ingredients, the London-based duo behind Clean Beauty Co create all-natural recipes for a range of beauty products. What's more, they also let you in on the recipe, so you carry on creating your own from the comfort of your own home.
TheSupercharge Serum, £32, contains prickly pear and jasmine oils moisturise, soften and encourage skin cell rejuvenation, while meadowfoam, poppy seed and lemongrass oils work to balance and even skin tone.
Love this? For more beauty tips, news and tutorials see what's new on Beauty Unboxed today.