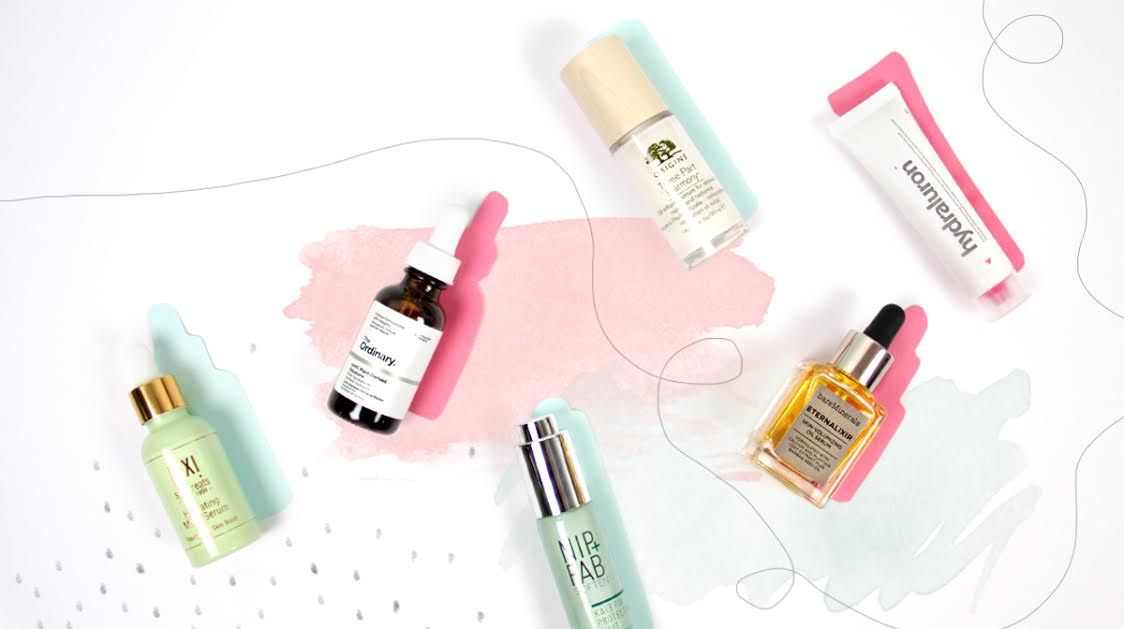 Whether you've got dry skin all year round or just suffer during the winter when temperatures drop and the central heating amps up, a super hydrating face serum could be the answer to your skincare problems.
Unlike rich face creams, a serum contains fewer emollients (the moisturising ingredients which make a cream thick and gloopy) which means there's more room in the formula for higher concentrations of the powerhouse ingredients that really get results. When it comes to saving dry skin, that means intensive hydrators like hyaluronic acid (sounds scary, but it's actually super gentle and naturally-derived), Vitamin E, amino acids and ceramides, plus plant oils that are rich in essential fatty acids and replenishing omegas.
The great thing about a serum is that it packs all these potent ingredients into a gel-like formula that still feels incredibly light on the skin—a bonus if you don't like heavy creams, or want to layer it under your favourite moisturiser.
Our tip: If your skin tends to feel dry and tight while you wear makeup, add a few extra drops of serum to your foundation, then apply as normal. It'll help give you dewy glow, too!
Interested in trying a new face serum? See our pick of the best face serums specially formulated to replenish dry skin.
Jurlique Calendula Redness Rescue Restorative Treatment Serum, £45
If you're prone to redness or irritation when your skin gets dry—hello eczema, rosacea and dermatitis—try this soothing serum containing calendula extract.
Indeed Labs Hydraluron™ Moisture Boosting Facial Serum, £24.99
Layer this under your daily face cream for an extra boost of hydration that'll last all day.
Pai Instant Calm Redness Serum Sea Aster and Wild Oat, £31.50
Another great option if your skin is prone to sensitivity, this Pai Instant Calm serum contains organic ingredients and nourishing plant extracts, without any harsh skin aggravators.
Nip + Fab Kale Fix Protecting Shot, £19.95
Harness the power of kale, plus a cocktail of vitamins E, C and B5, to give skin an extra shot of hydration and radiance.
Origins Three Part Harmony Serum, £63
For seriously thirsty skin try this triple-effect serum from Origins, which blends plant butters and vitamin E to hydrate, soften and revitalise.
The Ordinary 100% Plant-Derived Squalane, £5.50
Found naturally in the skin and also plants, squalane is a super hydrating oil which, when applied in serum form, leave skin feeling moisturised without clogging the pores.
bareMinerals Externalixir Skin Volumising Oil Serum, £30.40
Dry skin can lack volume, which is exactly what this new serum from bareMinerals targets. Combining plant oils with calcium, the serum hydrates and boost radiance while plumping everything up.
Yes To Blueberries Intense Skin Repair Serum, £14.99
This serum is geared towards anti-ageing, but is also packed full of essential fatty acids, vitamins and antioxidant blueberries, to flood dry skin with moisture all while smoothing fine lines.
Pixi Hydrating Milky Serum, £26
The milky texture of this serum makes it feel incredibly light on the skin, despite the formula being chock-full of hydrating ingredients including aloe vera, jojoba oil, glycerin and vitamin E.
Sukin Super Greens Facial Recovery Serum, £15.99
Not eating your greens? Slather them on your face instead with this paraben-free serum. Kale, spirulina, chlorella, avocado and grapeseed oil combine to leave your face feeling glowy and hydrated.
Love this? For more beauty tips, news and tutorials see what's new on Beauty Unboxed today.