During this strange period, it can be tempting to quickly whip your hair into a messy bun and then not think about it for the rest of the day (I think we're all guilty of not washing it as often as needed too!). So, to inspire you to start a fresh new look and develop your hairstyling skills during the lockdown, here are four beautiful hairstyles for spring to update your tresses.  
From a ponytail upgrade to braid detailing, all of these looks are easy to master!  
Four Hairtyles For Spring
1. The Fishtail Braid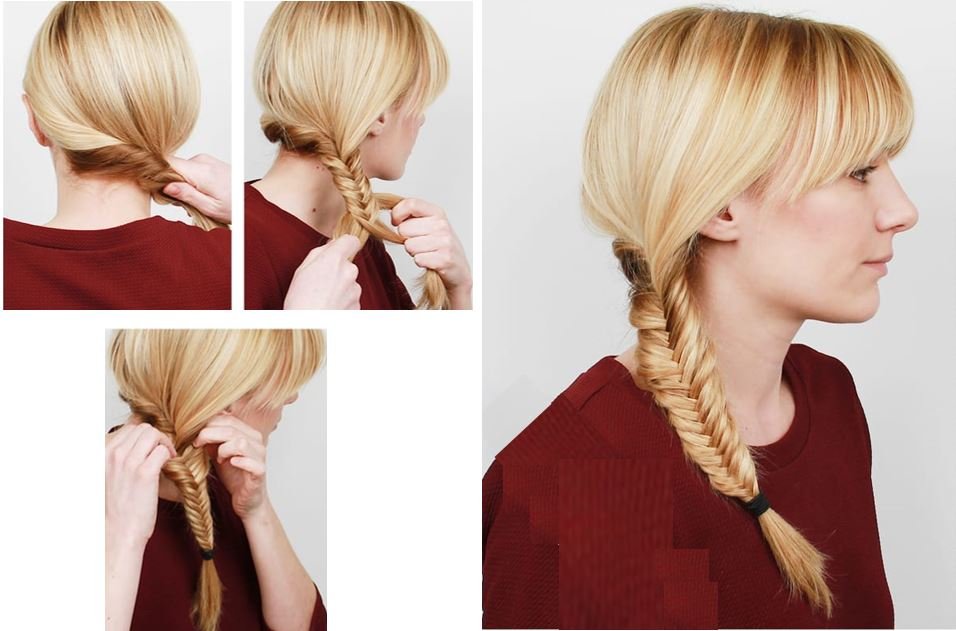 A snazzy twist on the classic plait, this fishtail braid looks stylish and cool, adding some hippy-chic flare to your look.  
Carefully brush through your hair until it is smooth and knot-free, then pull it all to one side of your head. 

Twist your hair along the base of your hairline, sweeping it from one side of your head to the other. Then, secure the twist in place using hair grips. You should now have a low side ponytail.

Split the ponytail into two 

halves

. Take a small piece of hair from the back section of one half and bring it over the top into the mid

dle. Repeat on the other side. Then, keep alternating sides until all your hair is fully braided.

 
Related: How To Revive Your Hair For Spring With HASK
2. Waterfall Braids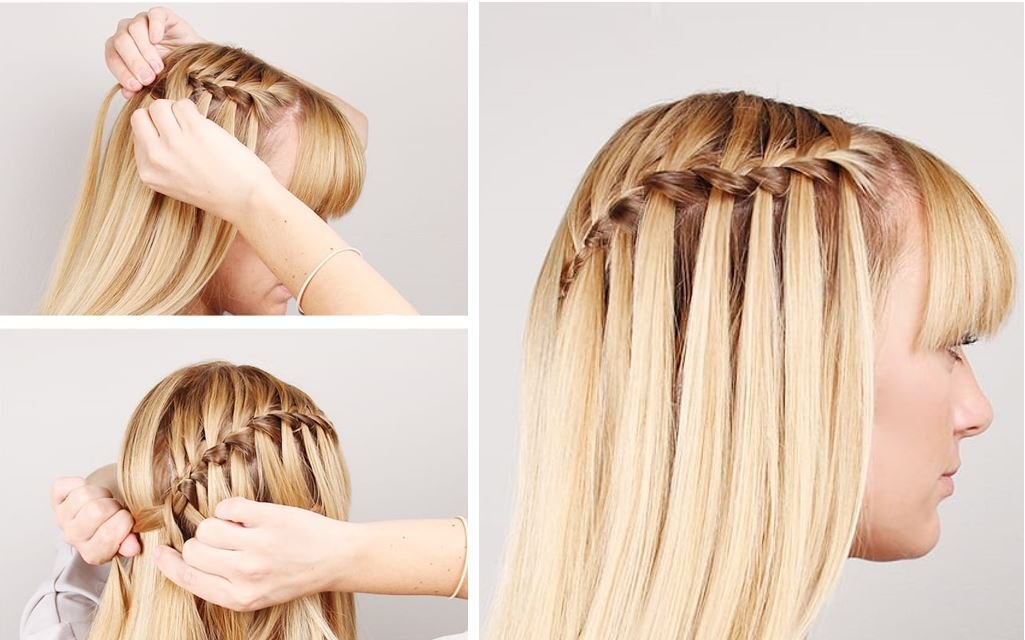 You can create gorgeous, flowing braids on either side of your head, or just focus on one side. We choose to just braid the right side, giving the look a modern twist.  
Near the hairline on the top right side of your head, separate the front section of your hair into three strands (as if you were doing a French plait).

 

Start braiding. Cross the strand of hair closest to the top of your head over the middle section, then cross the bottom section of hair over so it's now in the middle.

 

Repeat the process, only this time drop the middle strand down so that it falls in line with the rest of your hair. Then, replace the fallen strand with a new section of hair that you pick up from behind it.

 

Repeat steps 2 and 3 until the braid reaches the back of your head, then fasten it in place with a grip. 

 
3. High Ponytail
With
 French Braid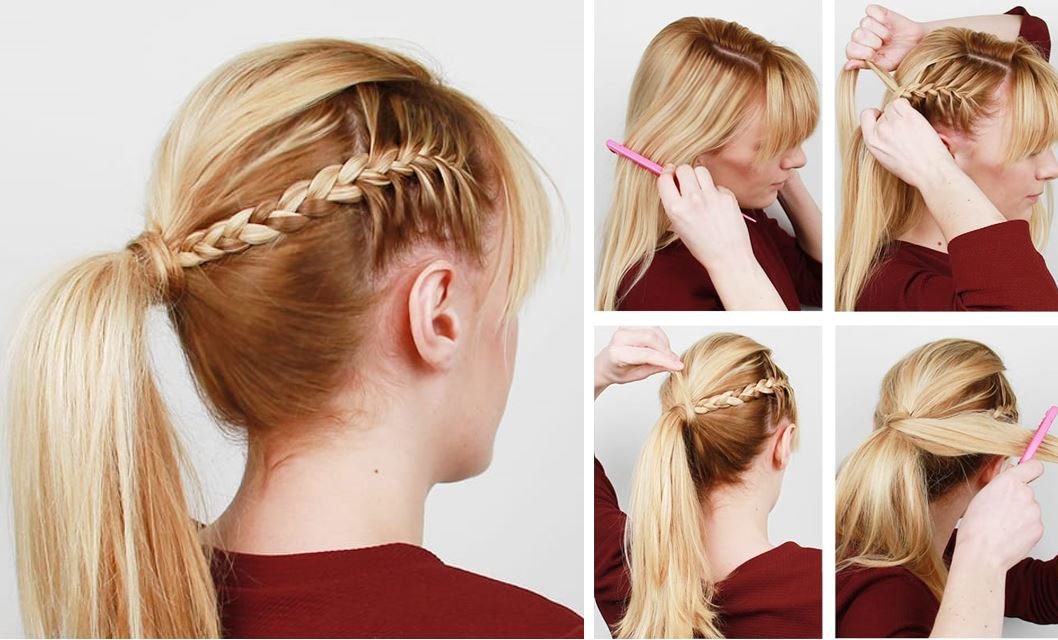 For a truly captivating look that makes you feel put together yet still remains practical, why not give this high ponytail with French braid detailing a try?  
Create a side parting, then take a small section of hair from the side and plait it into a French braid, gripping it in place. 

 

Scrape your hair back into a high ponytail (this includes the 

French braid you've just plaited)

 and secure it with a hair 

tie. Then, take a small strand of hair from the underside of the ponytail, wrap it around the hair tie to disguise it, and secure it with a hair grip.

 
4. A Braided Crown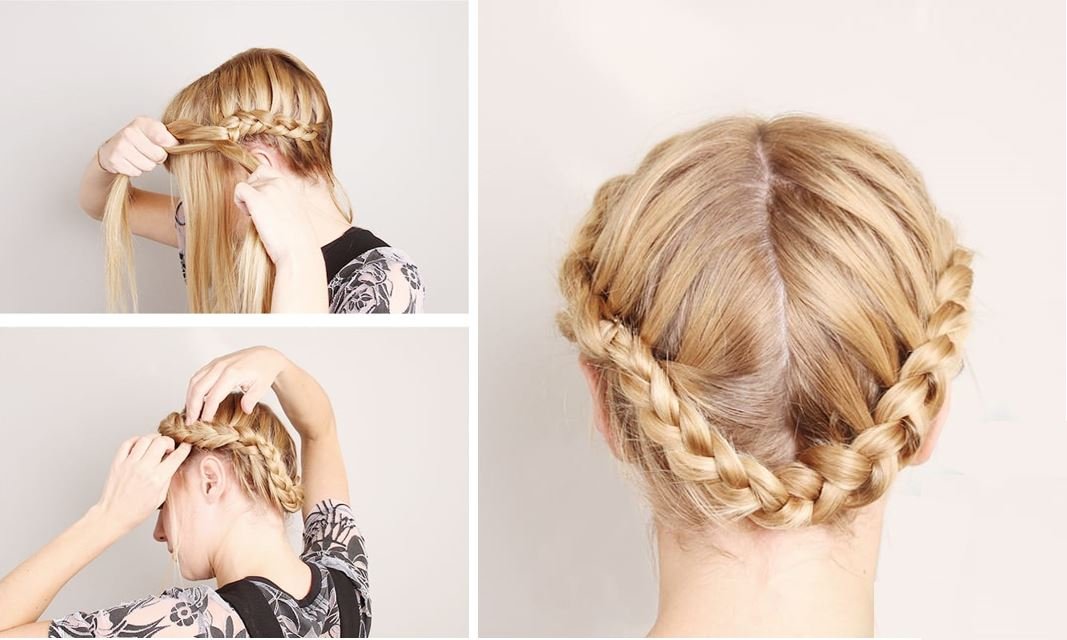 When lockdown, starts to take its toll, it's important to remember the royalty that you really are – and nothing could do that quite like a braided crown.  It's one of the classiest hairstyles for spring!
Part your hair down the middle, splitting it into two even sections.

 

Grab three strands of hair from the bottom of the first section and plait it around the hairline, working your way up towards your forehead. 

 

Keep plaiting it over your parting and start feeding in hair from the other half of your head. 

 

Continue until you reach the other side of your neck. Then, keep plaiting until you just have an inch left at the end. Secure that

 end 

with

 a small, clear band.

 

Wrap the braid around your head so that it follows a halo shape, then fasten it in place with grips. Tuck any extra hair under the 

plait

 to disguise the join. 

 
And voila! Four hairstyles for spring to practice during lockdown. If you try any of the above, don't forget to share your pictures with us using #glossyathome. We'd love to see them! 
Subscribe To GLOSSYBOX
Want to feel like your best self? Every month, we send our subscribers 5 skincare and makeup treats that make them look and feel their best. Don't miss out! Subscribe to GLOSSYBOX now…