With spring finally here, it's time to pick your beauty personality for the new season from a host of Glossy micro trends. With the phrase 'modern individuality' being bandied about time and time again backstage, it was quickly apparent that spring/summer 2016 is all about adapting beauty aesthetics to suit you, as the best hair and makeup looks celebrated unique style.
The running theme was 'all or nothing' and by this, we're referring to the refreshing simplicity of pared-back beauty (post-gym skin, tousled waves and tawny blush) at some shows, followed by pushing one beauty element to the extreme with playful declarations at the next – from swaths of cobalt eyeshadow to slicked up hairstyles. 'You're either doing what looks like nothing or a strong something' explains makeup pro Tom Pecheux.
The good news? This means whatever your style, you can adapt this season's trends to your personality and what's more, whether you're after inspo that'll shake up your spring look by pushing the boundaries of beauty or simply want a down played aesthetic to match your everyday attire, there's something for everyone.
Who will you be this spring/summer 2016? Take your pick from the trends below…
MAKE A STATEMENT
The key here is to draw all eyes on one aspect of your beauty look, be it a red lip, super long lashes or a bolt of blue eyeshadow. It's all about pushing one thing to the extreme, and keeping all other aspects of your look pretty pared-back and simple.
Blue eyed girl
It may be a slightly scary hue to adorn your lids, but blue eyeshadow is one of the key trends this season. Before you jump to the conclusion that you'll look like Pat Butcher, have a little faith and give it a go as if you're anything like us, it's a look you'll grow to adore. In fact, we even hopped in the Glossy beauty booth to trial the look ourselves (you can see the result here). As seen at the likes of Diane Von Furstenburg where models adorned pretty smokey blue eyes and Johnathan Saunders where a tight cobalt line was painted over the lids, there are a variety of ways to adapt the blue eyed trend to suit you.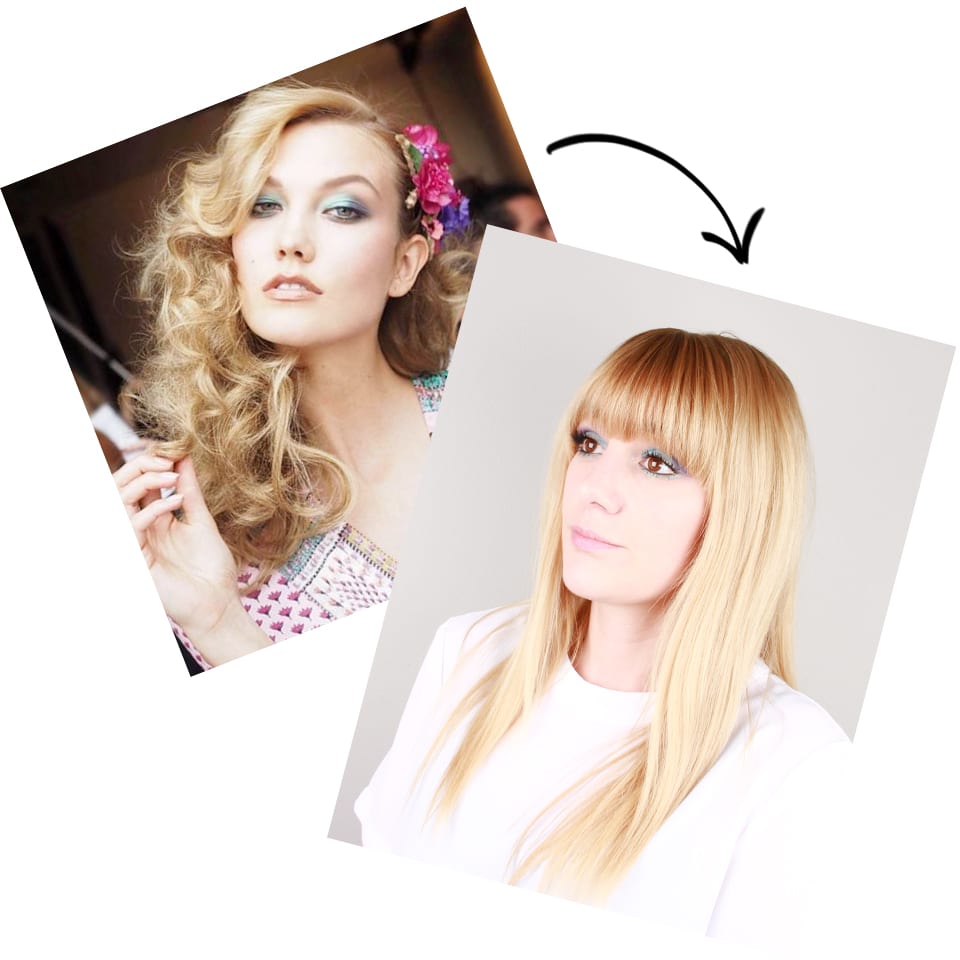 The summer smokey
Spring-like pastels toughened up at Max Mara and Holly Fulton with punchy lilac, magenta and orange stretched across the eyes. If blue isn't for you, opt for a bashful, delicately bright shadow and you can't go wrong.
Join The Glitterati
Disco ball glitter, usually the reserve of the party season, inched its way into spring with an explosion of upbeat iridescence across the eyes at the likes of Dries Van Noten and Giambattista Valli. Whether you use it to amp up your look for a special occasion or pack a pot of glitter in your festival makeup bag, set it against glowing, healthy skin to ensure all eyes are set on the glitz and the glitz alone. At Prada, makeup pro Pat McGrath took it one step further and painted the models lips with an incredible gold pigment. While gold lipstick may seem a little scary, it's actually far more wearable than you may think!
Cherry lips
Sure, bright red lips are nothing new, but for spring/summer 2016 they have more of a youthful and easy going edge to them – especially compared to the glamorous pouts of seasons past. From chalky finishes at Giles where the makeup team daubed on warming red tones to each of the models lips to the custom blended red glossy pouts at Acne that 'go with anything', it's all about a strong lip worn against a bare face that's created to suit you. Make the red lip your own by playing around with colours and texture.
Doll lashes
Spring and summer call for lashings of mascara. Like literally, tons. Aptly referred to as 'a little distorted, cute doll' by makeup artist Lucia Pieroni, eyelashes are being used in an ornamental way this season, in a bid to give your eyes an injection of attitude. It's edgy, while still looking breathtakingly beautiful. Spotted backstage and on the runways of shows including Marni and DAKS, whether you're opting for coatings of colourful mascara or a super long finish via a pair of falsies, we love this trend for summer as it's a super simple way to amp up your makeup.
Crowning glory
Hair accessories made another appearance this season which we're pretty happy about. Voluminous curly locks and easy low ponytails played a supporting role to the lineup of summery hair adornments that made their way down the runway. Take your pick from the likes of the simple black bows at Oscar De La Renta to the floral arrangements that were used to pin back the models hair at Diane Von Furstenburg.
Glossy braids & twists
Whether they we're fastened in a polished twist or properly plaited, braids appeared time and time again on the runways, with each and every creation showing us another pretty way to pull our hair out of our face during the (hopefully) hot summer months. At Giles, the stellar model lineup that featured the likes of Lily Donaldson and Poppy Delevingne had their locks plaited back into reverse french plaits that ended in two bunches – we trialled it in the Glossybox beauty booth, so if you want to recreate it head here.
MODERN MINIMALISM
Come as you are… although, not literally. Modern Minimalism is all about 'invisibly' enhancing and accentuating your complexion, from sun-kissed skin (as apposed to sun tanned) to a beautiful dewy complexion.
Sun stripping
Here at GLOSSYBOX HQ we're big fans of sun stripping – and we have the spring/summer 2016 shows to thank for it being catapulted into our lives. It's so simple to achieve but creates the most beautiful of sun-kissed glows, making you look like you've just stepped off the plane from a sunny escape. It's a super flattering way of making yourself look naturally bronzed, by dusting a deep hued bronzer across your nose (essentially, where the sun tends to hit your face). You can follow our tutorial here.
Post-gym skin
While it may sound slightly odd, using makeup to give your face a dewy glow like you've just worked out is all the rage – and as strange as you may find the idea of it, it's utterly flattering. You see, not-sweaty-but-sheeny skin gives an air of grace and health, without the effort of actually having to work out. The idea is to keep your makeup super natural – it's more about creating a clean sheen and the trick it to use liquid formulas, from watercolour blushers to radiance-imparting strobe cream.
The modern mermaid
From backstage at Sophia Webster to the runways of Vivienne Westwood Red Label and JW Anderson, mermaid inspired beauty poured in thick and fast. The ethereal look centres around highlighting to the extreme and makeup maestro Lisa Potter Dixon showed us exactly how at Sophia Webster, where she created none other than a mermaid masterpiece with lit skin and subtle glistening eyes. It's time to let your inner Ariel out.
The outdoor romantic
The recent call to natural beauty was given a windswept polish this season and we loved the breeze-tousled waves at Versace, Alexander McQueen and Thakoon. An outdoorsy, slightly messy mane has never looked more romantic.
Styled with ease
Personalised ponytails and chic messy styles provided a relaxed yet polished look for summer – there's nothing better than being able to style your hair in 5 minutes flat when you're rushing out the door to work. One of our favourite looks was the ' half finished loop' at Bottega Veneta, where hair stylist Guido gave hair a rough parting, then pulled the locks half way through a hair bobble.