Want another April 'Spring Softness' sneak peek? We have one coming your way… 
As you know, this month's edit is worth over £70 and features five springtime essentials. We've already shared with you our first sneak peek – the incredible Sand & Sky Australian Emu Apple Super Bounce Mask – and now we've got a second… 
Introducing the This Works Morning Expert Hyaluronic Serum… 
Hydrate Your Complexion With This Works
Replenish skin that has dehydrated overnight with this morning skincare saviour from This Works! This highly concentrated 2% Morning Expert Hyaluronic Serum will instantly hydrate and brighten tired-looking skin, strengthening, supporting and providing it with a long-lasting glow too.  
Worth an amazing £18.50, you won't want to miss having this in your beauty locker as the weather gets warmer!
How Does This Serum Work?
The This Works Morning Expert Hyaluronic Serum works thanks to a powerful super blend of wheat-based hyaluronic acid to plump, and vitamin C to help firm, tighten, smooth and improve skin appearance. 
What Are People Saying About This Serum?
This Works carried out a study to find out more about their Morning Expert Hyaluronic Serum. This is what they found… 
87% of panel users said their skin looked radiant

 

91% of panel users said their skin feels hydrated

 

82% of panel users said their skin felt firmer

 

80% of panel users said their skin looked brighter

 
How And When To Add This Serum To Your Skincare Routine
Use this youth-boosting serum to target morning skin concerns including dullness, dehydration and fatigue.  
Massage into the skin of your face and neck as part of your daily morning routine to maximise its plumping effect! 
Want a skincare top tip for this serum? If your skin is oily, use this serum instead of a moisturiser to lock in moisture, but also keep oiliness under control!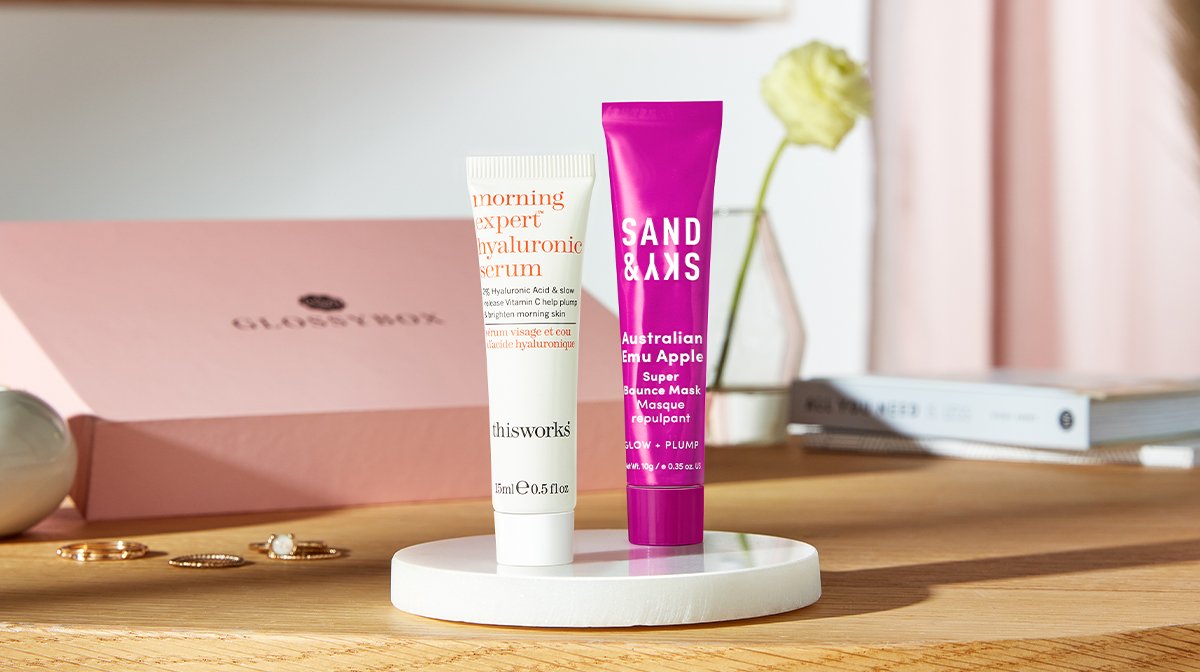 What Else Is Inside This Month's Edit?
Want to know more about the other four beauty buys in this month's box? We'll be sharing the full lineup of our April 'Spring Softness' GLOSSYBOX in the next couple of weeks of course!
But, if you can't wait until then, make sure you've had a read of our first sneak peek Sand & Sky blog first! Plus, for more on this April's theme and everything else you can look forward to over the coming weeks, be sure to take five minutes to sit back, relax and read our April Story Behind The Box blog too!
Subscribe To GLOSSYBOX
Want to try this 'Spring Softness' sneak peek as well as the four other beauty buys in this month's box? Subscribe to GLOSSYBOX right now!   
As a Glossy, you'll get loads of benefits. On top of receiving our monthly boxes, you'll also get the chance to earn Glossy Credit, access to the Glossy Lounge and discounts on our Limited Editions and the GLOSSYBOX Skincare range.   
Don't forget, as an avid blog reader, if you become a Glossy today you can get your first box for only £11, including delivery! Just use code 'GLOSSYBLOG' at checkout!