August wouldn't be a proper GLOSSYBOX summer unless we had a gorgeous tropical inspired Limited Edition for you to enjoy now, would it? So, say hello to the newest in our  line up… the GLOSSYBOX x Heat Summer Limited Edition!
Worth over £110, the GLOSSYBOX x Heat Summer Limited Edition features 10 summer sizzlers that you'll adore trying out for yourself. With seven full size products and three deluxe minis, this tropical box will have you looking super fly this summer!
What's Inside The GLOSSYBOX x Heat Summer Limited Edition?
From products that will transport you to the beach to those that'll get you ready for the warm weather, we've got the summer's essentials covered. So, whether you are showing off a sun-kissed glow or having a pamper session, get stuck in….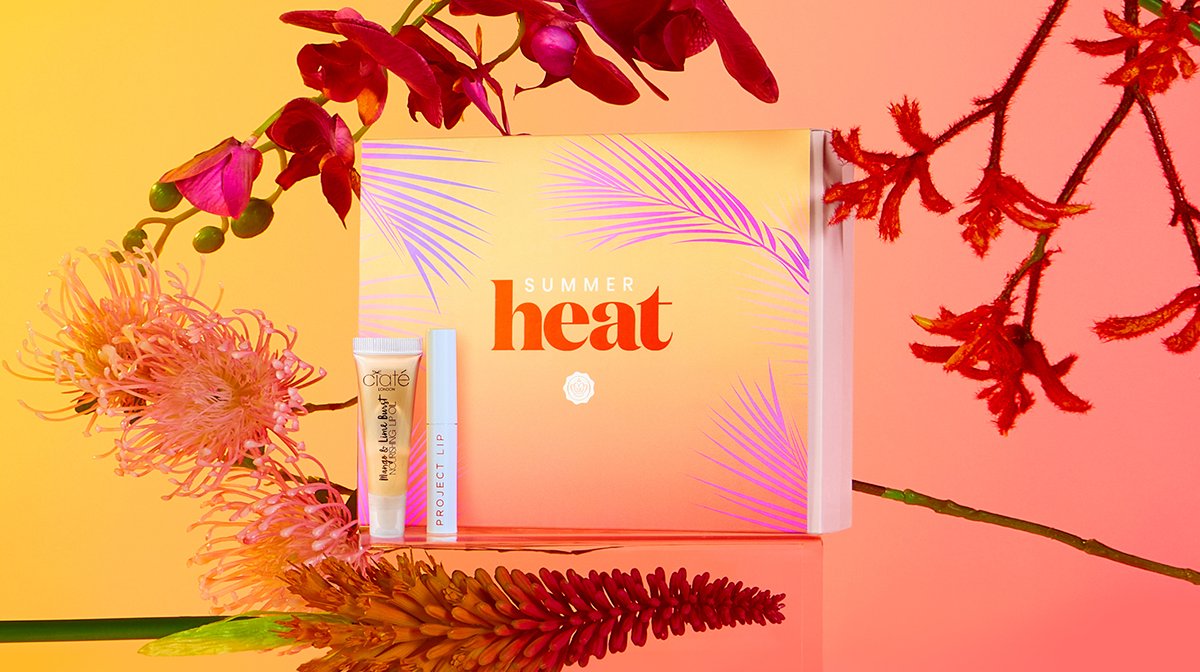 Ciate London Mango & Lime Fruit Burst Hydrating Lip Oil
Nourish your lips with this blend of mango seed butter, lime oil, jojoba seed oil, avocado oil and vitamin E. This tropical treatment is bursting with antioxidants, essential fatty acids and softening properties to leave your pout looking and feeling it's very best! 
Deluxe mini 5ml worth £7, full size 10ml RRP £14* 
Project Lip Matte Plumping Primer
Achieve a bigger pout with this Plumping Primer! Volume-boosting, this formula naturally improves the fullness of lips by stimulates the production of collagen in your skin. The lip primer is infused with a host of nourishing, hydrating ingredients, plus it'll also replenish vital moisture and provide the perfect base for other lip products! 
RRP £12.95*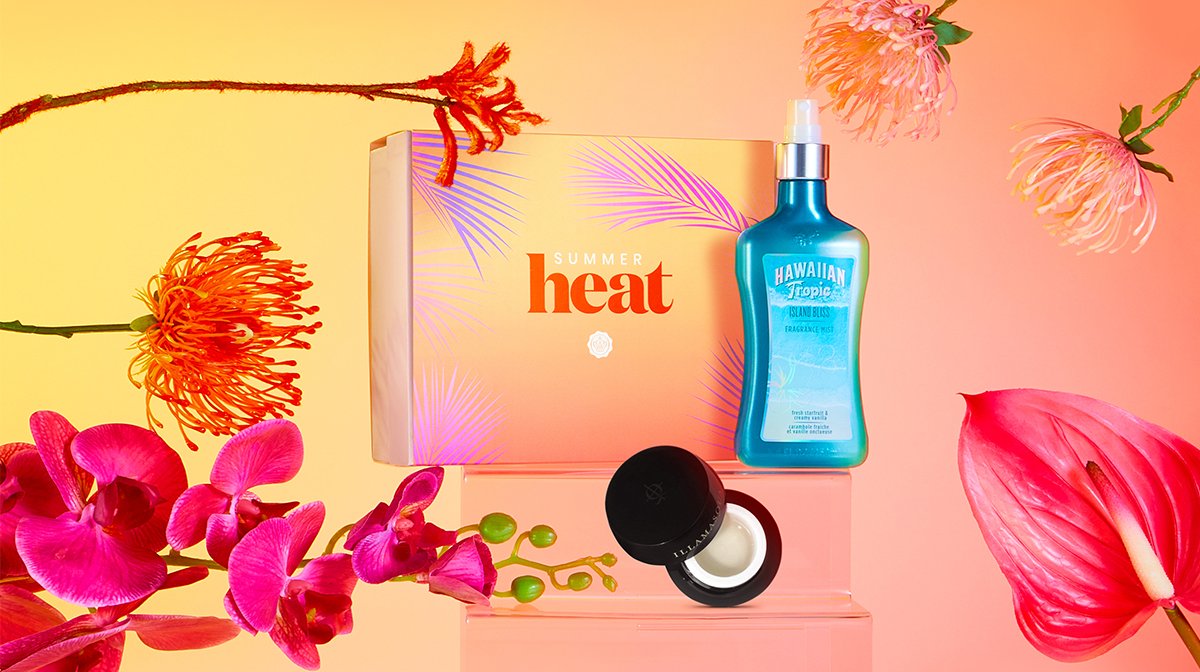 Hawaiian Tropic Island Bliss Body Mist
Surrender to island bliss with this fragrant body mist from Hawaiian Tropic. With breathtaking scents of watermelon, starfruit, eucalyptus flower and creamy vanilla, after only a spritz or two you'll be whisked away to tropical lands and gorgeous sandy beaches! 
RRP £10* 
Illamasqua Hydra Veil Primer
Part hydrator, part primer, Hydra Veil instantly hydrates and smooths skin through a self-levelling, futuristic clear gel. Microalgae, vitamin C and B3 work together to help maintain your skin's hydration levels, creating a healthy looking, balanced finish. Plant extracts also provide a calming and refreshing feeling, leaving skin fully prepped to apply your chosen foundation. 
Deluxe mini 7ml worth £10, Full-size 30ml RRP £34*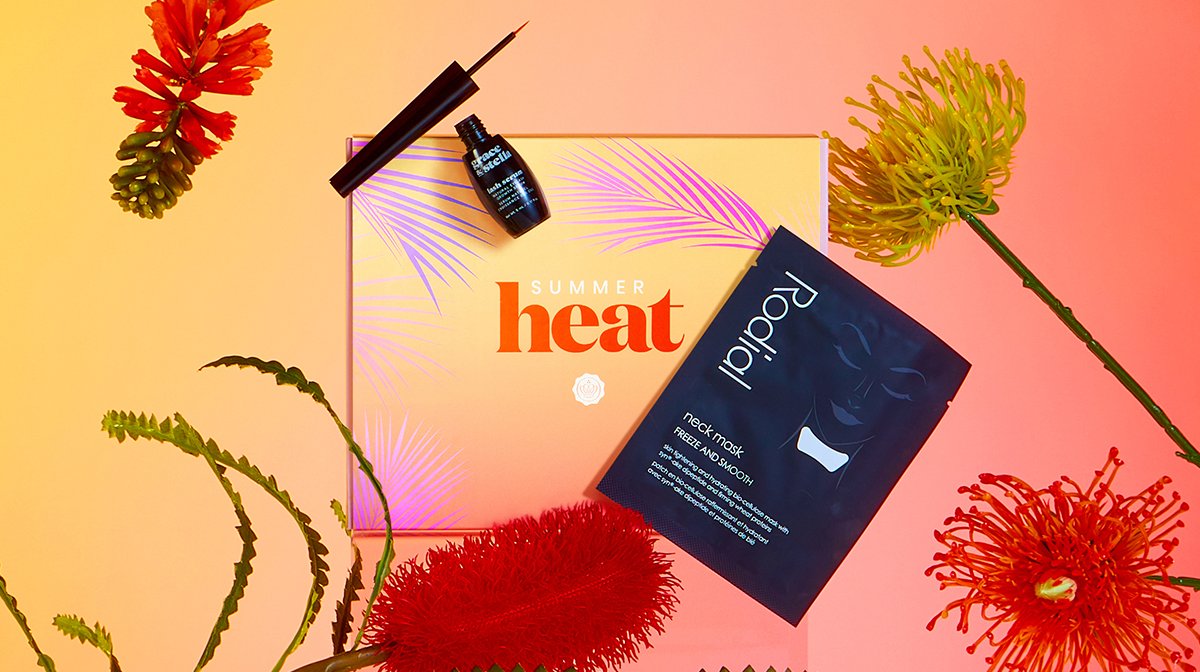 grace & stella Eyelash Lengthening & Growth Serum
For the long, full lashes you've been dreaming of! This serum nourishes your eyelashes with essential nutrients and botanicals – including super effective hair-thickener red ginseng extract – to reinforce growth in each and every eyelash, from root to tip. Give this serum a try on your eyebrows too, for thicker, fluffier, bushier brows! 
RRP £16* 
Rodial Snake Neck Mask
Designed to tighten, tone, hydrate and smooth your neck area is this must-try mask. Amino acids and wheat protein help to tense and visibly tighten your skin, to leave it looking younger and more lifted, while Syn®-Ake dipeptide technology, mimics the freezing effect of Temple Viper venom, to instantly freeze and lift! 
RRP £8.50*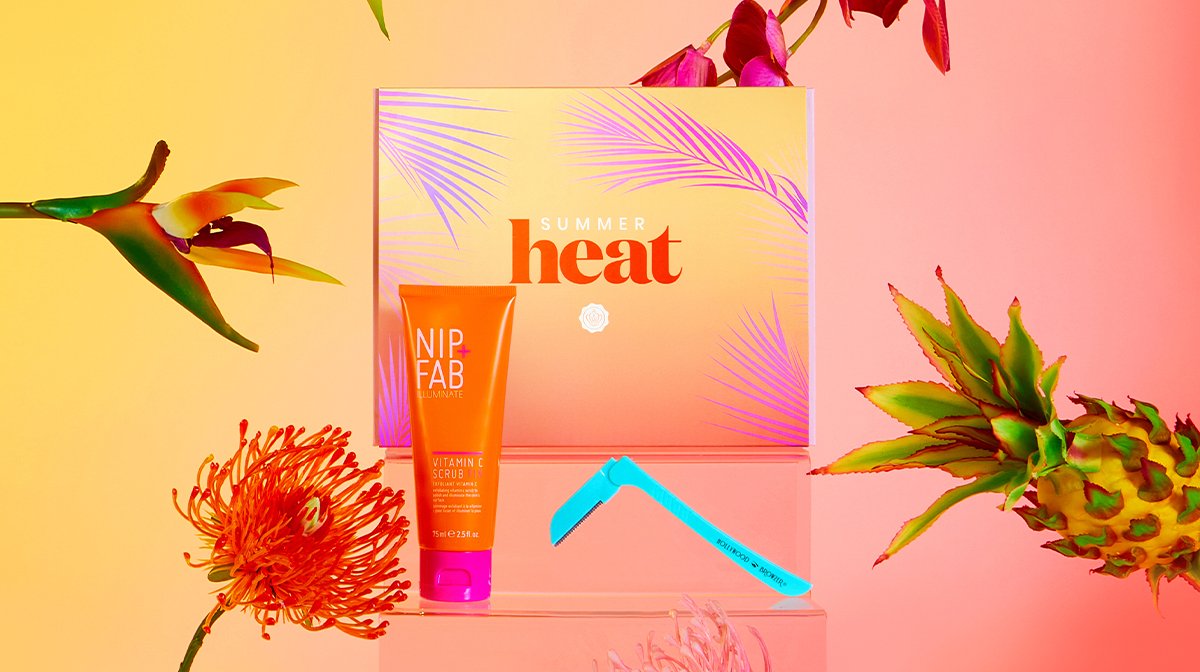 Nip + Fab Vitamin C Scrub Fix
Energising and illuminating, this exfoliating scrub is infused with vitamin C, coffee seed extract and coconut oil to effectively cleanse, nourish and renew your skin! These key ingredients also aid in reducing the appearance of fine lines and wrinkles, and softening your complexion. 
RRP £12.95*  
Hollywood Browzer (in Turquoise)
You have to try this award-winning eyebrow shaper, hair removal and dermaplaning tool! Shaping the brows and removing unwanted facial hair has never been easier. The Browzer quickly, easily and painlessly rids skin of peach fuzz and unwanted hair while removing the dead skin cells and built-up debris at the same time leaving you with a bright, smooth, radiant complexion! 
RRP £8.95*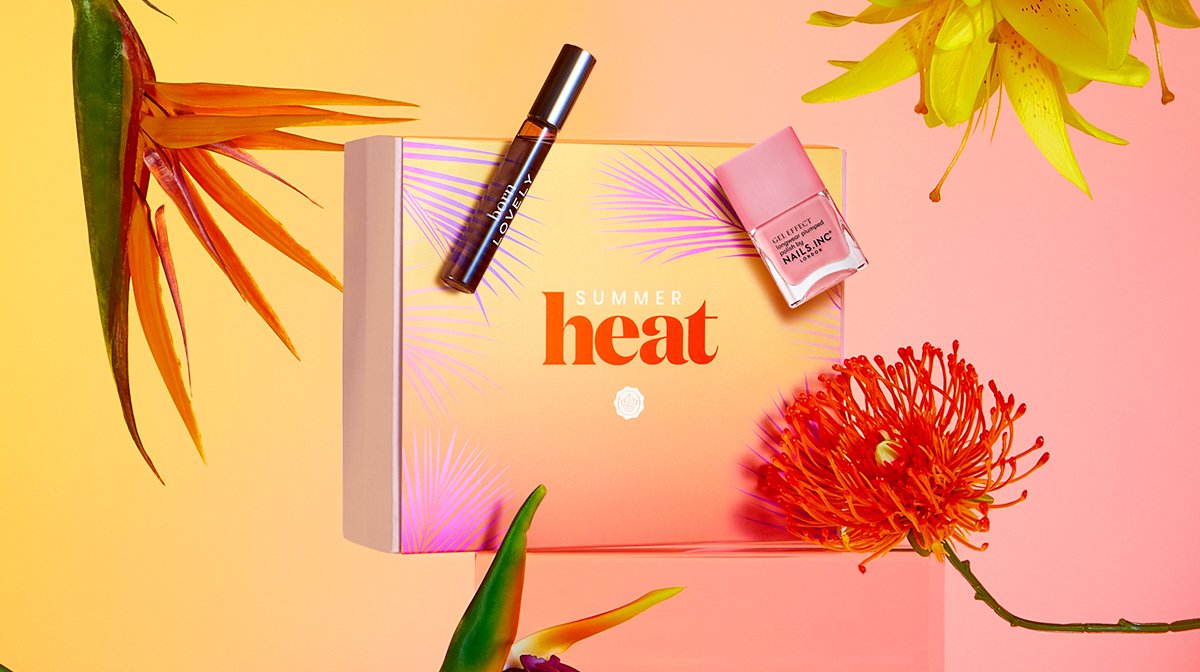 Nails.INC Mayfair Lane Gel Effect Nail Polish
A manicure is always a must! And this delicate pale pink shade of polish will look fab on your fingers… Ultra-glossy and with a high-shine, gel effect finish, this polish also features nourishing flower extract to help condition and strengthen your nails. 
RRP £15*  
Sarah Jessica Parker Beauty Born Lovely
A fragrance that encapsulated modern femininity, created by Sarah Jessica Parker herself. Inspired by the radiance of every woman's intrinsic beauty, discover a vibrant heart of lush florals, a burst of sparkling fruits, and the elegance of clean woods. 
Deluxe mini 10ml worth £10, full size 50ml RRP £36.50* 
*RRP relates to the full-size product available for purchase as advised by the brand. Prices may vary due to exchange rates. All prices are correct at time of publishing.
Extra Treats!
As well as the incredible beauty must-tries above, you'll also find two little extra treats within your Heat Summer Limited Edition…
Merci Handy Magic Plants Moisturising Jelly
This moisturising facial jelly's magical texture is more delicate than a rainbow, yet moisturises deeply, taking care of your skin (and soul) on a daily basis. Featuring sacred plants, aloe vera and hemp, this jelly is ideal for all skin types. 
Vita Liberata Body Blur
The original Instagram filter! Thanks to its revolutionary technology, this organic body makeup minimises blemishes, covers imperfections and smooths skin for an HD-ready finish. With light reflecting particles, this product is also perfect for creating a radiant glow to your skin!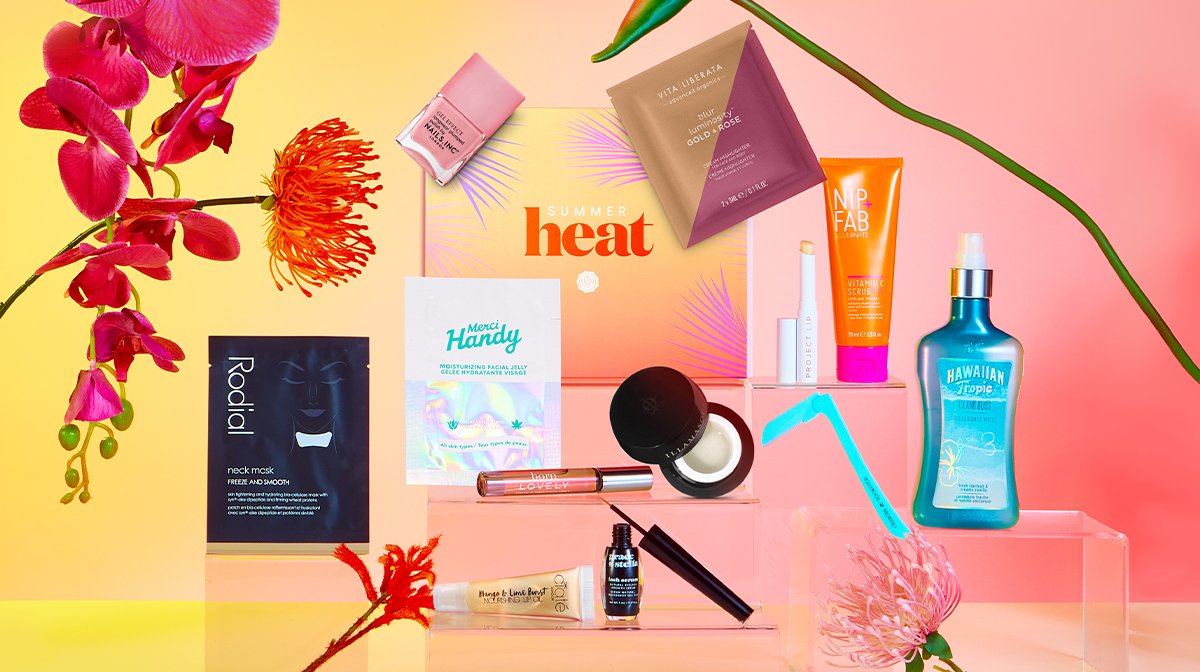 When Does The Heat Summer Limited Edition Go On Sale, And For How Much?
The GLOSSYBOX x Heat Summer Limited Edition goes on sale on Tuesday 13th August for only £35! Subscribers will be able to get theirs from 9am, whilst non-subscribers will be able to buy their box from 12pm.    
Subscribe To GLOSSYBOX
Want priority access to this Limited Edition? Sign up to GLOSSYBOX today! You'll also start receiving our monthly boxes straight away, featuring five of the best beauty products, delivered straight to your door!
And you'll also get a whole host of other benefits, like 25% discount on all GLOSSYBOX Skincare products and access to offers, discounts and competitions in the subscriber-exclusive Glossy Lounge!