Want to get your skin in shape for summer? Well, the GLOSSYBOX x Grazia Smart Skincare Limited Edition is back to help. Skincare is by far the new self-care, and the hardworking products inside this edit will help you unwind, whilst simultaneously boosting your complexion's glow.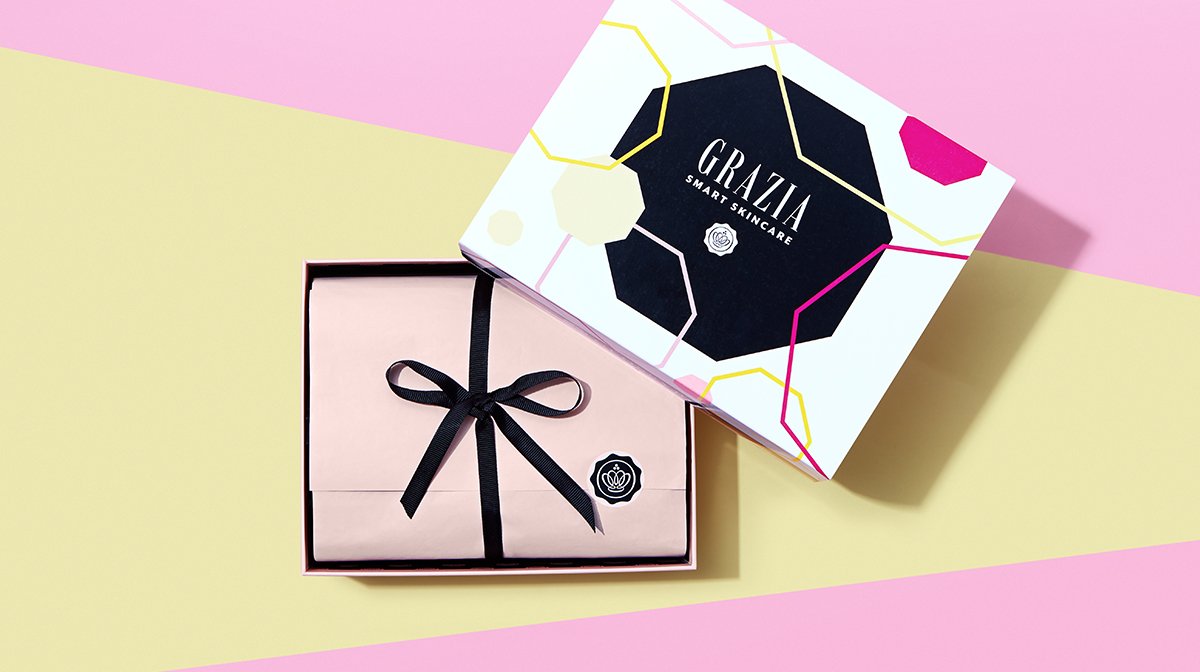 The Story Behind 
The Grazia Smart Skincare
 Limited Edition
Featuring 10 smart skincare products, the GLOSSYBOX x Grazia Smart Skincare Limited Edition will supercharge your routine from the get-go! Worth over £200, this box has it all. From high-tech serums to the hand cream we all need, expect to see amazing brands too! We can't wait to get our hands on beauty treats from Rodial, Wishful and Murad when we buy ours! 
It's time to get stuck in, play around and fall in love with the GLOSSYBOX x Grazia Smart Skincare Limited Edition. Make sure you sign up to our waitlist too, to ensure you don't miss out on getting yours! 
What's Inside 
The GLOSSYBOX x Grazia Smart Skincare
 Limited Edition
?
With four full size and six deluxe mini products inside, there's so much for you and your skin to get excited about. Want to know exactly what you'll find inside? Read on…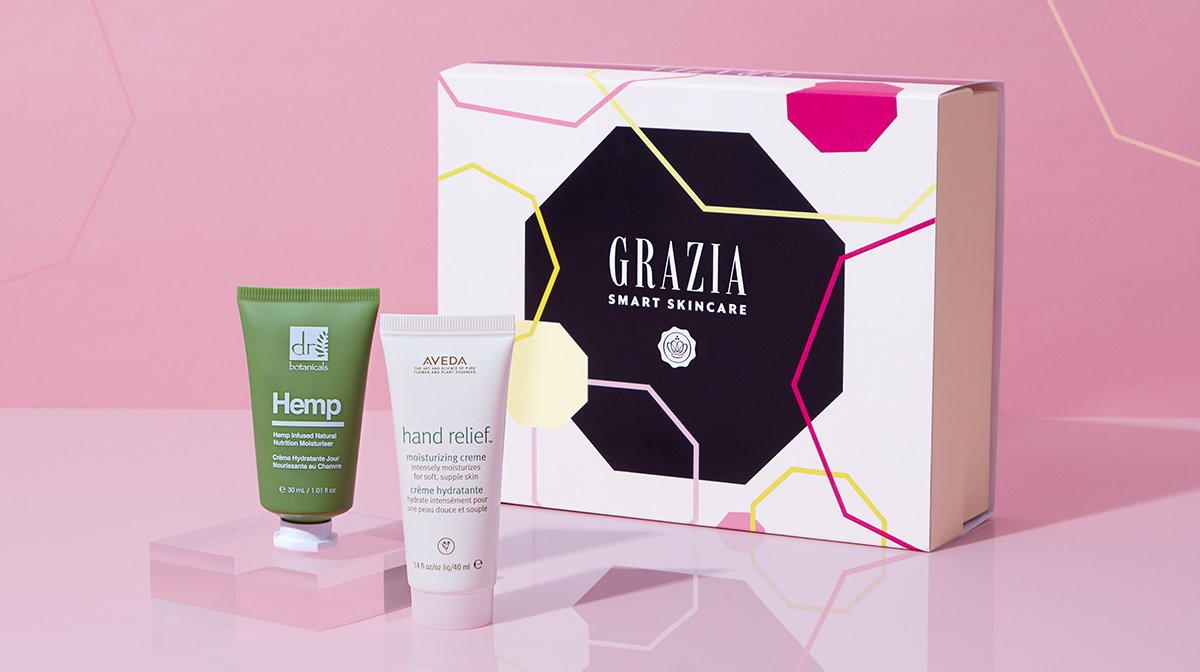 Dr Botanicals – Hemp Infused Natural Moisturiser
Infused with hemp seed oil and cocoa butter, this natural moisturiser works to nourish and hydrate the skin, while vitamins including A, D and E protect against environmental aggressors such as pollution. Use regularly for a healthy-looking complexion. 
RRP £15.99* 
Aveda – Hand Relief™ Moisturising Crème
Soothe seriously dry hands with this intensely moisturising vegan cream. Your hands will have never felt so soft or smooth! 95% naturally derived (from plants, non-petroleum minerals or water) andiroba oil and other plant hydrators help infuse skin with nourishment! 
Deluxe mini 40ml worth £9, full size 125ml RRP £22*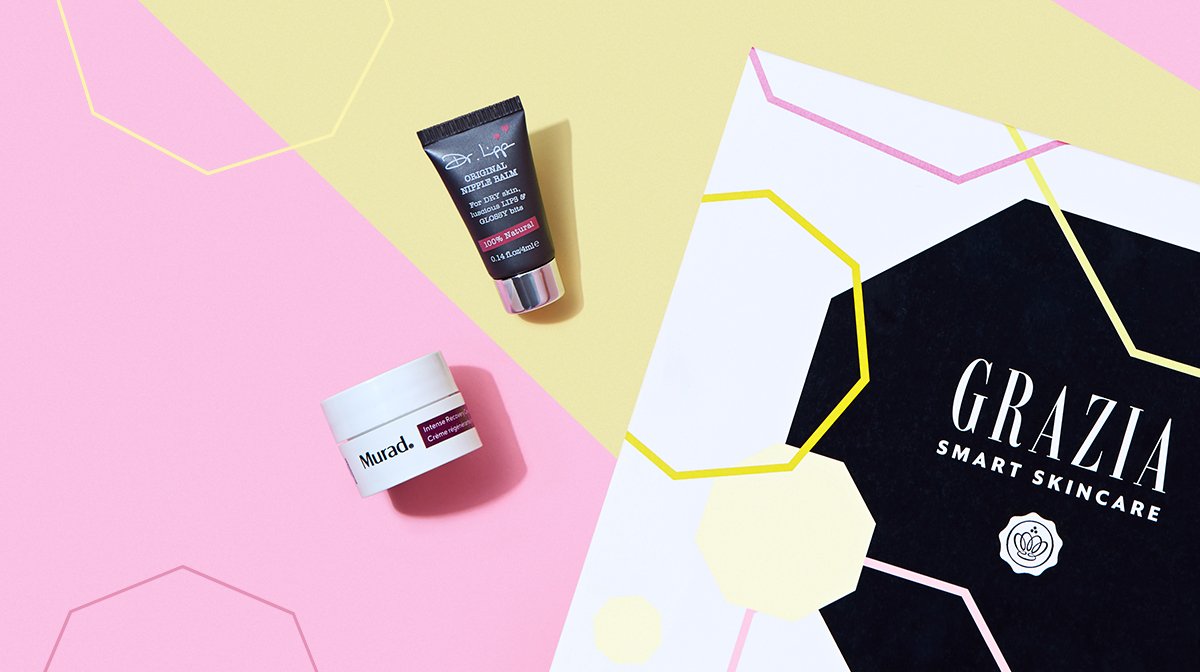 Murad – Intense Recovery Cream
Clinically proven, this comforting cream for both your face and eyes reduces the visible signs of stress-induced ageing and redness. Microalgae extract works to smooth the look of facial tension and stress lines, whilst also deeply moisturising and encouraging recovery. 
Deluxe mini 7.5ml worth £10.20, full size 50ml RRP £68* 
Dr. Lipp – Original Nipple Balm for Dry Skin, Luscious Lips & Glossy Bits
Famous for its gloriously thick, ultra‐long lasting and instantly hydrating effect, this 100% natural balm is a skincare essential! Dr.Lipp's rich formula will rebalance, nourish, soothe, plump and even heal dry, sore, cracked or sensitive skin. One product, one ingredient, hundreds of uses! 
Deluxe mini 4ml worth £4.99, full size 15ml RRP £12*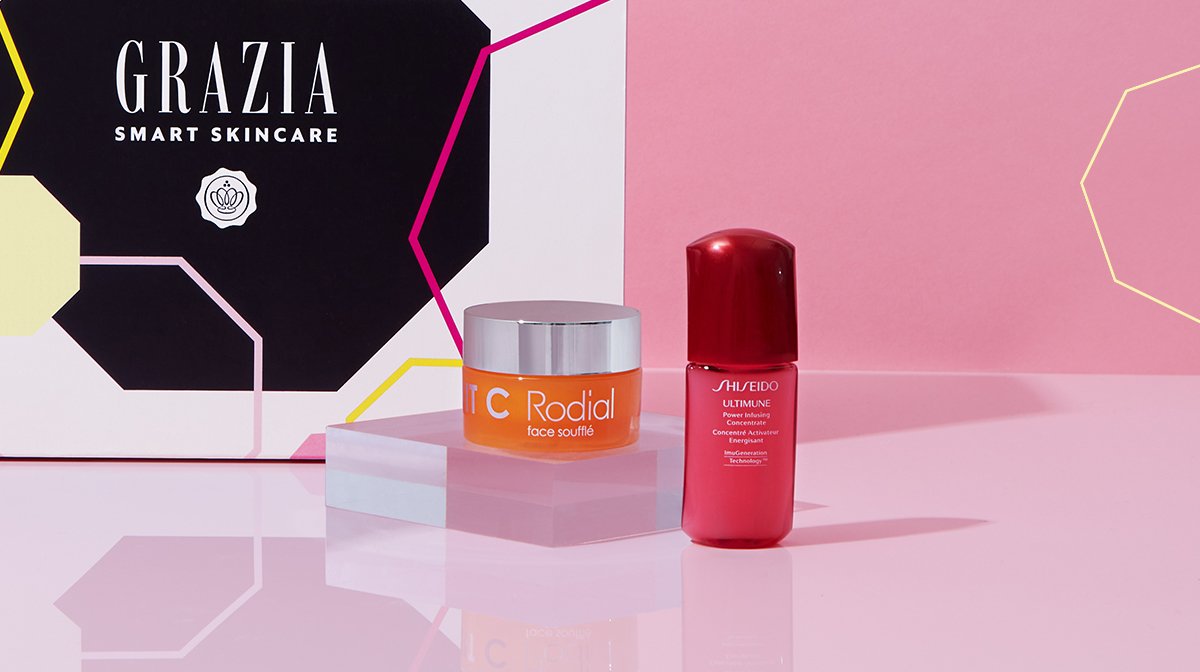 Shiseido, Ultimune Power Infusing Concentrate
Combining all of Shiseido's advanced research and innovation, this skincare saviour works to give you the best version of your complexion possible! Expect results like no other – skin that's hydrated, smooth, firm and protected from daily damage and ageing. 
Deluxe mini 10ml worth £23, full size 30ml RRP £69* 
Rodial – Vit C Face Soufflé Mini
Indulge your skin with this luxurious Vitamin C Face Soufflé. Enriched with shea butter and Squalane, this nourishing formula deeply hydrates the skin, and is perfectly combined with skin brightening Vitamin C too! Ideal for dehydrated skin, this unique cream firms and renews the complexion. 
Deluxe mini 15ml worth £28, full size 50ml RRP £85*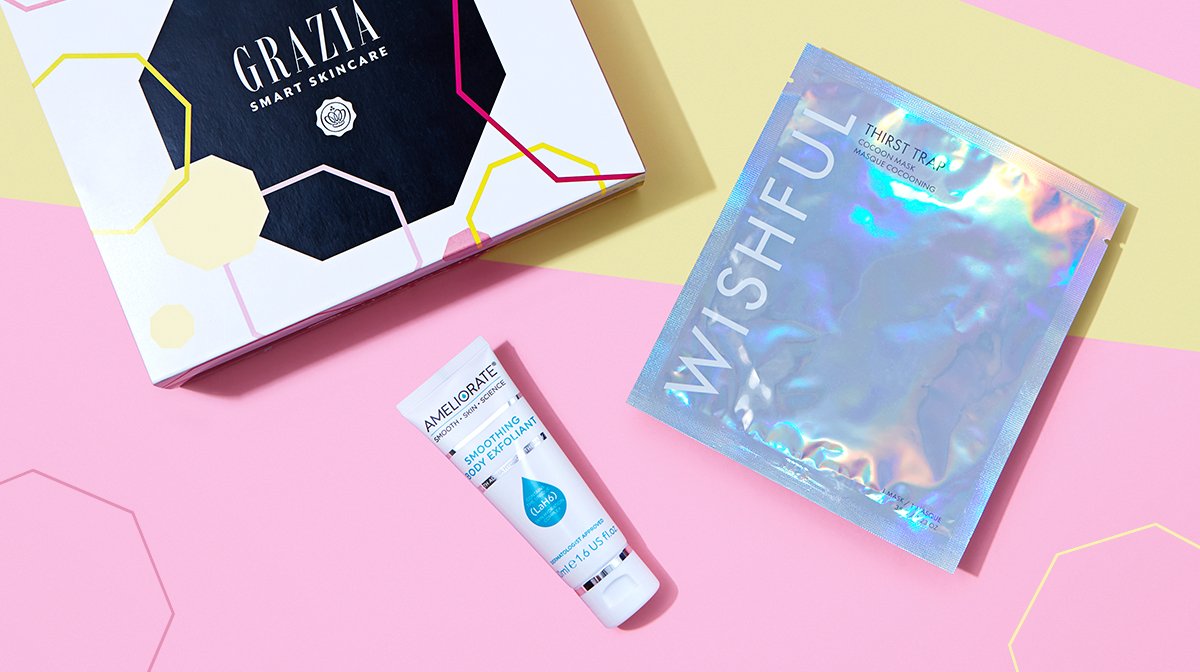 Wishful – Thirst Trap Cocoon Mask
Packed with some of Founder Huda Kattan's favourite skincare ingredients – including Rose, Aloe Vera and Sodium Hyaluronate – this sheet mask will leave your skin feeling soothed, supple and hydrated after only one use! Simply apply to a clean, dry face and leave on to work its magic for 20 minutes. 
RRP £8* 
Ameliorate – Smoothing Body Exfoliator
An A* multi-tasker, this skin-smoothing body product expertly exfoliates like little else! Thank the blend of biodegradable bamboo granules and alpha hydroxy acids, which exfoliate both above and below the skin's surface. Not only that – Ameliorate's unique LaH6 Skin Hydration Complex, combined with shea and cocoa butters and coconut oil, lock in moisture all day long. 
Deluxe mini 50ml worth £10, full size 150ml RRP £18*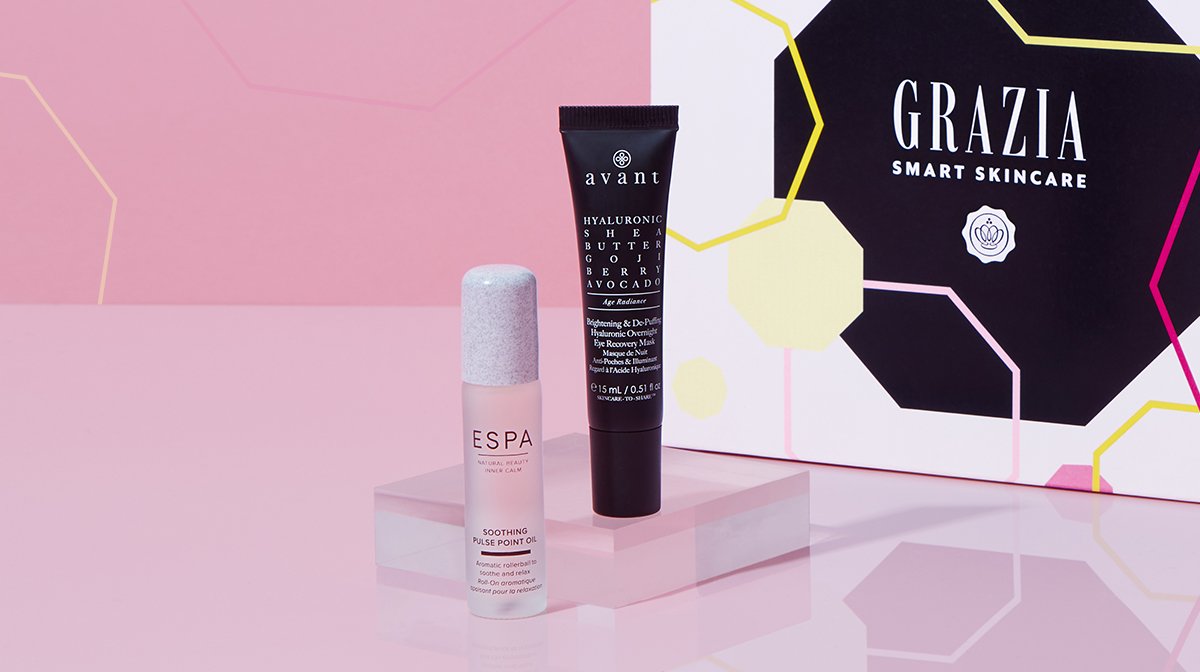 ESPA – Soothing Pulse Point Oil
A soothing and effective oil that'll help calm and relax a busy mind. Carefully blended with Sandalwood, Rose Geranium and Frankincense which work to unwind the body and mind with their comforting and restful properties. 
RRP £21* 
Avant – Brightening & De-Puffing Hyaluronic Overnight Eye Recovery Mask
Fortified with revolutionary ingredients, specifically formulated for your delicate eye area. Combining Hyaluronic Acid, Shea Butter and Pullulan, this innovative night eye mask helps decongest puffy eyes, whilst also reducing the appearance of fine lines and wrinkles. Your eyes will be left radiant and refreshed! 
RRP £74*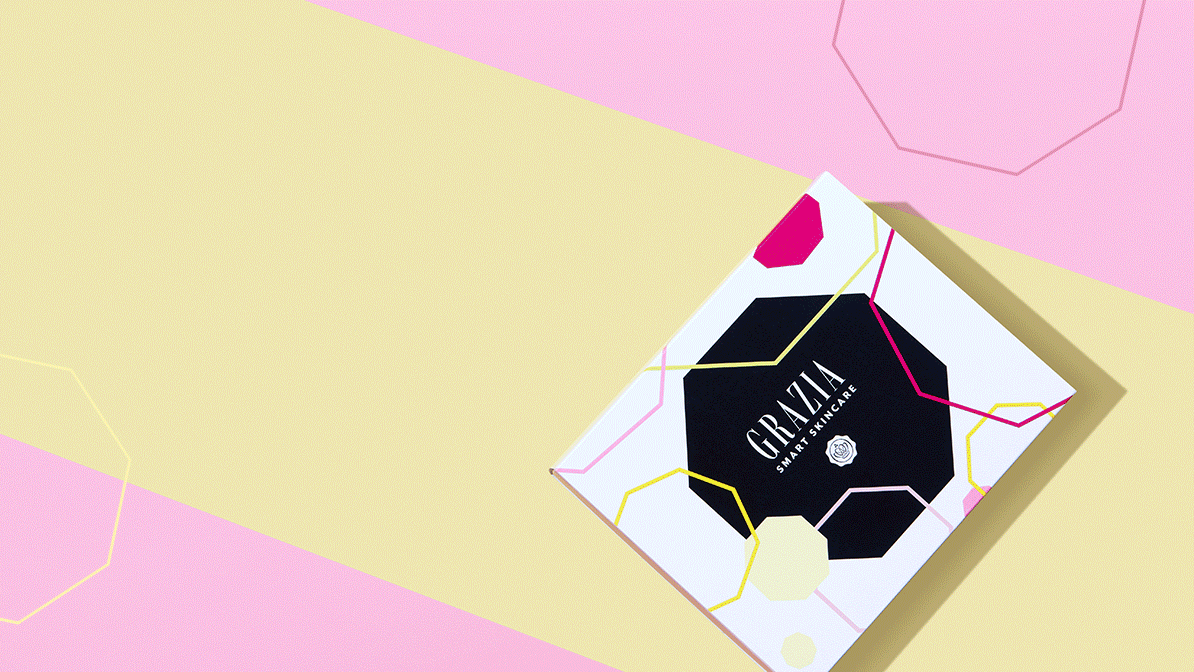 How 
To
 Purchase Your Grazia S
mart S
kin
care
 Limited Edition 
GLOSSYBOX
The GLOSSYBOX x Grazia Smart Skincare Limited Edition will be on sale to all on Monday 26th April, and will cost £50! Subscribers will be able to get theirs with priority access at 9am, while non-subscribers can purchase theirs at 12pm. 
Subscribe To GLOSSYBOX To Get Yours First!
As always, subscribers get both priority access and an exclusive discount on this Limited Edition box. So, to make sure you don't miss out, sign up to become a Glossy today! You'll also start receiving our monthly boxes straight away, featuring five of the best beauty products, delivered straight to your door!