The tides are turning. Over the last few years, more and more women have been calling out brands and magazines that edit their images, blurring every dimple, wrinkle and pimple to create the illusion of a perfect body with perfect skin. You know, the kind of images that don't reflect real women but instead glorify a flawless goddess that makes us feel inadequate if we aren't a reflection of this ideal. That's why I've chosen to spend the next two months discussing all things body confidence.
If you feel pressured to look a certain way (hello, unattainable beauty standards!), are constantly trying out new crash diets to change the way you look (and failing to stick to them), or just want to feel more comfortable in your skin (wouldn't that be nice?), then stay tuned and scroll down to read my chat with body positive ally Lucy Mountain.
Before that, though, here's a quick overview of what the Body Confidence Movement is and how it has impacted the beauty industry.
#nofilter On Body Confidence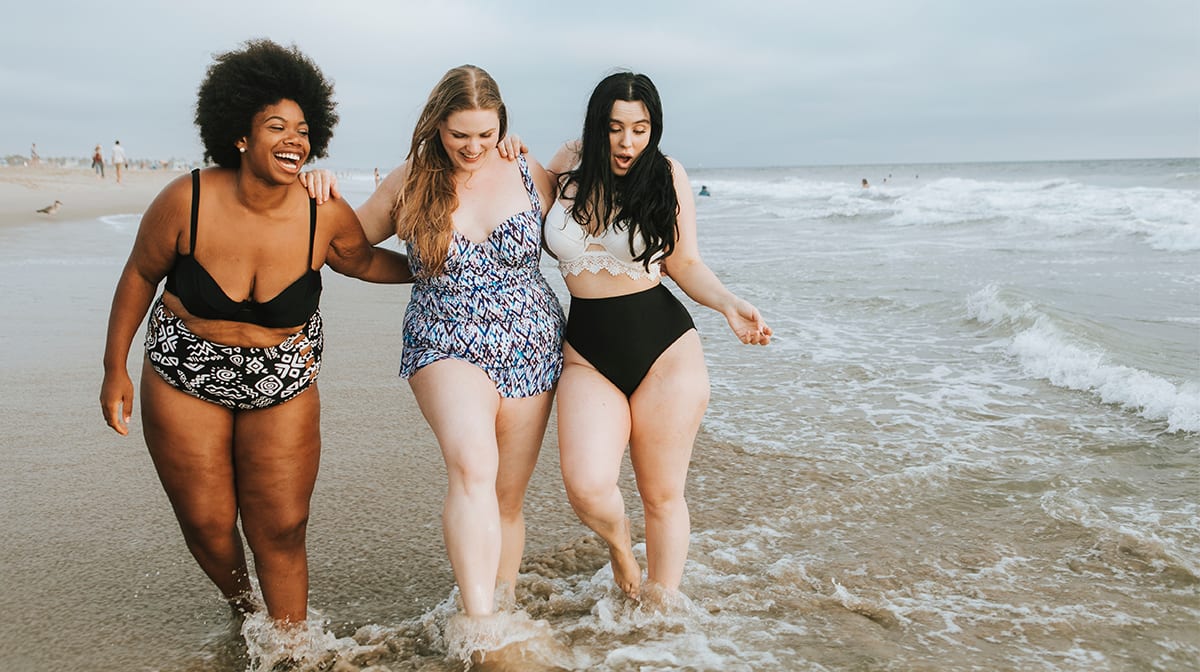 Basically, the main aim of the Body Confidence Movement is to create a cultural awareness of different body types. Those highly edited images of skinny, flawless women that once dominated magazine covers, billboards, TV adverts and online stores that I referred to earlier? They are slowly being replaced by more inclusive campaigns that put women of different shapes, sizes and ethnicities in the spotlight (related: Diversity In Makeup Is Far From A Fleeting Trend).
Many brands, including ASOS, Misguided, In The Style, Olay and H&M, have also pledged to stop airbrushing out wrinkles, stretch marks, birthmarks, scars, freckles and other 'imperfections'. All have been praised for their efforts to reflect real women.
How To Be Body Confident
Mostly though, the Body Confidence Movement aims to highlight how popular media contributes to our relationship with our bodies, food, exercise, health, and self-care. By better understanding the effects that such influences have, we can then develop a healthier and more realistic relationship with our bodies.
You see, pinning posts that say 'strong is the new skinny' on Pinterest or praising celebrities that call out airbrushing can have a positive impact if that's what you find motivating. However, these things only urge you to be more body confident, they don't actually explain how to make the change. That's where Lucy Mountain comes in.
A Q&A With Lucy Mountain
A self-proclaimed 'sort of fitness Instagram person', she uses the tiny squares on her feed to help women build a healthier relationship with food and their bodies.
She launched the #GetYerFaceOut to encourage women to post pictures without makeup on or without using any filters. She also creates healing workout guides to help her community of 'nobs' (no bullsh*t) to focus on more empowering outcomes of exercise, beyond just weight-loss and getting toned. I caught up with her to discuss all things body confidence…
Q: When did you first get into fitness?
A: I started getting into fitness in the final year of uni (and by getting into, I mean doing aggressive uphill walking on a treadmill with a bottle of Pepsi Max in the drinks holder).
Shortly before I graduated I started dating a guy who encouraged me to start lifting weights – and the rest, as they say, is history.
Whilst my motive for exercise began solely by wanting to make my body smaller and to off-set the food I'd eaten, now it's a hugely positive part of my life, which makes me feel strong and powerful.
Q: How did growing up in the 90s affect your relationship with your body?
A: Skinny-chic was the ideal back then. I vividly remember idolising Lindsay Lohan's flat stomach in low rise jeans, and Nicole Richie's bikini body. It definitely had a negative impact on me. Little did I understand at the time that my role models were battling their own demons.
The feeling of wanting to be 'thinner' was just a default goal that lingered throughout my teens and early twenties.
You just didn't question it. Only upon reflection now can I look back and realise how much mental energy I wasted. Sadly, this is still the reality for a lot of young – and older – women.
Q: How did you overcome those insecurities?
A: I went on a winding journey of falling from the disordered 'clean eating' crowd (where everything had to be as green and 'healthy' as possible) to the more 'bodybuilding' vibe crowd (where food is fuel for training, but everything that passes your lips has to be tracked in an app).
There wasn't a specific turning point where I decided enough was enough – it was almost like a slow and gradual journey where I felt like I'd tried every fad diet, every camp, every trend that I just grew incredibly bored and questioned what I was even chasing.
Q: You never post before and after pictures. Why is that?
A: I always like to make it clear that I'm not anti-weight loss. I believe women have autonomy over their bodies, and if someone feels like weight-loss is what they want to chase, we cannot judge. We only know what it's like to live in our own bodies, no one else's.
That being said, I have personally decided to not perpetuate the idea that fitness and exercise should be about losing weight. So whilst it is often a by-product of doing my guides, I never want to make it the only focus.
I prefer real-life photos of bodies moving, sweating and training hard. That's motivation.
We're in the age of comparison. We compare our bodies, every aspect of our lives and each other – and in our current 'fitness Instagram world' smaller bodies are still championed as 'better bodies'. If I continuously shared transformation pictures of women's bodies getting smaller, I would likely double my revenue on guide sales, but I would be co-signing into that narrative. Comparison breeds negativity and low esteem.
There was, of course, a time when I found these images motivating – and a section of my community do – and I support them fully if that's what they want to share. But there's also so much a picture cannot convey – how happy someone is, how much stronger someone is.
The backdrop to a lot of the most 'impressive' transformation is often disordered eating and extreme overtraining. I simply chose not to share them in order to keep my community a safe space.
Q: Your #GetYerFaceOut encourages women to post images of themselves without using any filters and/or without wearing any makeup. Where did the idea come from?
A: I've been filter-free on Instagram for a good 7 months now. As much as I feel that I'm an advocate for loving yourself in all your glory, I realised I couldn't do an Instagram story without a layer of make-up on and a blurry filter. It was autopilot for me, something I'd never taken time to dissect.
After realising how uncomfortable I truly felt about my real, bare face, I decided to create a movement to encourage women to feel good both with AND without make-up and filters.
Q: Did you used to feel the need to wear makeup all of the time?
A: Yes, absolutely, I still feel this pressure now. But you can't get comfortable with something you don't practice. I'm certainly more confident now.
Q: Has #GetYerFaceOut impacted your body confidence as a whole?
A: Of course! I always like to make it clear that it's not a movement to further bash women for wearing makeup or getting aesthetic treatments, that's not the message. It's just to encourage women to love their faces in all forms.
Working on being confident without makeup has improved my self-image for the better.
I still wake-up and don't love my bare face. I don't know if I'll ever get to a place where I do. I still have days where I wish I could throw on the Paris filter whilst doing my stories. However, the benefits of quitting such filters and working on being confident without makeup have absolutely improved my self-image for the better. I wouldn't go back now.
Q: What advice would you give to become more body confident?
Diversify your Instagram feed. It will help you to expand your view on what the female form 'should' look like (related: Body Positive Influencers Remind Us That Everybody Has A Bikini Body).
When you hear your inner narrative giving yourself a hard time – catch it, be aware of it, stop it. Are you really going to waste your limited time alive on this planet hounding yourself over some perceived flaws?
(I'm a feminist but…) buy some really sexy underwear that you feel truly amazing in. Just for you. Trust me.
You can follow Lucy on Instagram here.
#nofilter
This year, I want to openly talk about issues that face every woman every day. Throughout January and February, I addressed all things period poverty, period shame, period skin and menstruation products. Now, I'm shifting the focus to body confidence. Stay tuned for more talks about cellulite, body positive moments and post-pregnancy bodies!