We promised to keep you twinkling from head to toe this December, so we obviously had to include a refreshing and reinvigorating shower gel in our 'Merry Metallics' GLOSSYBOX.
This month, you will all have been treated to Original Source's Sweet Rhubarb & Raspberry Shower Gel. Not only is it vegan, not tested on animals, packaged in a recyclable bottle and made using 100% renewable energy, but it is formulated with 100% natural fragrances and 4 essential oils too. Trust me, it will your skin feeling refreshed and smelling absolutely gorgeous!
In fact, it smells so good that we decided to share a range of delicious rhubarb and raspberry recipes so that your whole house can smell just like your luscious shower gel! Ready? Here we go!
Five Rhubarb And Raspberry Recipes
1. Rhubarb And Raspberry Gin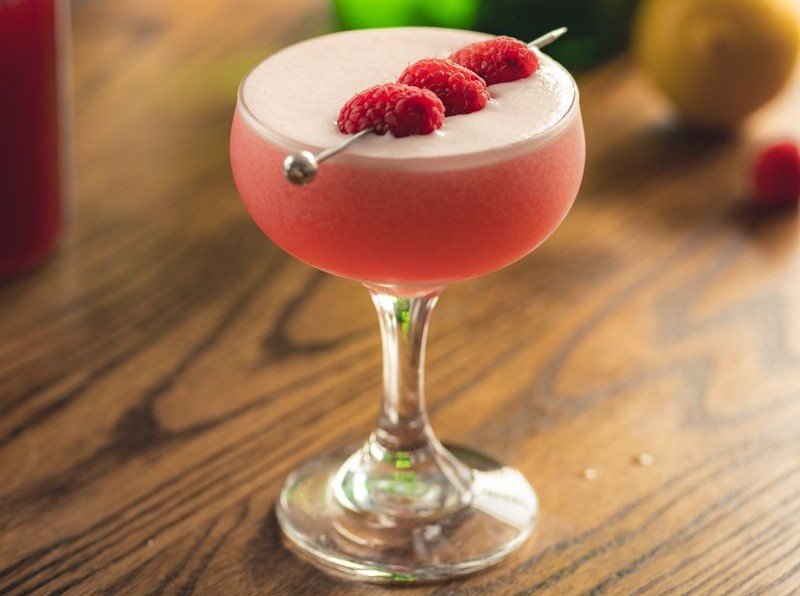 It is the Christmas season after all, so why not celebrate the end of 2019 with a festive drink? Trust me, this is one of those rhubarb and raspberry recipes you'll definitely want to try!
You'll need:
300g of raspberries
200g of roughly chopped rhubarb
150g of caster sugar
750ml of gin
Brew The Gin: Take two 750ml sterilised bottles and fill each one with 150g of raspberries, 100g of rhubarb and 75g of sugar. Then, pour gin over the fruit, ensuring it is all covered. Seal the bottles and store them in a cool dark place for between 5 days and 3 weeks. Don't forget to shake the bottles once a day though!
Strain The Gin: Before drinking, strain the gin through a large sieve lined with a muslin cloth or coffee filters. Re-sterilise your bottles, then pour the gin back into them. Serve it with tonic and ice topped with fresh raspberries, or enjoy neat!
Festive and boozy, you can't really go wrong!
2. Rhubarb And Raspberry Crumble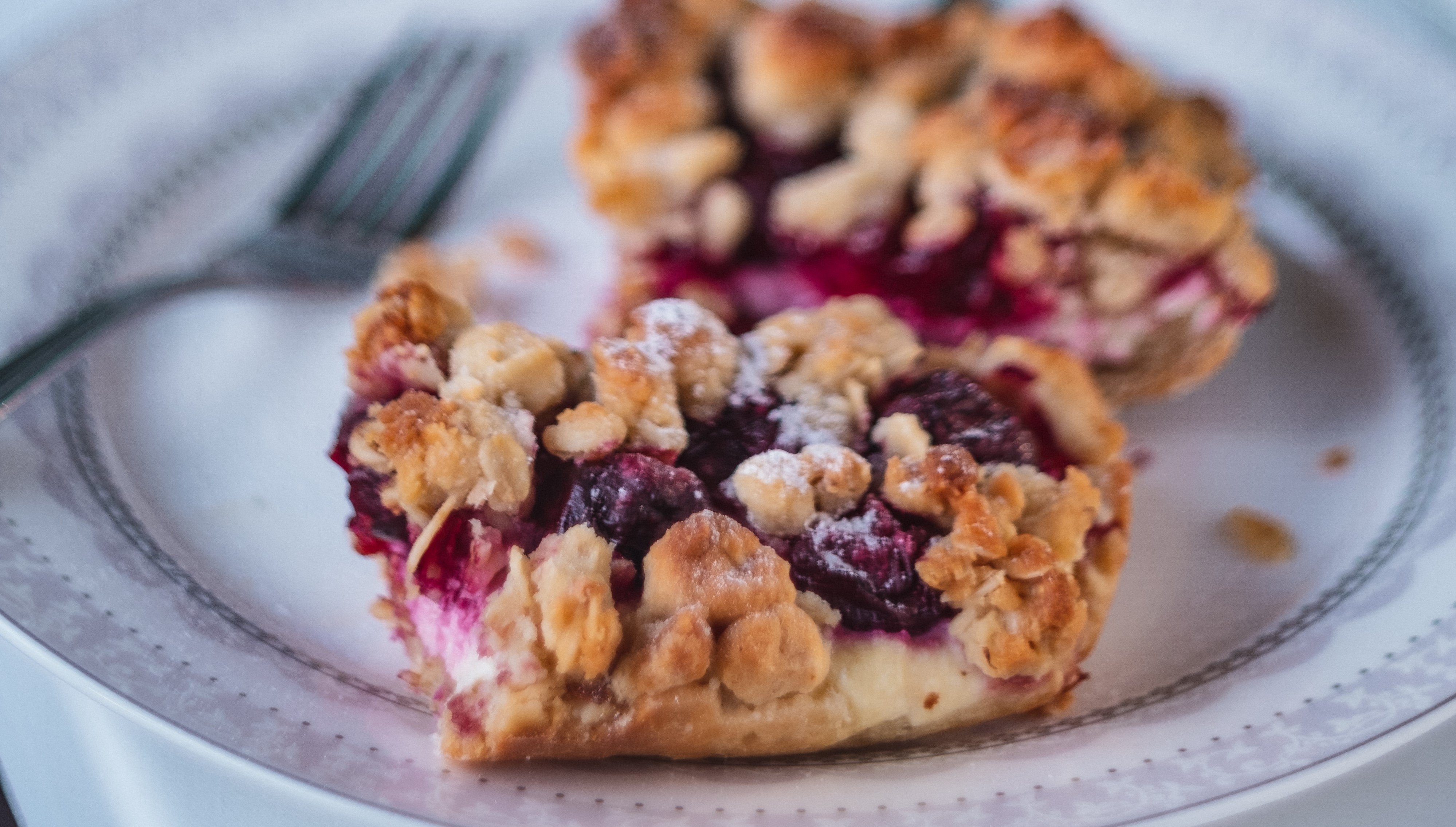 Name a more warming dessert than a crumble – I'll wait! While you try and think of something, here's a recipe for a hearty crumble with a berry twist.
You'll need:
100g of plain flour
100g of porridge oats
100g of butter
100g of sugar
500g of rhubarb, cut into chunks
150g of raspberries
2 teaspoons of cornflour
Make Your Crumble: Mix the flour and oats together in a bowl, then rub in the butter, before stirring in the sugar.
Make Your Filling: Mix the rhubarb, raspberries, 2 tablespoons of sugar and cornflour into a baking dish.
Bake: Spoon your filling into a large baking dish, then sprinkle the crumble mix over the top and bake for 30 to 40 minutes at 190C.
Enjoy with ice cream or custard on a cold December night.
3. Rhubarb And Raspberry Muffins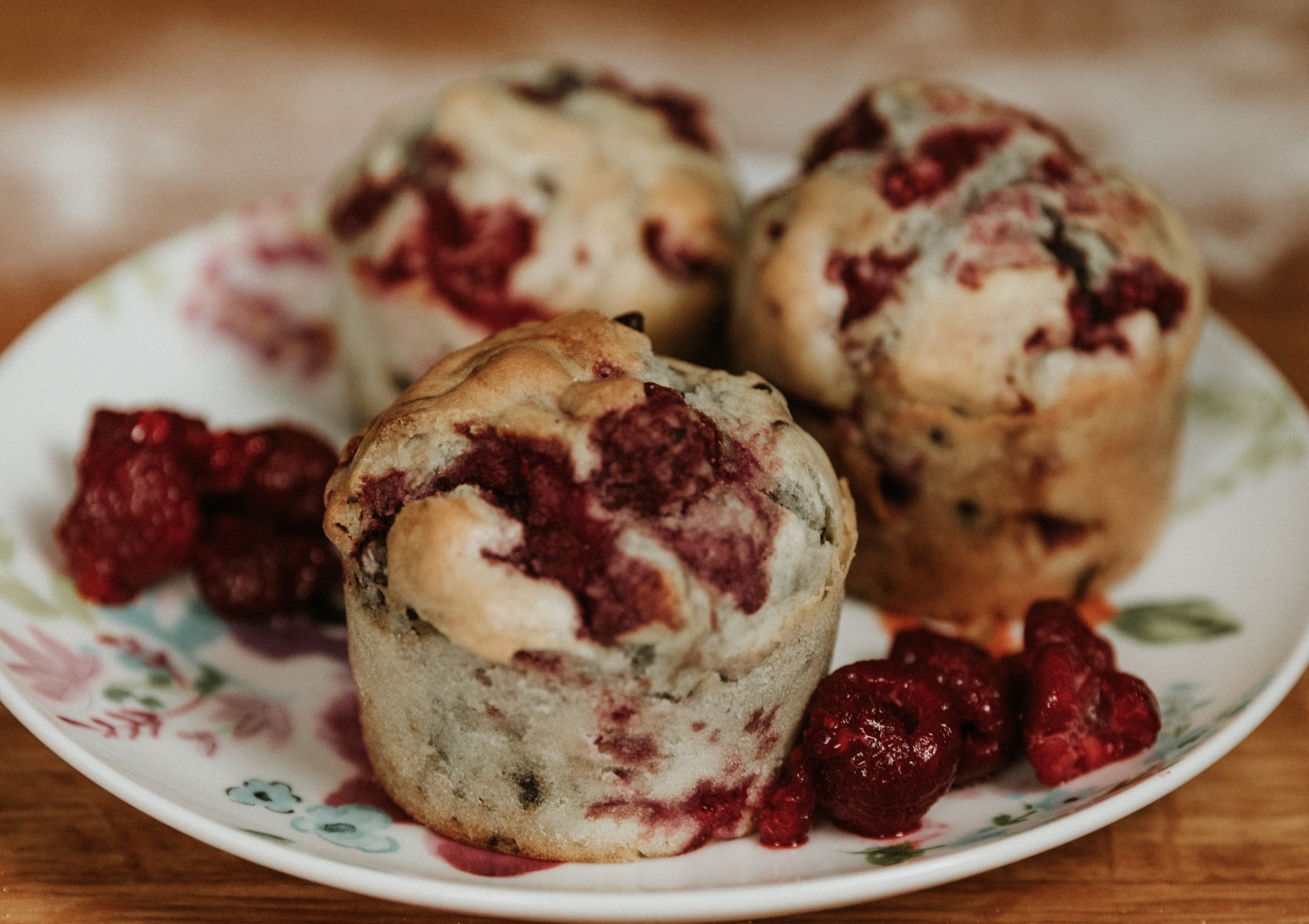 If you fancy a breakfast with a festive twist, then these breakfast muffins are the perfect early-morning treat!
You'll need:
2 cups of all-purpose flour
1/3 cup of brown sugar
2 teaspoons of baking powder
1/2 teaspoon of salt
1 cup of milk
1/3 cup of oil
1 teaspoon of vanilla extract
1 ½ cups of fresh raspberries
1 cup of finely chopped rhubarb
Prepare Your Ingredients: Pour the flour, brown sugar, baking powder and salt into a large mixing bowl and stir. Then, in a separate jug, stir the milk, oil and vanilla extract together.
Mix The Two Together: Pour the wet ingredients over the dry ones and mix together. Then, fold in the raspberries and rhubarb.
Bake: Pour the mixture into muffin cups, then bake for 22 to 24 minutes at 190C.
Grab one before leaving the house in the morning and eat on the go, or enjoy as an afternoon snack with a cup of tea.
4. Rhubarb And Raspberry Fool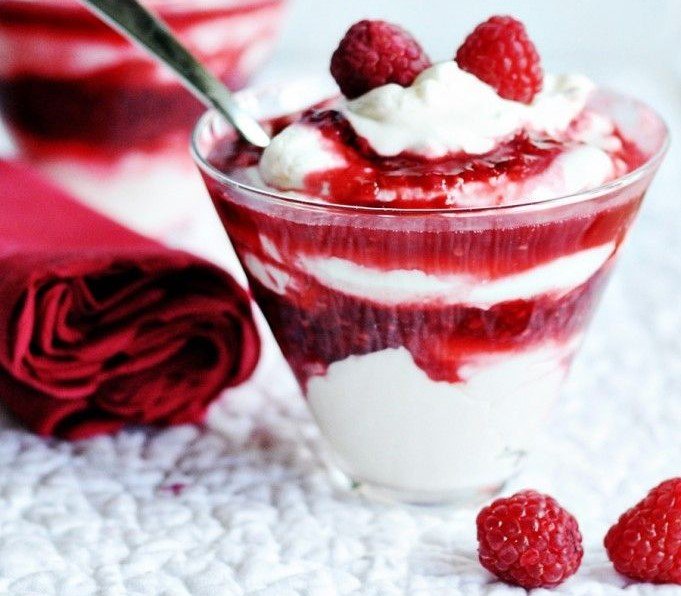 Scrumptious clouds of whipped cream layered over a sweet rhubarb and raspberry compote, what could be easier and more delicious to make? Serve it in a dessert glass and top it with fresh raspberries.
You will need:
2 cups of rhubarb, diced
2 cups of raspberries
1 cup of sugar
3 tablespoons of water
2 cups of heavy cream
½ cup of Greek yogurt
2 tablespoons of powdered sugar
1 teaspoon of pure vanilla extract
Make Your Compote: Add the rhubarb, water and sugar into a pan and slowly bring the mixture to a boil over a medium heat. Then, lower the heat and leave it to simmer until the rhubarb softens. Next, add the raspberries and stir until everything has fully combined. Then, set it aside to cool.
Make Your Whipped Cream: Pour the heavy cream into a bowl and whip using beaters until soft peaks form. Then, add the Greek yogurt and beat again until stiff peaks form.
Layer Your Dessert: In a dessert glass, alternate between a layer of compote and a layer of whipped cream. Top with a single fresh raspberry and serve.
5. A Rhubarb And Raspberry  Frangipane Tart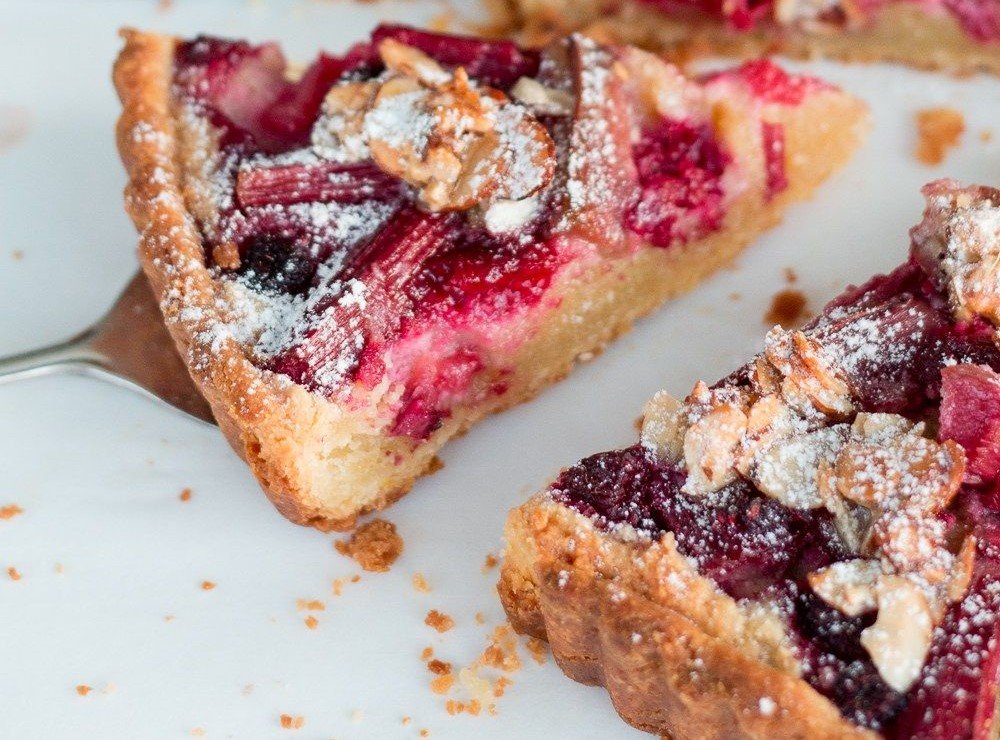 If you really want to impress your guests this festive season, then make this mouth-watering tart. It takes a little while to make but it's so worth it!
You will need:
Softened butter, 255g
Icing sugar, 40g
Caster sugar, 230g
Almond flour, 70g
Plain flour, 250g
Finely chopped blanched almonds, 50g
Eggs, 2
Egg yolks, 2
Rhubarb, trimmed and sliced into 4cm piece, 1 ½ bunches
250g of raspberries
1 lemon
Clotted cream to serve
Make Your Tart Base: Beat 180g of softened butter and 40g of icing sugar together using a mixer, before adding 2 egg yolks and 1 tablespoon of water. Next, add 250g of sieved flour and stir until all the ingredients have fully combined. Finish by kneading the dough, then wrap it in cling film and leave it to chill in the fridge for at least an hour.
Make Your Frangipane: Beat 75g of softened butter and 80gm of caster sugar together using a mixer, then add 70g of almond flour and 2 eggs, stir, then add the chopped almonds. Leave the mixture to set in the fridge for an hour.
Shape Your Pastry: Butter and flour a 5cm round, deep cake tin with a removable base. Then, roll your pastry into a 30cm circle and spread it into the tin. Don't forget to trim the edges and prick the base, before leaving it to rest in the fridge for an hour.
Bake Your Rhubarb And Raspberries: Place the raspberries and chopped rhubarb into a roasting tray and cover with 150g of caster sugar, then add lemon rind and lemon juice. Cover with foil and bake for 20 minutes at 175C.
Bake Your Pastry: Cover your pastry with greaseproof paper and baking balls, then blind bake for 20 minutes until light gold. Remove the paper and weights and bake for 5 minutes until golden. Leave it to cool for 15 minutes, then remove from tin and leave to cool completely.
Make Your Tart: Add the frangipane into the base of your pastry, then cover with the rhubarb filling. Bake for 30 minutes at 175C.
You can then serve it with clotted cream!
And there you have it, five rhubarb and raspberry recipes inspired by the sweet-scented Original Source shower gel in your December GLOSSYBOX!
Subscribe to GLOSSYBOX
We have now sold out of our December box. Don't worry though! You can pre-order our January edit now.