Mineral makeup has been gaining momentum as a trend over the past few years and it doesn't look like the craze is going to die down anytime soon.
So, to keep you up-to-date with this latest beauty phenomenon, here's a round-up of everything you need to know about mineral makeup, plus some insight into the Annabelle Mineral's blush some of you received this month!
What Is Mineral Makeup?
Mineral makeup is formulated using, you guessed it, very small minerals, including mica, talc, titanium, zinc and iron oxides. These are ground into a very fine dust and then blended with pigments to create smooth and creamy powders that apply effortlessly.
Why Should I Use Mineral Makeup?
 It's Healthy For Your Skin
Mineral makeup is exclusively made using natural ingredients that are anti-allergenic and don't cause irritations. Most importantly though, it's free from preservatives, irritants, oils, waxes, synthetic fragrances and bulking agents. Essentially, it contains all of the good stuff, and none of the bad.
It Protects Your Complexion
Mineral makeup sits comfortably on the surface of your skin, creating a barrier between your complexion and outside elements, as well as protecting it from blustery weather, dirt and free radical damage.
If your mineral makeup is formulated with titanium oxide, it can also act as an SPF. A natural shield from UVA and UVB rays, it works like a sunscreen with an SPF value of 15 – perfect for the sunny months ahead!
Who Can Use Mineral Makeup?
You'll be happy to know that mineral makeup is suitable for all skin types.
Sensitive and blemish-prone skin: Because mineral makeup is formulated with natural and lightweight ingredients, the powder sits on your skin and doesn't clog up your pores. It won't cause breakouts or irritations.
Combination and oily skin: Mineral makeup that contains talc can help absorb excess oils on the surface of your skin, making it the perfect cure for shiny T-zones!
Dry and flaky skin: If you have dry skin, you can still use mineral makeup. Just avoid formulas with talc (you'll be pleased to know that the blush by Annabelle Minerals in your May box is talc free!) and be sure to always use a primer to smooth your skin first.
Related: The Story Behind Our bareMinerals Limited Edition GLOSSYBOX
What Kind Of Mineral Products Are Available?
From foundation to blush, and eyeshadow to bronzer, you can buy a variety of mineral makeup products.
Annabelle Minerals' Rose Mineral Blush
Some of you Glossies will have been treated to the Rose Mineral Blush by Annabelle Minerals. Vegan, 100% organic and highly pigmented, this blush boasts a lovely shade of mauve that will give your cheeks a subtle blush. It's also formulated with 4 mineral ingredients and delicate pearl particles that create a healthy, radiant glow, and a smooth, matte finish.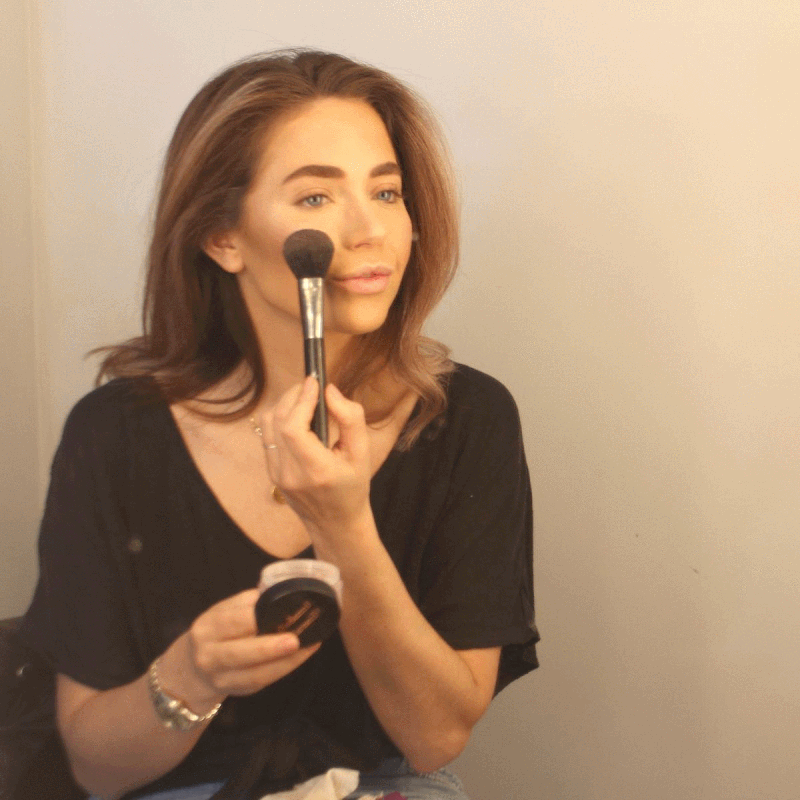 For best results:
Pour a small amount of blush into the lid.
Collect some of the blush using an angled brush.
Tap off the excess.
Sweep the blush from your temples down to your cheekbones.
Blend until you've created a naturally-flushed look.
If the colour is too subtle, feel free to repeat the above process. Don't worry, because all the ingredients are natural and lightweight, adding a couple extra layers won't create a 'cake face' effect like other powders sometimes do. Instead, you'll have a soft and rosy look. Even British Vogue approves!