We're embracing high-end beauty trends this month, so of course I couldn't resist reaching out to other beauty editors to find out what their favourite trends are. I caught up with Jessica Morgan, beauty journalist at Get The Gloss…
What Is Your Favourite Beauty Trend?
"One of my favourite beauty trends has to be the 'skin first, makeup second' trend. It's allowed people to strip their routines back to the basics, learn more about their skin type, research ingredients, find the products that work for them and really take care of their skin."
I am obsessed with the glass skin, dewy look! There's something so beautiful about having a well hydrated and healthy-looking complexion.
"If you want to embrace this trend, look to CC creams or skin tints rather than reaching for the heavy-duty foundations that covers up your beauty.
I'm really loving the IT Cosmetics CC Cream. Though it is full coverage, when worn on its own it really compliments the skin. I also love the Chanel Les Beiges Water-Fresh Tint. It's a watery-serum with just the right amount of pigment that absorbs into the skin nicely, leaving your complexion dewy and moisturised. It's one of the best launches for me this year!"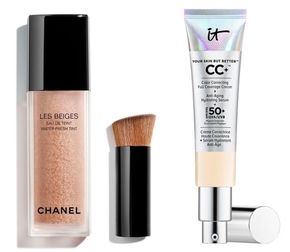 Buy the Chanel Eau De Teint here and the IT Cosmetics CC Cream here.
What Will The Next Big Beauty Trend Be?
"Skin healing products! Known as Cica, which literally translates from French as 'to heal,' is a skin healing ingredient that has become huge in the last 18 months. Cica is actually a staple in French pharmacies. There are so many products available that contain Cica.
One of my personal favourites is the La Roche-Posay Cicaplast Baum B5 – I don't leave the house without it. Another great product is the YourGoodSkin Cica Repair Sleep Paste – you put it on at night and wake up with smooth, hydrated and fresh skin. It's like you've been reborn!"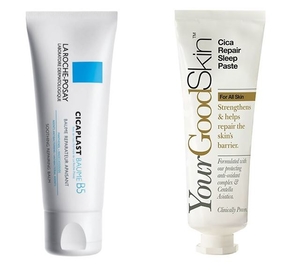 Buy the La Roche-Posay Cicaplast Baume B5 Soothing Repairing Balm here, and the YourGoodSkin Cica Repair Sleep Paste here.
What Trend Do You Wish Would Come Back Around?
"I really love the dark, shadow lipliner look from the 90s. There's something really sexy about a super-dark lined lip with a lighter shade of lipstick. Bring that back!"
Which Beauty Trends Will Stand The Test Of Time?
"One of the beauty trends that I really hope does stick around for the long haul is the plastic-free, eco-friendly beauty products. Climate change is real. Global warming is real. And the amount of waste we produce as an industry is one of the biggest contributors."
While brands have been making necessary steps to reformulate and repackage their products, a lot more needs to be done.
"I'm really passionate about sustainability and plastic waste, and so I think people need to be focusing on this if we ever want to protect our planet." Find out more about sustainable beauty here.
Which Trend Do You Hope Never Comes Back?
"Hair crimping! Let's be honest – it has never been a good look and never will be."
For more beauty, health and fitness tips, check out Jessica's Instagram and Twitter accounts, or visit Get The Gloss.
Join The Glossy Family
Our 'Trending Beauty' edit is filled with 5 full-size products, including makeup, skincare and nail care that will ensure you stay a la mode. Don't miss out. Subscribe now!