We really have spread the love this month Glossies! Along with a gorgeous HUDA Beauty Lip Contour and a soft Luxie brush, we also treated you to two luscious his and hers fragrances by Mugler*: Alien Fusion.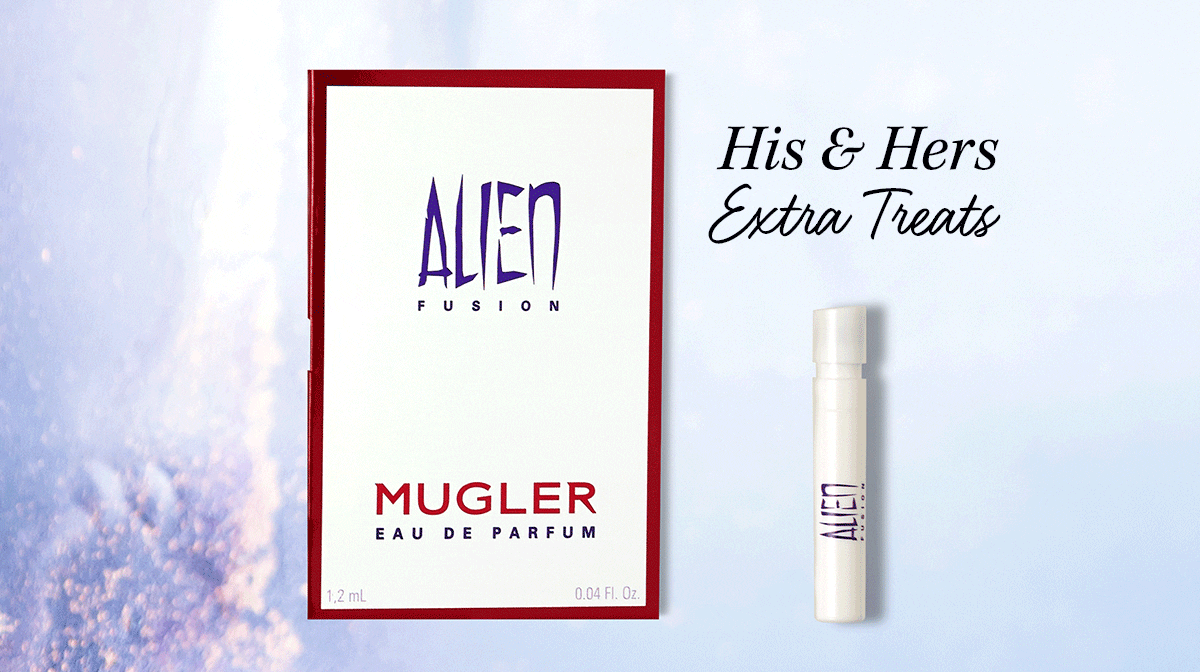 An Exclusive Sneak Peek
Newly launched on the 3rd of February, you Glossies are some of the first beauty-lovers to try the latest fragrances from Alien by Mugler!
As an exclusive treat, you get to enjoy these solar-eclipse inspired scents. Get ready to experience the way Alien Fusion Eau de Parfum for her contrasts with the fresh of Alien Man Fusion Eau de Toilette for him, fusing together to create an enticing duality that awakens the senses.
The Perfect Fragrance For You And Your Special Someone
In the spirit of Valentine's, we brought you two treats this month, one for you and one for your other-half. You'll have received:
For her Alien Fusion Eau de Parfum: Blending spicy Ginger and Cinnamon with Sambac Jasmine and hints of Orange blossom, Alien Fusion EDP is an intriguing fragrance of contrasts that boasts a hot and spicy scent with an intense and fiery trail.
 For him Alien Man Fusion Eau de Toilette: Infused with fresh Ginger and woody Cinnamon like its feminine alter ego, Alien Man Fusion EDT also combines Osmanthus flowers and smoked beechwood to create a leathery and vibrant fragrance that is completely addictive.
A Great, All Year Round Gift
If you're not celebrating Valentine's until the weekend and you still haven't found the perfect Valentine's gift yet, a fragrance is always a good shout. I mean, who'd be disappointed by a perfume?
A Gift For Every Occasion
In fact, the New Mugler Alien Fusion is a great gift for every occasion. Whether you're on the hunt for a birthday present, an anniversary gift or (if you're really organised) a Christmas surprise, a perfume is guaranteed to be a crowd-pleaser.
Better yet, if you're purchasing a gift for the opposite sex, you can buy both the for her and the for him fragrances and keep one for yourself!
A revamping of the iconic Alien perfume, the Alien Fusion duo really do smell luscious (I particularly like the men's fragrance!) and the packaging looks so sleek. The red-coloured Alien Fusion bottle is inspired by the molten sun and rare rubies, while the Alien Man Fusion is a luminous sapphire blue.
Exclusive Discount In The GLOSSYLounge
We've just updated our GLOSSYLounge and it now includes an amazing offer with Mugler! Log into your account today to redeem your exclusive discount and receive a free gift with your purchase.
Don't miss out Glossies! Newly launched, I reckon these two fragrances are going to sell out fast. I've already bought a set for my parents. I'm giving mum hers for mother's day and saving dad's for his birthday in April!
About Thierry Mugler
No doubt you've heard the name Thierry Mugler before. A critically-acclaimed fashion designer, he launched his first perfume in 1992, unveiling his legendary Angel fragrance. Since then, he's developed an array of exceptional scents using the finest, innovative materials.
Mugler's bold scents centre around 2 or 3 notes to create a perfectly-balanced fragrance that is full of character. You just need to give your luscious Alien Fusion sample a whiff to see what I mean!
Join The Glossy Family
Due to incredible demand, we've now sold out of our February 'It's All About Love' edit. You can still be part of the Glossy family though! Subscribe today to pre-order March's box – you won't want to miss it! #stayGLOSSY