From Cara Delevingne-esque thick and bushy statement brows, to Rihanna's pencil thin ones on the cover of Vogue, 2018 saw every eyebrow shape under the sun (remember the wavy brow trend? Or the halo brows?). In 2019 though, the beauty world has turned its attention to the tools that'll help you achieve your perfect shape. Forget plucking, threading and waxing, the eyebrow shaper is the new technique in town!
Introducing The Wilkinson Sword Eyebrow Shaper
In your January box, some of you will have received the Wilkinson Sword Beauty Eyebrow Shaper. Quick and easy to use, this razor is the latest way to get perfect brows.
It boasts a high-quality blade with fine micro guards that effortlessly removes fine hairs and protects your skin. It even comes with a precision cap that enables precise eyebrow shaping.
How To Shape Your Brows
If you've never shaved your brows before, don't worry! With our step-by-step guide, you'll achieve the perfect brow effortlessly.
Step 1: Outline Your Shape
Before you start, make sure your skin is clean and dry. Then, comb your eyebrows so that all the hairs go in one direction. Using an eyebrow pencil, you next need to trace the shape of the eyebrow you'd like to create. This will stop you from plucking outside of your designated brow line.
Step 2: Start With Your Upper Line
Holding your skin taut, glide the razor in a downward motion towards your eyebrow. Make sure the blade is at a 45 degree angle and that you take your time.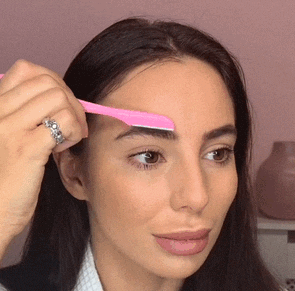 I'd recommend placing the precision cap over the blade for this part. Using the same technique as above, gently glide the blade in a downward motion to remove shorter hairs and define your arch.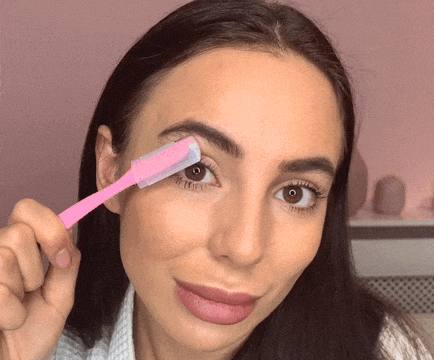 Step 4: Remove Pesky Hairs
If you've got a few pesky hairs growing between your brows, glide the blade downwards to remove them.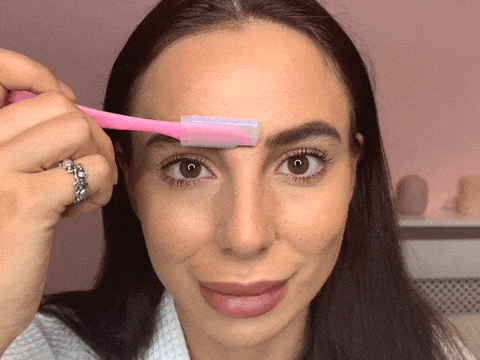 Step 5: Finishing Touches
For the perfect finish, apply a serum or Aloe Vera cream to sooth your skin and keep your brows in place.
Related: Microblading: The Secret To Fuller-Looking Eyebrows
The Other Uses Of Your Eyebrow Shaper
As women, we're often too uncomfortable to talk about our facial hair. It's time to break that taboo, though, so I'm just going to answer the burning  question on everyone's lips: yes, you can use your eyebrow shaper to remove the fuzz off your peachy cheeks too.
We shouldn't be embarrassed to remove unwanted facial hair. Did you know that beauty icons Marilyn Monroe and Elizabeth Taylor reportedly shaved their faces, while Nina Vee does it nowadays?
How To Shave With Your Eyebrow Shaper
Don't feel like you have to start shaving your face, but if facial hair is making you self-conscious, then you can use your eyebrow shaper to remove fuzz from your cheeks, hairline and upper lip.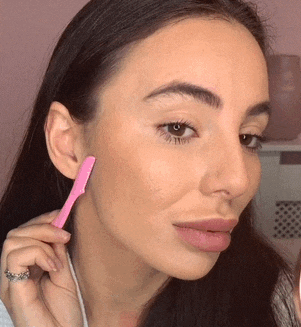 Apply the same technique as with your eyebrows: hold your dry and clean skin taut, glide the blade at a 45-degree angle in a downwards motion along the hair you want to remove. Remember to be gentle and take your time. You should also avoid going over the same area too many times so as not to irritate your skin.
A Quick Q&A
Q: What Are The Advantages Of Using The Eyebrow Shaper On Your Eyebrows?
A: Unlike plucking, threading or waxing, this tool allows you to quickly shape you brows without pain. Plus, you can precisely shape your brows thanks to the precision cap that allows you to reach all angles.
Q: What Are The Advantages Of Using It On Your Face?
A: When you remove unwanted fine hairs, you'll be left with a smoother complexion and your makeup will look flawlessly even.
Q: How Often Will I Have To Shave?
A: Hair growth varies from person to person, so I'd suggest shaving again when your brows start to really lose their shape.
Q: Will Hair Grow Back Thicker And Darker?
A: This is a myth, Glossies! In fact, using an eyebrow shaper is actually really good for your complexion. Similar to dermaplaning, using your eyebrow shaper exfoliates your skin by removing the top layer of dull dead skin cells and revealing a brighter complexion.
Q: Will It Cause Ingrown Hairs And Stubble?
A: Using your eyebrow shaper won't cause ingrown hairs. As your hairs naturally start to grow back, you may have small stubble on your brow though. So, to ensure the best results, I'd recommend using a warm flannel to open your pores before shaving. You should also remember to hold the shaper at a 45-degree angle and shave in the direction of hair growth.
Subscribe Now
Due to incredible demand, we've now sold out of our January 'Beauty Resolutions' edit. You can still be part of the Glossy family though! Subscribe today to pre-order February's box. It includes a luscious HUDA Beauty Lip Contour you won't want to miss! #StayGLOSSY