For most of us, Christmas doesn't start until there's a decorated tree in the living room and a festive wreath on the front door. This year, why not welcome in the festive cheer with a home-made wreath? It costs less than £30 to make, can be personalised to your taste, and, best of all, is really fun to make!
We've spoken with Steph from Barker & Bloom, to create an easy step-by-step tutorial for you Glossies to create your very own red and gold wreath! Simply follow this tutorial to make your own.
This should take roughly an hour to make, so put on some Christmas tunes, grab your supplies and get creative!
What You'll Need To Make A Christmas Wreath
Frame And Tools
Wicker frame (this is more expensive but is easier to shape and needs less decoration and foliage)

or

 Wire frame (this is slightly cheaper, but you will need to cover it well and use lots of foliage to create the bulky wreath shape).
Green bindwire
Scissors
Foliage And Decorations
Conifer
Spruce
Dried asparagus
Leather Leaf
Glitter
Pinecones
Red glitter snowballs
Red berries
Acorns
Artificial glitter amaranthus stem
Red glittered poinsettia pick
Gold glitter leaves
Gold ribbon
Insider Tip: You can buy artificial versions of all the greenery listed above or fresh from a florist, but you can also use foliage from your garden, local park or forest.
Step 1: Vamp Up Your Pinecones
It wouldn't be Christmas without some glitz and glamour, so add some glitter to your pinecones to give them a sparkly finish. I'd recommend doing this over the sink or on a newspaper-covered surface.
Start by spraying your pinecones with hairspray (yes, you did read that right) and then sprinkling glitter over the top. The glitter will stick to the cone.
Then wrap some green wire round the pinecone. Where both ends of the wires cross, twist both the strands round each other to create a long wire pick.

Step 2: Cut Your Decorations To Size
The branches of decorations you'll have bought are too large to put straight onto the wreath. Break off the smaller branches from the larger stem to create a pile of smaller decorations.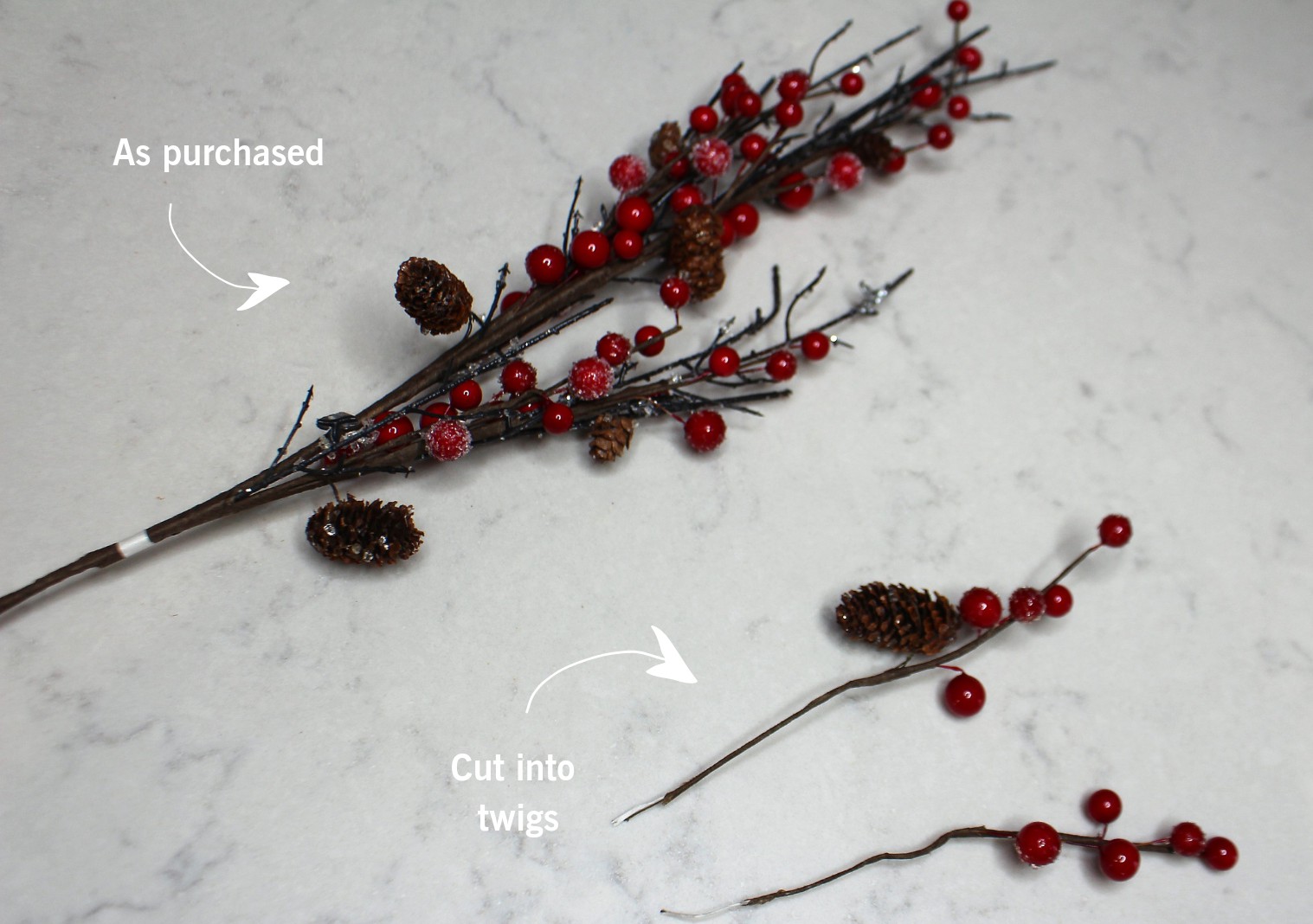 Step 3: Create A Fixing Wire
Wrap the wire round the wicker, making it as tight as possible. Don't cut it off from the stick, you'll keep using the same piece of wire throughout.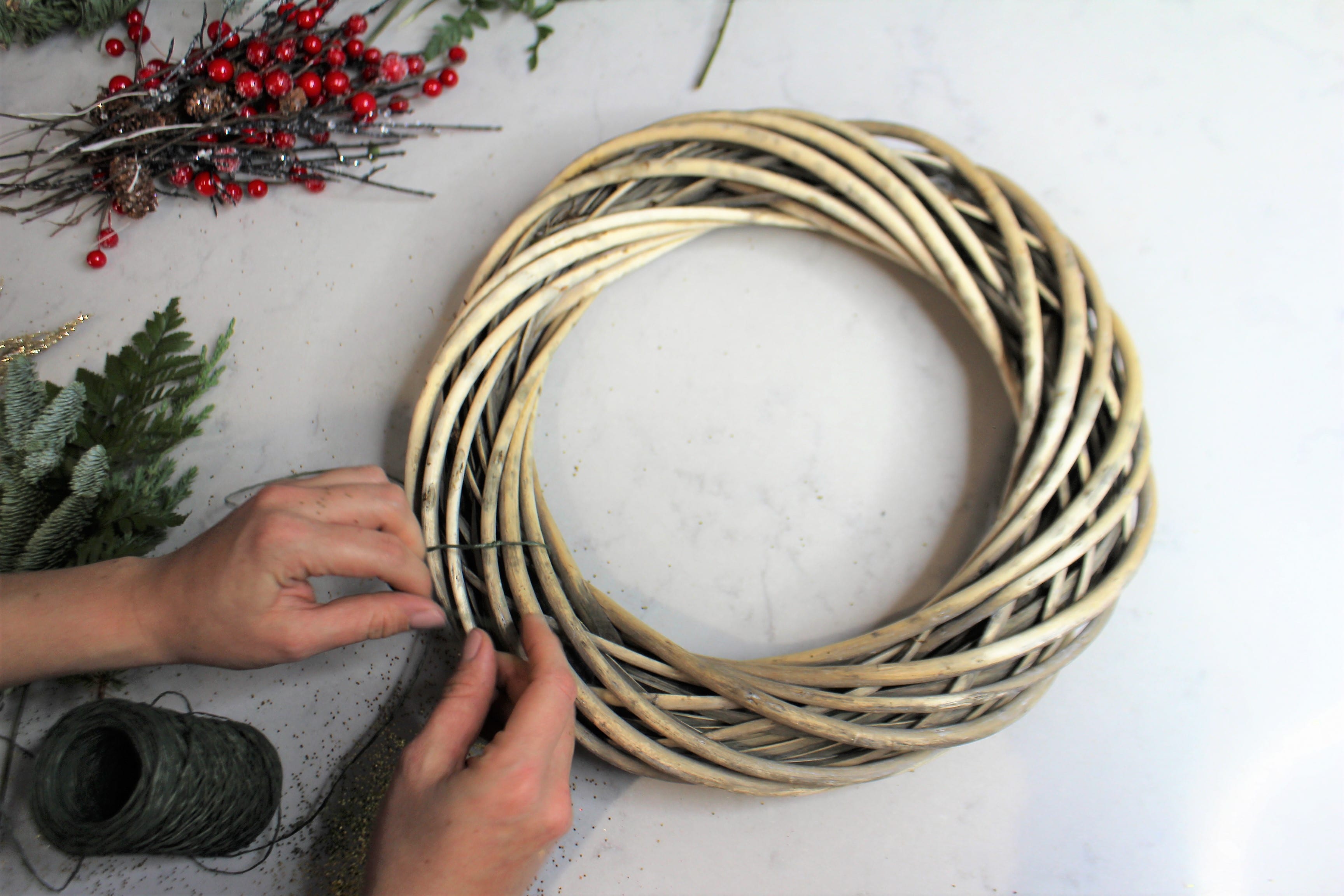 Insider Tip: If the wire does snap, don't worry! Just tie the broken wire around the wreath and start again using a new piece of wire.
Step 4: Decorate Your Wreath
To decorate your wreath, you'll need to attach small bundles to the wicker. Create a base of leaves and add one or two decorations to each bundle. Place your bundle on the wreath and wrap the wire around both your bundle and the wreath five times. Make sure you wrap it as tightly as possible.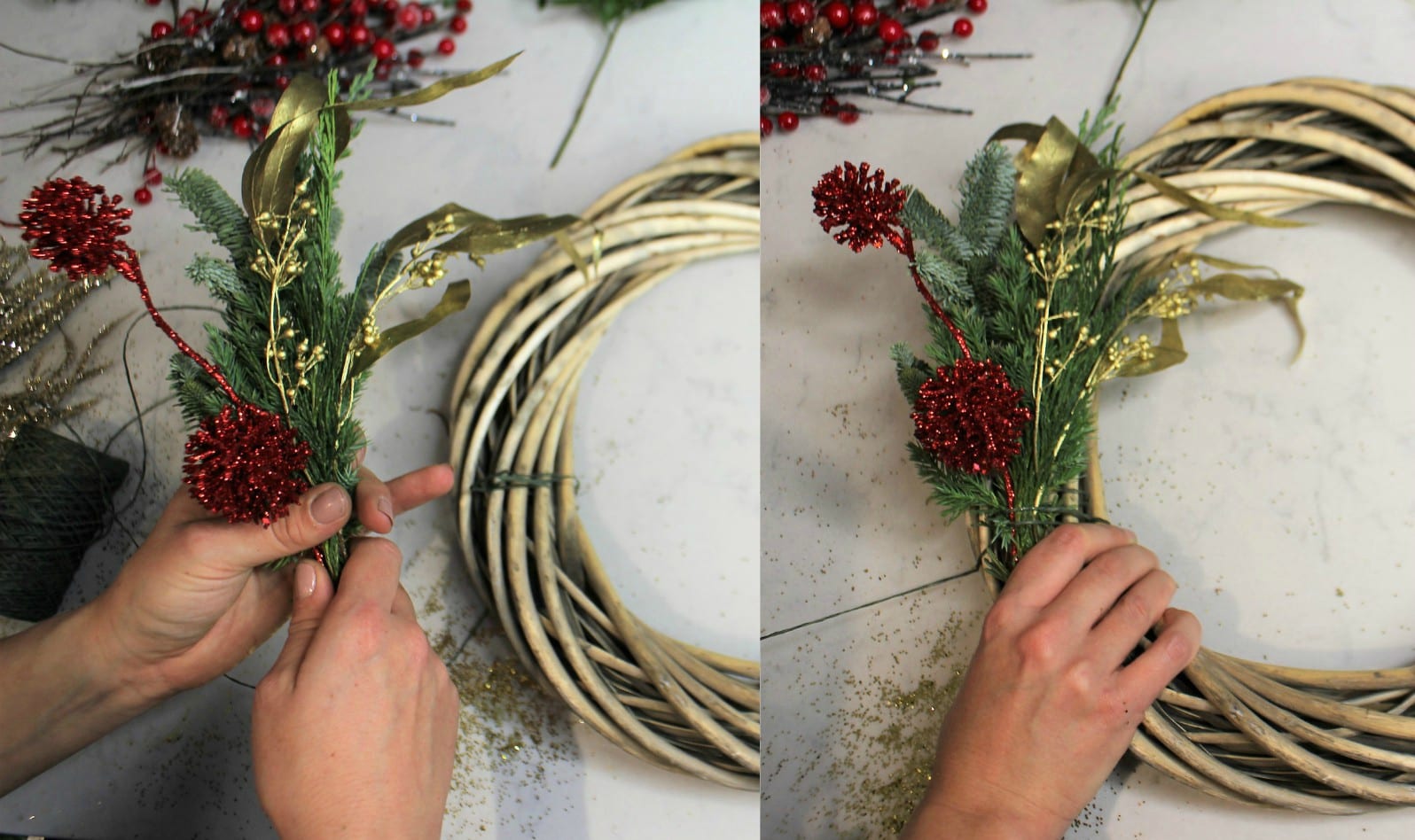 Insider Tip: When decorating, always work in uneven numbers. In other words, use each decoration 1, 3 or 5 times, rather than 2 or 4.
Step 5: Repeat
Repeat the process, always using your new bundle to hide the bottom of the previous bundle. Consecutive bundles should point in alternating directions (i.e. if your first bundle curves outwards, the next should curve inwards, and so on).
Insider Tip: When creating a bundle that points outwards, use branches that naturally curve inwards. If the bundle is pointing inwards, use straighter branches. This will help to preserve the natural shape of the wreath.
Step 6: Attach Your Last Bundle
When you've covered the wreath 7/8th of the way round, attach your last bundle in the other direction to all the other bundles. The bottom of both the last and the penultimate bundle should overlap.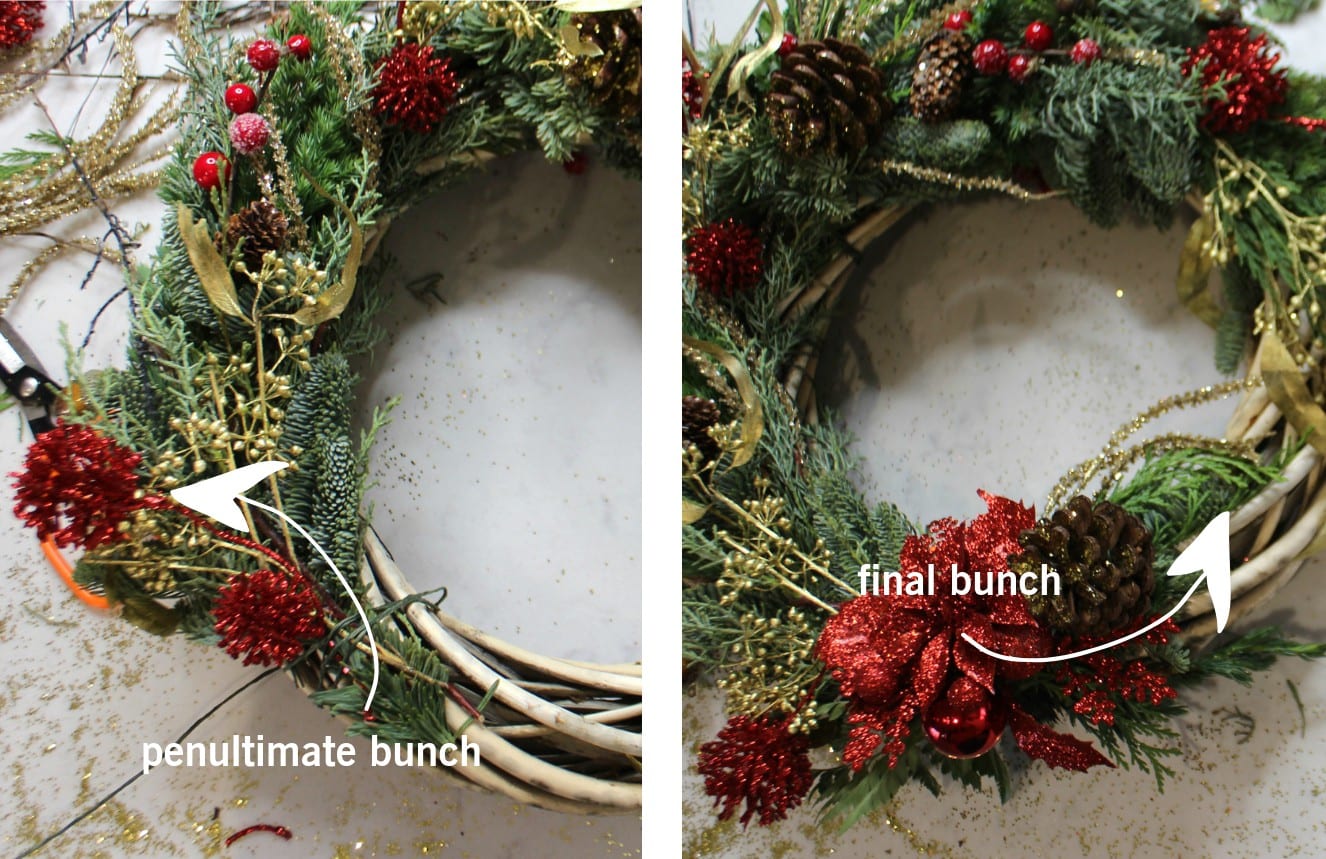 Step 7: Secure The Wire
Cut the wire and wrap it around the wreath, securing it so that it won't unravel.
Step 8: Final Touches
At the end, go back over the wreath, filling in any gaps to hide the wire. You can do this by feeding any excess foliage through the existing wires.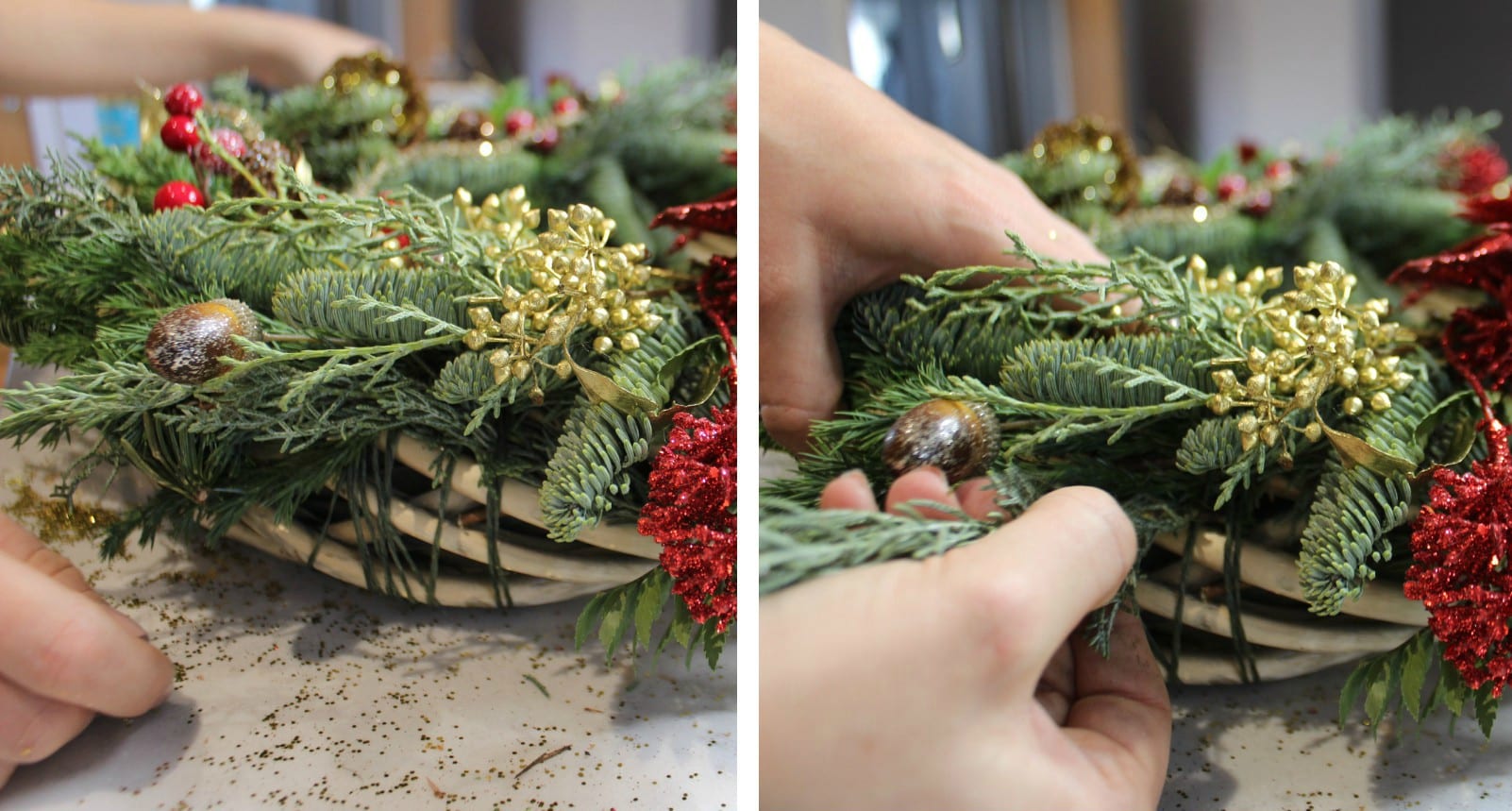 Step 9: Make Your Wreath Last
Spray the wreath lightly with water. You'll only need to do this once, it just helps your wreath stay fresh until Christmas.
Step 10: Proudly Hang It On Your Door
Use your GLOSSYBOX gold ribbon from your December box to add a finishing touch to your wreath and to proudly hang it on your door.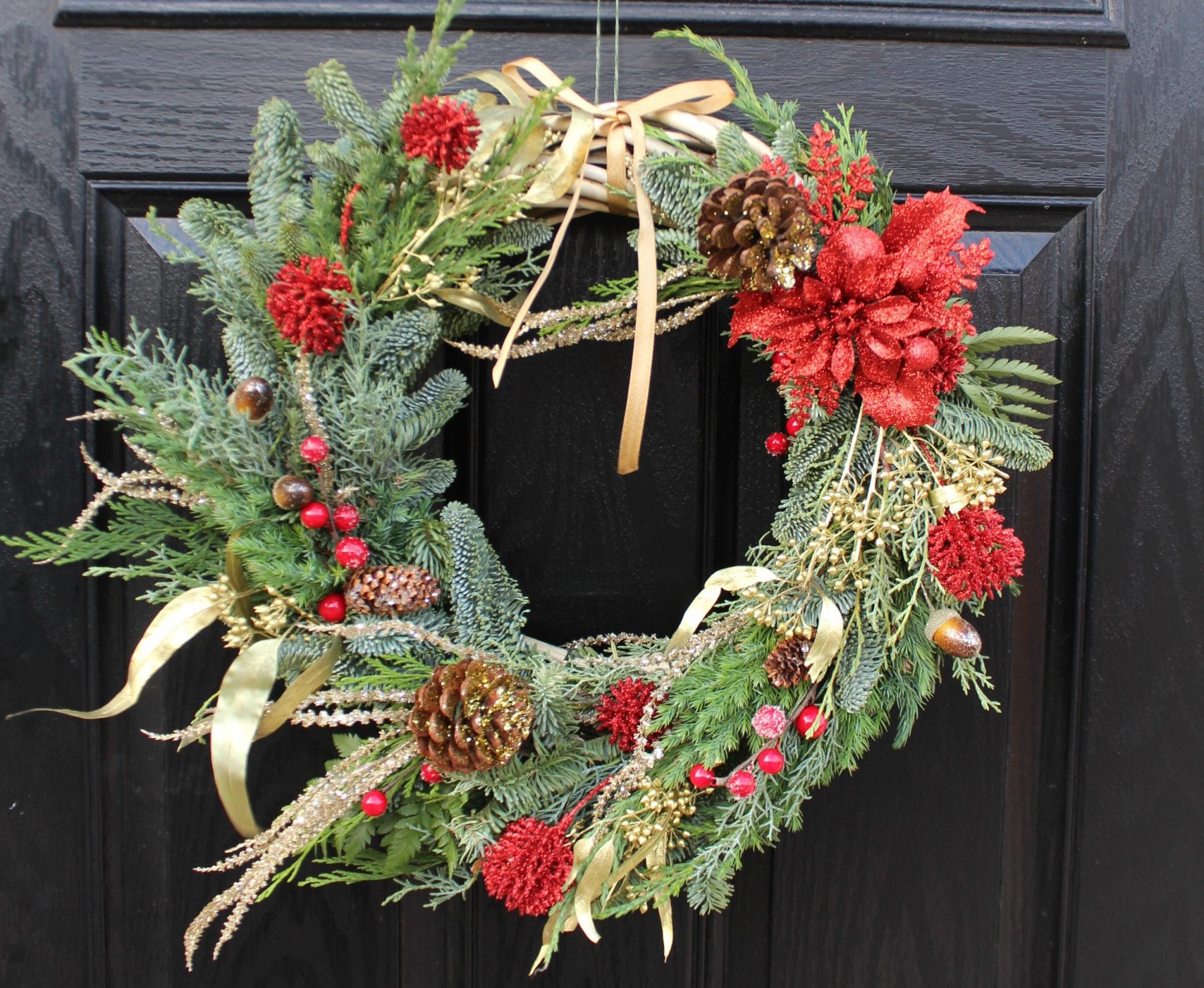 There you have it Glossies! Wasn't that easy? It turns out that all you need to make a Christmas wreath is a few supplies, a sprinkle of festive spirit and a dash of Christmas cheer!
Our wreath was designed by Barker&Bloom, a freelance florist company run by Steph. You can follow her on Instagram and check out all her beautiful designs.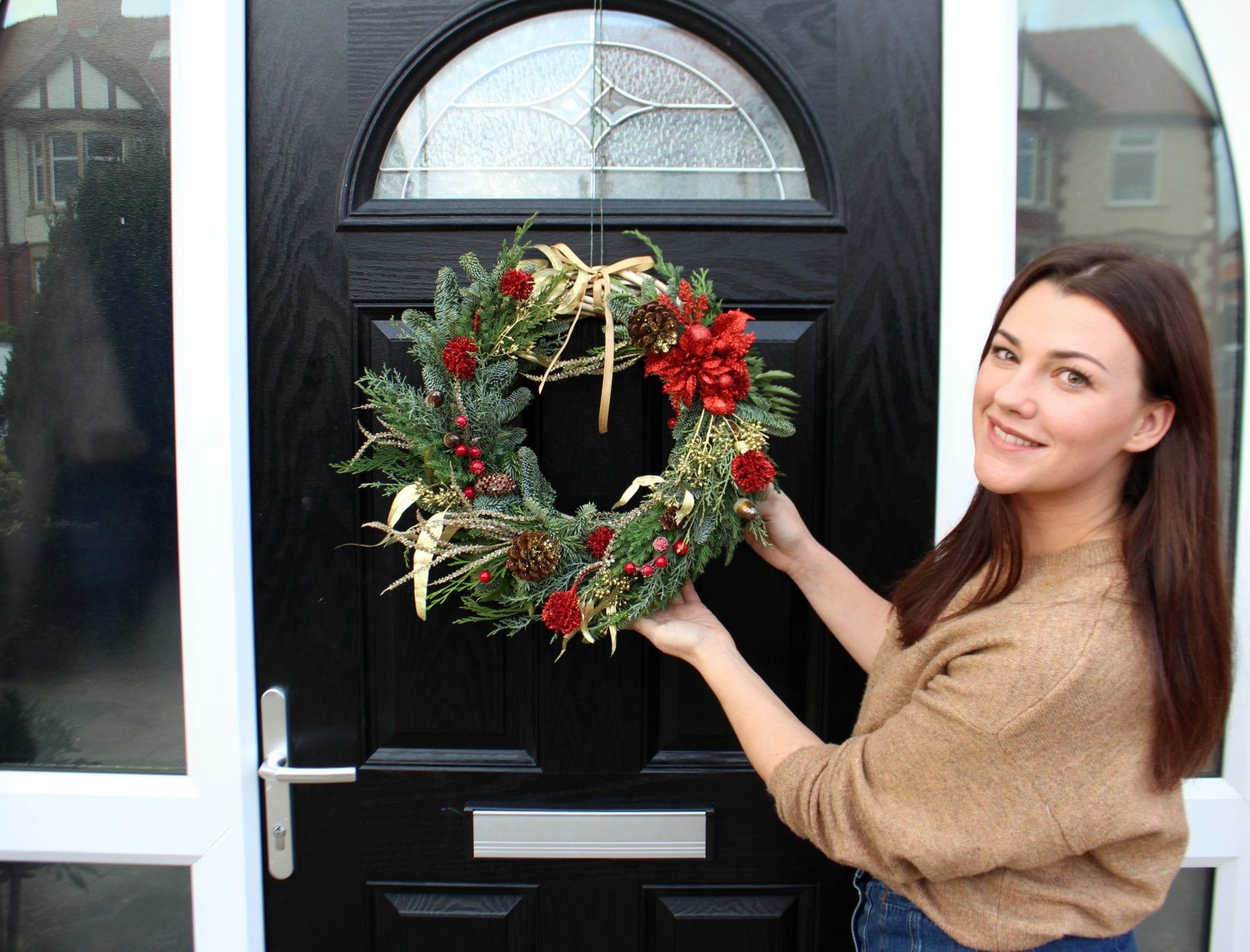 Subscribe To GLOSSYBOX
Subscribe to GLOSSYBOX now and you'll receive five must-have products that your hair, skin and face will love, straight to your door every month. Join us now from just £11.75 a month!