Here's another killer makeup product inside your 'Trick Or Treat' GLOSSYBOXES. Cruelty-free and fabulously 'LUXE', you can rely on MUA Makeup Academy for being at the forefront of the hottest makeup trends! MUA has been sold exclusively in Superdrug stores and on muastore.co.uk for nearly 10 years!
Inside the Trick boxes is the MUA Luxe Bronze & Sculpt Contour Kit – your go to for an effortlessly bronzed and contoured look. The lightweight powder comes in two shades – one with a hint of shimmer for highlighting the areas of your face that naturally catch the light and a darker shade perfect for sculpting and defining your features.
Apply the darker shade along your jawline, either side of your nose and in the hollows of your cheeks for ultra-defined features. Say hello to bronzed, contoured perfection!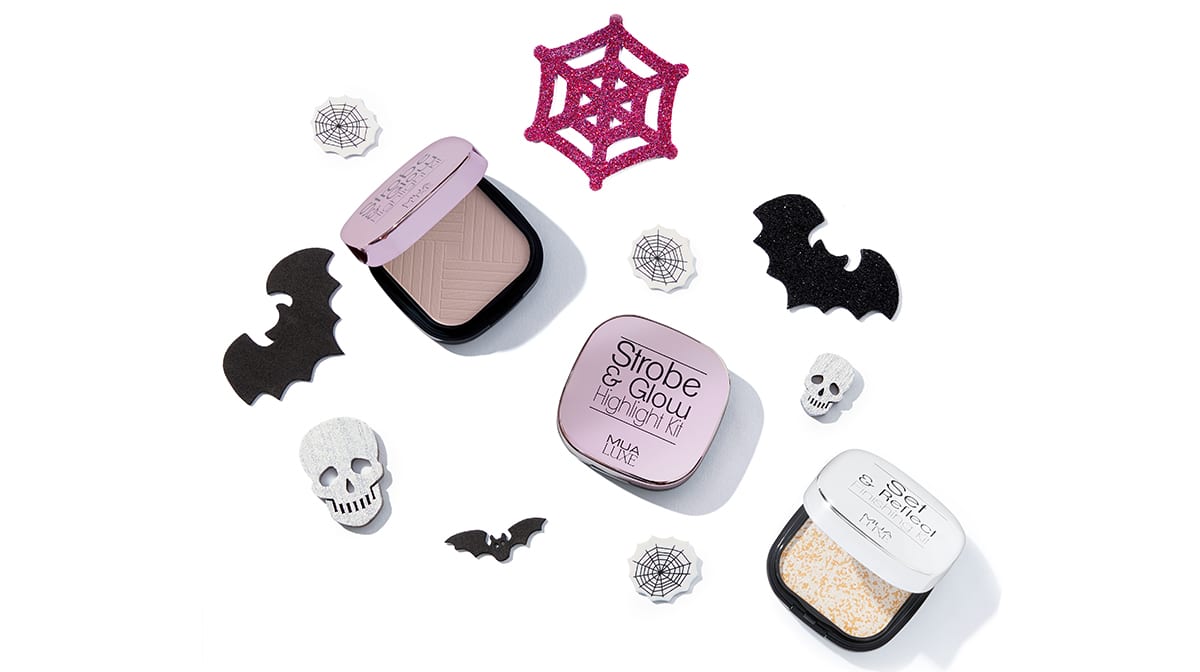 We're big fans of strobing and highlighting because we all know that a glow never goes out of fashion. This season is no different, it's all about serious radiance. We included 3 different highlighter kits in our Treat boxes – the MUA Luxe Strobe & Glow Highlight Kit in Pink Luster and Pearl Gold along with the MUA Luxe Set & Reflect Finishing Kit! 
These kits are all you need to achieve that sort-after iridescent finish that's all over YouTube. The Strobe & Glow Kit in Pink Luster and the Set & Reflect Kit are even featured in a video by one of our favourite YouTubers NikkieTutorials!
Containing a cream and a pretty luminescent powder, the trick with the Strobe & Glow Kit is to dab the gorgeous cream to your upper cheekbones, temples, along your brow bone and to your cupid's bow and then blend, blend and blend again! Next, dust the light-reflecting powder over the same areas to add further definition and a soft, long-lasting boost in radiance.
Voilà! Dewy, radiant skin will be yours within minutes.
New MUA Launches
Keep your eyes peeled because MUA are launching some incredible products this Halloween! Their MUA HALLOWEEN Get the Look Pouch is available now! They have also launched a brand-new range of incredible Primers and Lip Toppers and are launching some serious Christmas sparkle on 21st November. I'll definitely pop in to Superdrug to stock up.
Our Trick or Treat boxes were so popular, we've now sold out – no tricks! We still want to treat you though, so when you subscribe we'll send you an iconic pink box of our most loved beauty products. Rest assured, each box will contain at least 5 products, including 2 full-sizes and is worth over £50. Join us here to receive one.