Unicorns are everywhere we look and we're finding ourselves reminiscing about our childhoods (especially our My Little Pony Days). While we love anything pastel, holographic and covered in rainbows, we do think the whole Frappuccino thing was a step too far!
Here's our pick of the most magical unicorn beauty products out there…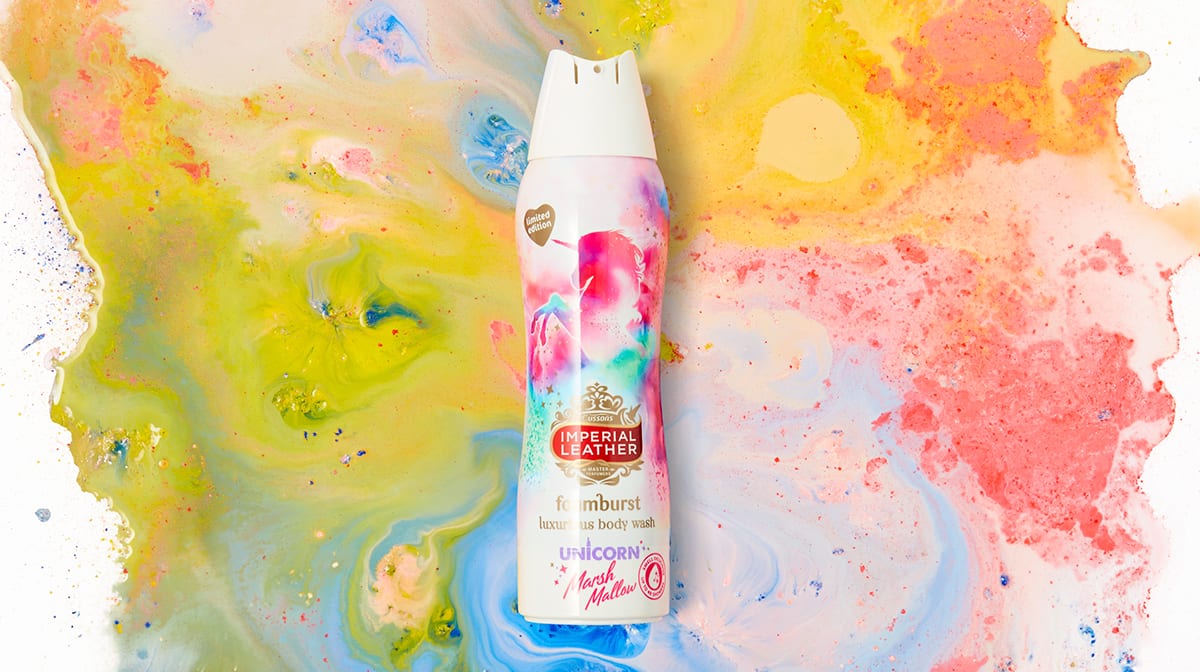 Some of our lucky subscribers received this full-sized, limited edition body wash in their April box. Infused with Marshmallow extract (and unicorn power), it guarantees to make you feel like you're on top of a rainbow!
A brand new technology turns the gel into an incredible foam as soon as it leaves the bottle.
We love the explosion of colours on this bottle – we can't help but think of Flashdance in the 80s. Colour isn't the only explosion, a brand new technology turns the gel into an incredible foam as soon as it leaves the bottle. This means it will last up to 40 washes!! The consistency is also really good and I use it for shaving too.
Immerse yourself in the sweet and creamy unicorn marshmallow fragrance – who doesn't want to shower in rainbows and unicorns? Watch the unique gel change right before your eyes into a creamy cloud that glides across your skin like super soft silk…
The whole Too Faced unicorn collection is to die for, from their bottle of Unicorn Tears, to their Unicorn Lipsticks and Lip-gloss, there really is no stopping them. But the best buy of all has to be this ethereal palette of highly pigmented colours. If you want an unmissable chromatic eye look or a gorgeous warm matte shade, this is the palette for you. Day or night, subtle or bold, there is no end to the possibilities…
Peace, love and unicorns.
@TooFaced
Yes, you'll pay hefty shipping charges, but we couldn't resist this limited-edition Unicorn Mist from Paris Hilton Skincare. This is a gorgeous rose water toner that you spray on before applying your foundation or throughout the day to refresh and illuminate! Housed in a beautiful, iridescent glass bottle, it's very Paris Hilton.
This heart shaped rainbow highlighter looks like it would make you have a not so subtle rainbow on your face, but when applied it's the most iridescent and glowing highlighter ever! We were wowed! In the light, you see hints of the rainbow so give this a try for a fun twist on your everyday look.
Have you seen bloggers all over Insta dripping mysterious drops onto their faces? Well this is it! The Unicorn Essence from Farsáli is an innovative oil-free solution that acts as a dual-purpose serum. It helps to protect your skin from free radical damage, while prepping it for makeup application. Just apply 2-3 drops and pat into your skin. This is a truly magical potion that makes sure your foundation won't budge!
Nothing is possible without a fabulous set of brushes, which brings us onto the product that started the unicorn craze. This set of 10 brushes from Unicorn Cosmetics is just too cute, with unicorn horns for handles, super soft bristles and a holographic diamond bag to match!
Are you totally bewildered by the unicorn trend or do you mysteriously find it impossible to resist? It's definitely a crazy trend but we can't hold back when it comes to reliving our childhood through unicorn makeup. Plus, our picks are not just style over substance, they're pretty amazing products too.
Want to get your hands on an April box? Don't miss out. Subscribe now!