January is full of detox tips that help you feel like a new you. While we're not ones for a juice cleanse, we are going to be staging a new year clear out – and you should too. Get ready Glossies, it's time to detox your makeup bag!
If you can't remember the last time you cleaned your makeup brushes or when you cleared out old and unwanted products, then keep reading, this five step guide is for you!
1. Check The Expiry Date
Let's admit it, we're all guilty of hoarding our makeup for too long – I know I've got a BB cream I haven't used since I was 17. So, to detox your makeup bag, the first thing you need to do is check the expiry date on each of your products.
Simply check your product's packaging for the picture of the round tub. The number at the centre of it tells you how long you have until the ingredients expire.
Throw away anything that has passed its best. If you can't remember when you bought it, bin it.
2. Toss The Dregs
Next, look for any broken or almost-empty palettes and compacts that you're never going to replace and throw them away. You'll definitely want to rid of all the forgotten products that have been sitting at the bottom of your drawer too.
3. Try The KonMari Method
Now that you've cleaned out the must-go products, it's time to get rid of the ones you're never going to use. Put your daily essentials to one side and focus on the rest of the pile.
We all keep things 'just in case', so to help detox your makeup bag, why not try Marie Kondo's technique? She suggests picking up each item individually and deciding if it brings you feelings of joy and positivity.
Next time you're considering whether to throw it out, think to yourself, does it make you feel like this?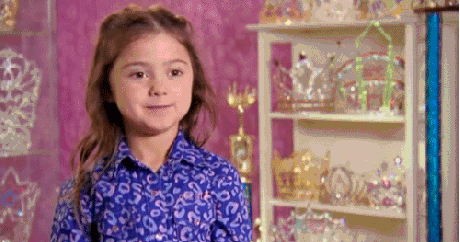 Makeup should be fun, while hair and skincare should give you confidence, so unless it makes you smile as above, toss it or donate it to a friend.
4. Detox Your Makeup Brushes
If you can't remember the last time you cleaned your makeup brushes, then it's been too long. Give them a spruce with warm water and shampoo or brush cleaner. Oh, and don't forget to wash your sponges and blenders too.
Lois recently purchased the StylPro Original Make Up Brush Cleaner and Dryer. She swears it's the best tool she's ever bought.
It's amazing! My brushes are white and soft for the first time since I bought them. It only takes seconds to make them look as good as new