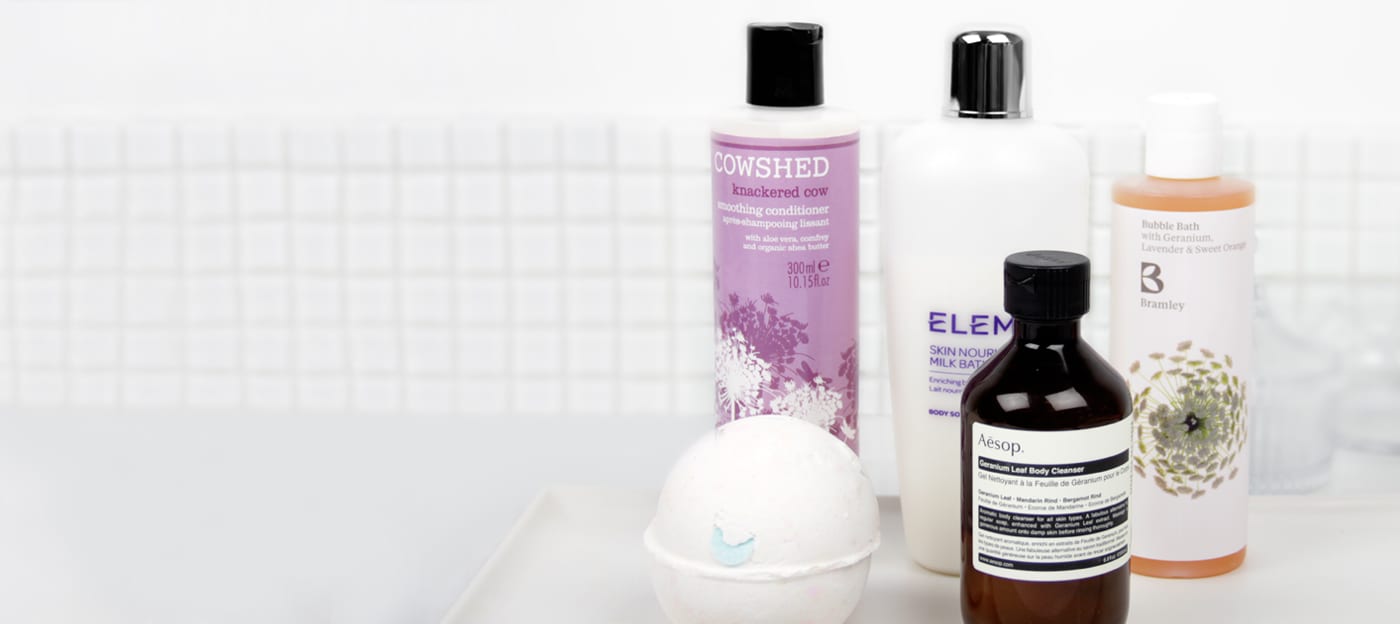 A recent survey revealed that only 4% of Brits enjoy a bath regularly, but we happen to think it's because they just haven't found the right bathing companions. Yes, showers might be more efficient if we're talking about getting clean, but a bath is about so much more than that.
It's about saying 'I deserve a treat' and taking yourself 'off the grid' for the best part of an hour. After all, you can't come to the door, the phone, or do anything else when your chest deep in sweet-smelling warm water. Baths are about pampering, but they can also serve a purpose and be beautifying too.
In the mood to indulge? Here are some of our favourite bathtime treats…
1. Cowshed Gorgeous Cow Blissful Bath & Shower Gel, £18
Squeeze it in and swoosh it all around for Pretty Woman levels of bubbles, not to mention the blissful scent of ylang ylang, Moroccan rose, palmarosa and French lavender oils. Super soft, gorgeously fragrant skin is yours.
2. BOD 20 Min Mermaid Bath Prep, £11.99
A truly magical bath treat, this bag of glittering salts turns your bath water pink and Kira-Kira levels of shimmery. It's not one for bubbles, but it will soften skin and help to eliminate any bloating that's down to excess water retention if you soak for 20 minutes.
3. ESPA Restorative Bath Oil, £30
The perfect partner for a long, candlelit soak, this delicious bath oil combines sweet orange, rose geranium and lavender essential oils, to calm and comfort the senses, while sweet almond oil nourishes your skin.
4. Weleda Citrus Refreshing Bath Milk, £13.50
When mornings are dark and cold, there's nothing quite as reviving as an early morning soak. Try this Mediterranean-inspired bath milk to wake up your senses with zingy lemon and orange essential oils.
5. AESOP Geranium Leaf Body Cleanser, £31
This herby cleanser contains geranium, bergamot and mandarin, which are all known to naturally disinfect the skin, while having antiseptic properties too. So if you like to go for it in the gym and want to soak away all that sweat, then this is the one for you.
6. Ameliorate Softening Bathing Powder, £19.50
In winter the battling forces of cold temperatures and central heating can render your regular body moisturisers completely ineffective, which is why it's a good time to bolster your bath. These powders contain colloidal oats and sweet almond milk to strengthen the skin's natural barrier, making it less susceptible to drying out.
7. Dr Teals Pre & Post Workout Soaking Salt Solution, £8
Let's face it, we all know we should stretch after a workout, but sometimes you've given your all at bootcamp and just need to lie down. This is when it pays to have soaking salts in your bathroom. The mix of magnesium, menthol and Epsom Salts is proven to soothe tired muscles, help draw out impurities and keep skin hydrated.
8. Elemis Skin Nourishing Milk Bath, £43
Bathtime can be an indulgence, but it can also be a comfort. This milky bath not only feels like being cocooned in love, it also contains milk proteins, vitamins, amino acids and plant collagen to feed and nourish skin.
9. LUSH Dragon's Egg Bath Bomb, £3.95
This is a zingy piece of magic with bergamot and lemon oils, but there's also a smidge of popping candy in there to add more than just skin softening and uplifting scents. As the bomb fizzes away it shoots yellow 'fire' from its core – so this is as much about relaxing as it is about a little bathtime entertainment.
10. Bramley Bubble Bath, £12
This not only has a classic, natural scent, it also produces a rich lather that doesn't disappear within minutes of getting comfortable. Made in the British countryside, the combination of geranium, lavender and sweet orange essential oils help to create the most relaxing of bathing experiences.
Love this? For more beauty tips, news and tutorials see what's new on Beauty Unboxed today.