Whether you're a fan of mermaids or unicorns, we've teamed up with the nail pros at DryBy to create the prettiest fantasy-inspired manicures. And lets be clear, these pretty, wearable nail designs prove that a little sparkle is not just for mythical creatures.
Unicorn Nails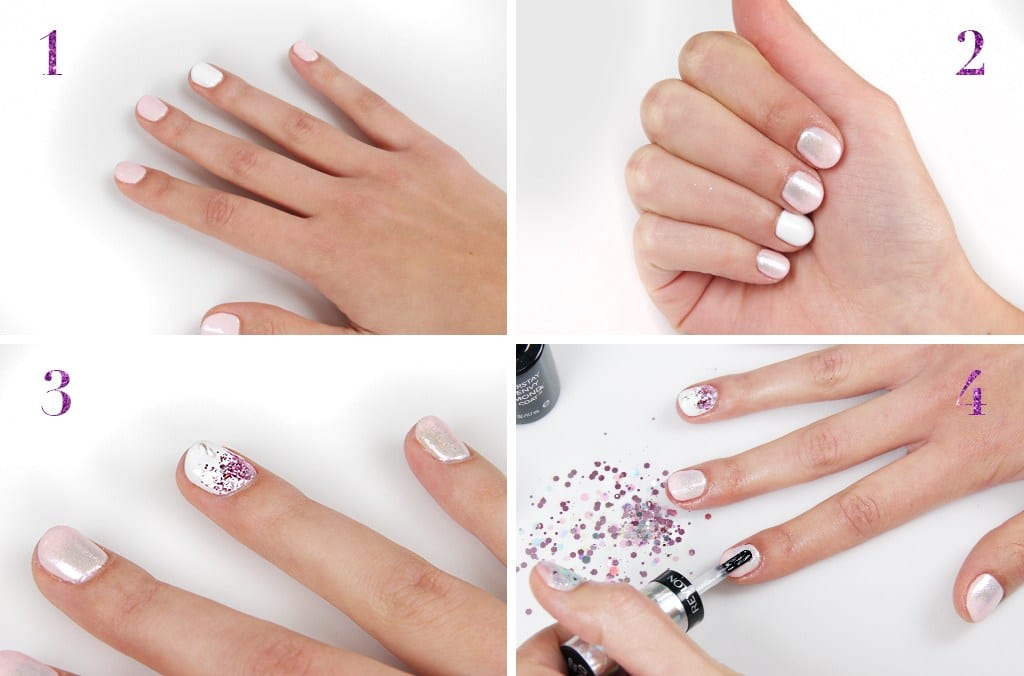 A dash of sequins on an accent nail makes this magical unicorn manicure surprisingly wearable.
After applying base coat, paint four nails in a neutral metallic base shade – we love Revlon ColourStay Gel Envy Nail Varnish in Beginners Luck, £5 – and allow to dry.
Leave a fifth 'accent' nail free to paint in an opaque white such as Nailed London With Rosie Fortesque Nail Polish in Chica Bonita, £5.55. We chose the ring finger but you don't have to be prescriptive.
Starting at the base of the accent nail, dot nail glue onto the nail bed using a cocktail stick for precision. Lightly press each sequin onto the glue placing them down with tweezers. (Don't have glue? Apply a layer of top coat, allow it to become tacky and then press the sequins lightly into it.) Build the sequins up from the base, using less as you get towards the middle of the nail.
Using the same technique as above apply a pearlised gem that mimics a unicorn horn to the top of the nail and finish with a topcoat such as Revlon ColorStay Nail Polish Gel Envy Top Coat, £5.
Mermaid Mani
This iridescent design cleverly reflects all our mermaid beauty fantasies.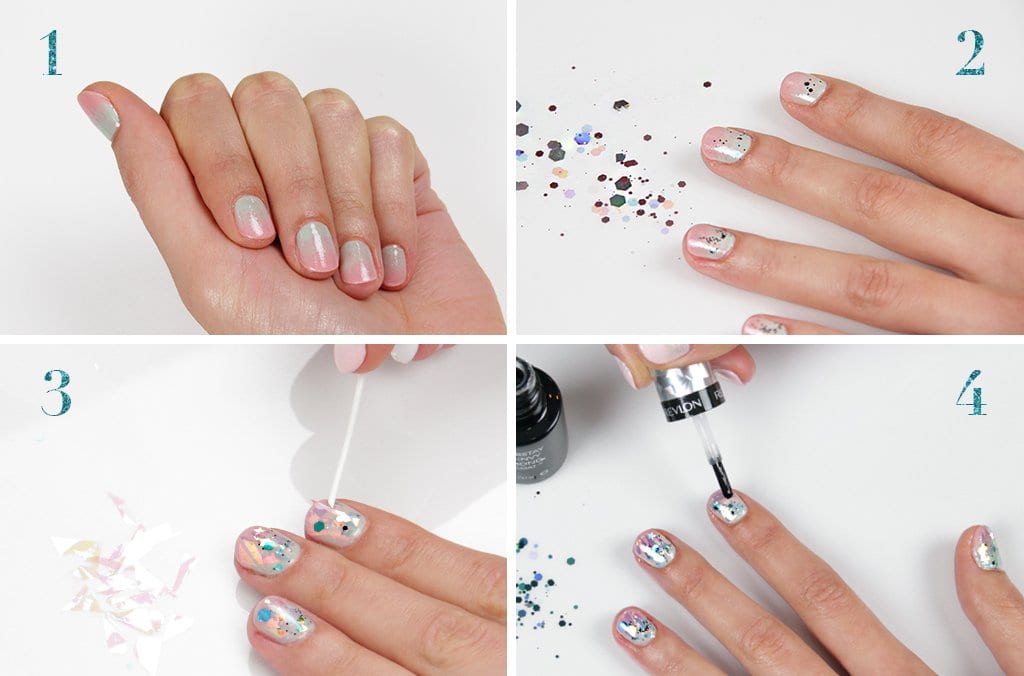 First create an ombré base. Apply a candyfloss pink all over the nails (try Marvala Nail Polish in Sweety, £3,96) and then a bright sea blue (try Ciate London Mini Gelology Paint Pot in Part-Time Mermaid, £6) at the base of the nail only. Cut off a small piece of a foundation sponge and use it to blend both colours into each other for that ombré effect.
Once dried, apply small gems and sequins at random (the more haphazard the better) over the base of the nail. Using a cocktail stick to apply nail glue (see Tip 3 above) and gently press the gems in place.
The holographic effect is created using iridescent film. Cut the film into small, random triangular shapes, apply glue to the nail bed (using the cocktail stick again) and press the cellophane over the nail.
Once you've decorated all five nails finish with a shine enhancing top coat such as Revlon ColourStay Nail Polish Gel Envy Top Coat, £7.99.