Who doesn't love the festive season? Crisp, fresh mornings, long afternoon walks after a hearty Sunday lunch and lazy evenings in front of a log fire. But let's get real, it's Christmas and that means presents.
For a few years now beauty brands have been offering advent calendars. With no chocolate in sight, just a whole host of beauty treats from some of our favourite brands, they're a great way to try something new.
Whether you drop hints to your loved-ones that you want this to appear come December 1st, or if you're going to treat yourself, may we suggest you move quickly. These advent calendars are in such high demand that some sell-out almost immediately.
Here are twelve of our favourites…
The M&S Advent Calendar has become something of legend; such is the magnificence of the beauty haul within those 24 doors, it's been known to sell-out at super-quick speed. Not surprising really considering it contains goodies from Alpha-H, Burt's Bees, Emma Hardie, Josh Wood, Percy & Reed, Pixi and Ultrasun – to name a few…
M&S Advent Calendar, spend £35 or more, pay just £35

As you'd expect from ASOS, this super stylish calendar – less festive and more fashion with its marbled finish – is jam-packed with cute beauty buys. Worth a whopping £175, this treat features luxurious skincare from Balance Me and Elemis and some cracking makeup from Jane Iredale and Model Co.
ASOS: The Beauty Advent Calendar, £50
Who wants a chocolate treat every morning when you could have a sweet-smelling, beautifying mini beauty product when you wake? Featuring classic L'Occitane scents including Cherry Blossom, Almond, Jasmine & Bergamote in a variety of choices including hand creams, face toners and soaps. Great for the frequent flyer too!
L'Occitane Advent Calendar, £42
Whether you're a Moody Cow, a Knackered Cow or a Sleepy Cow there's everything you could possibly need – whatever mood you find yourself in. Featuring 24 miniatures from hand creams to body washes, shampoos to cuticle oil. You'll definitely feel like a Lucky Cow if you get this come December 1st.
Cowshed Advent Calendar, £85


Another affordable option, but what you get for your money is a lot of pampering. All those delicious textures and perfumes, whether it's to lather up in the shower, foam-up your bath or hydrate winter-parched skin.
Sanctuary The Let Go Days of Christmas Advent Calendar, £25
Maybe it's because we watched Mannequin one too many times, but we've always had a longing to be able to go shopping in a closed, empty department store. We haven't quite figured out how to wangle that – although we're working on it – but this generous calendar is as close as we're going to get. For now. Containing Urban Decay, Lancome, YSL and other minis from brands found in the landmark beauty hall it's one hell of an advent calendar.
Selfridges Electric Little Luxuries Advent Calendar, £95
Clarins sure know how to create a gotta-have-it advent offering. Featuring their iconic Beauty Flash Balm and their Instant Eye Makeup Remover, there's also makeup, scent and even more delicious skincare for a beautiful December.
Clarins Advent Calendar, £95


Decleor is synonymous with beautiful textures, luxurious skincare and beautiful scents and ingredients, so who wouldn't want to welcome that into their homes. And we can't help but notice the beautiful black and gold design, which may influence the rest of our festive decorations this Christmas.
Decleor Advent Calendar, £60
If you've found yourself dreaming about having every single item from the Charlotte Tilbury's range since it launched, then this advent calendar will definitely take the edge off – although we can't promise for how long… Not only is this a sturdy calendar and more of an art installation than something you'll hang on the wall, it also features minis of Charlotte's best sellers. Want.
Charlotte Tilbury Advent Calendar, £150
Benefit like to buck the trend and they do it with their advent offering too. Rather than 24 minis, they narrow it down to their 12 bestsellers. Worth £68, it contains POREfessional, Posie Tint and Hoola Bronzer, as well as many other favourites. Oh, and this one plays you music too!
Benefit Girl O'Clock Rock Advent Calendar, £34.50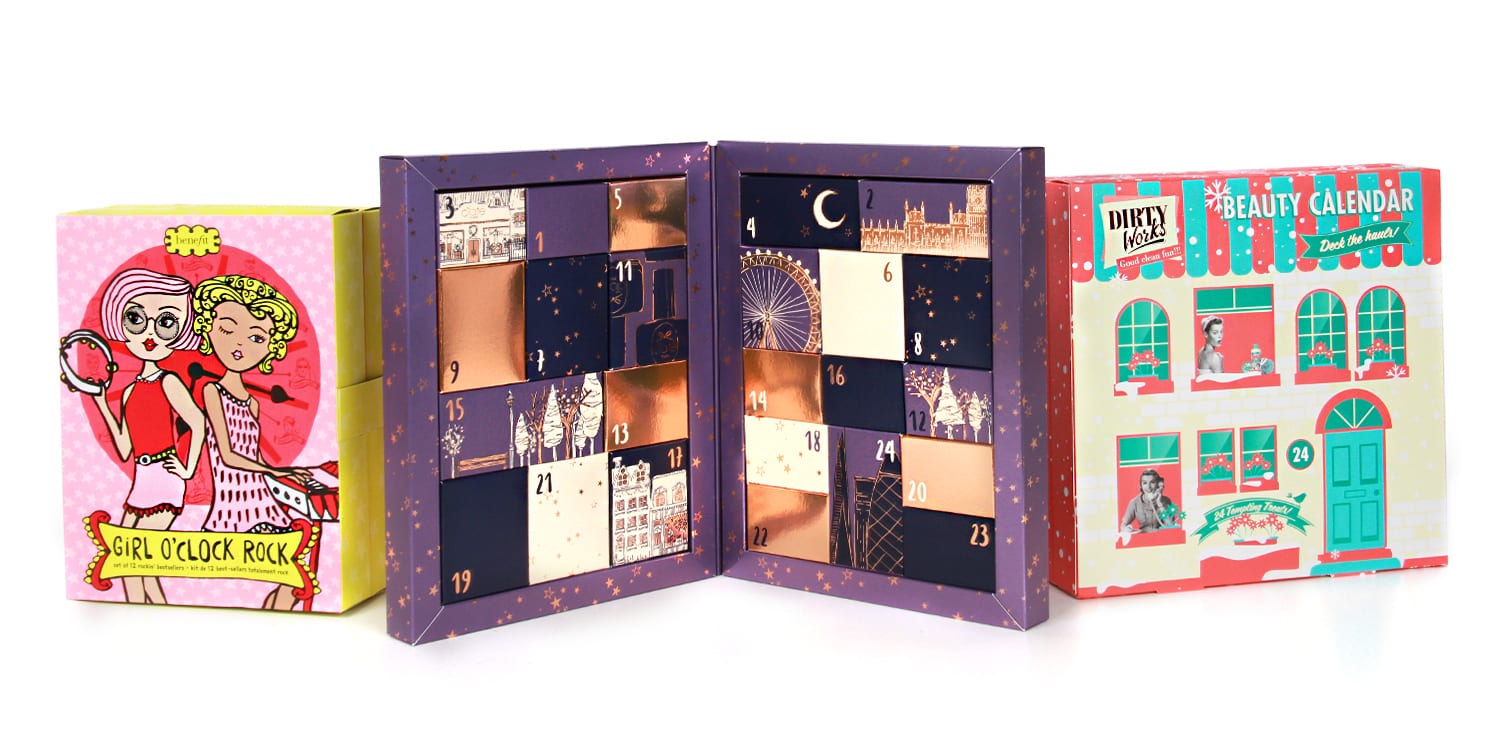 If manicures are your jam, and you love to have a variety of colours and finishes to choose from, then you simply must consider this festive treat. Containing 18 pretty minis, toppers and treatments, the clever boxed design, means you can unpack a brand new mani colour every single day.
Ciate Advent Calendar, £50
One of the more affordable beauty advent calendars you'll find on offer this Christmas, but that doesn't mean it isn't packed with some pretty impressive goodies. If you've ever lost an hour 'playing' with Makeup Revolution in-store, then this calendar offers you everything you've ever wanted to dip your finger in and swatch.
Makeup Revolution Advent Calendar, £30
Containing 24 bath and body treats from Dirty Works, this advent will have you smelling delightful on the countdown to Christmas day. Plus, it's only £15!
Dirty Works Beauty Calendar, £15