Beauty Blogger Zoe Newlove talks us through the hero products that have earned pride of place on her bathroom shelf and dressing table… Beauty Shelfie
"I would say my beauty style is quite simple and natural. I like clean, clear skin and good brows. I appreciate a decent mascara and an even better lip balm. I do have a more experimental side too, I love playing with texture and colour.
My mum definitely had the most impact on my ideas of beauty as a child. I used to sit and watch her apply her makeup in absolute fascination. It was my mum that got me into the beauty industry in the first place, telling me to work at SpaceNK. There was this one time at school where we had to dress up as our "idol". At the time I loved Pink (and still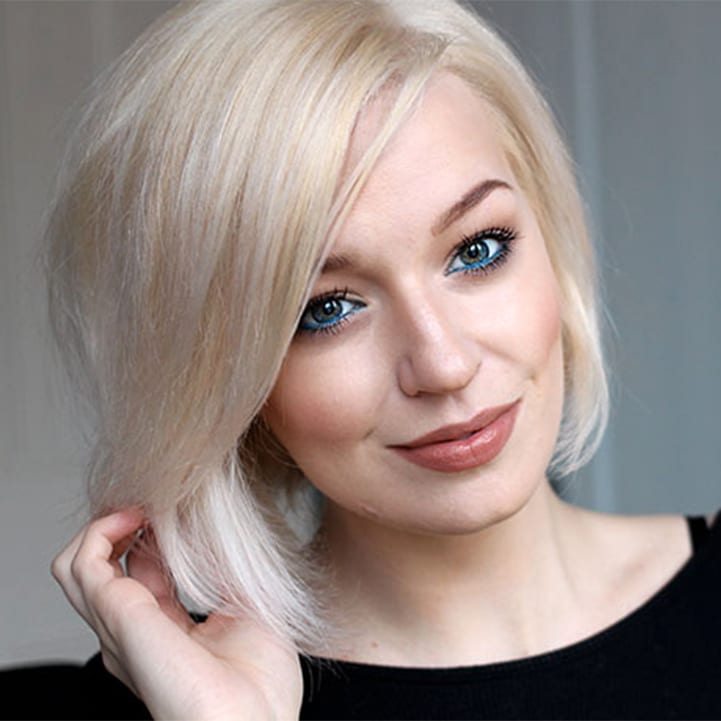 do) as I loved how different she was with the short bright hair and bold lipstick – so my mum sprayed my hair, popped on a red lip and sent me to school. I felt amazing. My mum actually bought me my first concealer and bronzer too, but I didn't use it for months as I was so scared of what to do with it!
With my busy schedule I find it really hard to switch off sometimes and Neom Organics Perfect Night's Sleep Pillow Mist, £20, just really helps to calm me down and I drift off into a deeper sleep.
My skin is always kept in great condition when I include Darphin Hydraskin Serum, £43, in my skincare routine. It's super hydrating but really lightweight – I love the texture. Then for a really great morning time cleanser I turn to Antipodes Juliet Skin Brightening Gel Cleanser, £25, it keeps my skin fresh, clean and glowy and I love the fact it is 100% organic too. Exfoliating toners are a must, as the legendary Caroline Hirons says. Pixi Glow Tonic, £18, really has made a dramatic difference to my skin and I cannot be without it now. It is so important to have an SPF in your skincare routine and Rodial Bee Venom Daily Moisturiser, £130, not only comes equipped with SPF30, but is also really lightweight, hydrating and plumps any fine lines.
I rarely wear a heavy base and bareMinerals Complexion Rescue, £26, just helps to even out my skin tone perfectly. You can also use it as a primer before you apply your favourite foundation. By far my favourite mascara at the moment is Lancome Hypnose Volume a Porter mascara, £20.25 – it gives me really full, long lashes. I love a bold lipstick, and I will usually turn to Revlon Super Lustrous Lipstick, £7.49, as I know the formula sits incredibly smoothly on my lips without drying them out. Revlon's Colourstay Lip Liner in Nude, £6.29, is also a fabulous lip liner for daily use, I will wear this to work knowing it will look great and stay put all day. If you have a fair skin tone like me, Revlon Highlighting Palette in Rose Glow, £9.99, works a dream. I love love love it, it is so lightweight and velvety and brightens up my complexion perfectly
I use Benefit Cosmetics Gimme Brow, £18.50, every single day without fail, it just makes doing brows so easy, and the colour is a great match for blondes. If you suffer from dark circles then I highly recommend Clarins Instant Concealer, £21.50, for under the eyes – it's by far my favourite.
For someone who frequently changes her hair colour Redken Extreme Shampoo, £11.45, keeps my hair in great condition – I also have a million hair oils but Moroccanoil Treatment, £13.35, I always come back to as it really does help to condition my hair and it smells wonderful too."