While next summer may currently seem a very long way off, it's time to start thinking a season or two ahead as we decipher the beauty trends the past four weeks have produced.
Fashion month brings together some of the best pros in the beauty industry, as they create pure works of art backstage to compliment the designers collection and give us a glimpse at how we'll be wearing our makeup, styling our hair and painting our talons next summer. While the looks we see on the runway may sometimes seem a little bold and brash for an everyday outing, before we know it they'll trickle down to the highstreet – so pay close attention and swat up on your beauty knowledge ahead of time!
Here's a Glossy glimpse of things to come…
The great lipstick debate
It was a case of red vs nude at the spring/summer 2016 shows, where at the likes of Zac Posen a rouge lip was painted on just five of the 40 girls who walked the show, while the others all sported a pared-back slick of nude. The same went at Victoria Beckham, Oscar de la Renta and DKNY, where half the models walked down the runway with with a pop of rouge across their pout and the others a nude hue. The lesson here? Opt for whichever takes your fancy on the given day!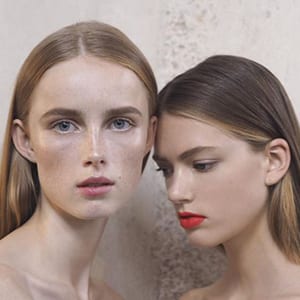 Blue eyed girls
While blue shadow and liner first began to make an appearance this season, it seems next summer blue is set to be even more of a thing – and if the shows proved one thing, it's you can go as bold or subtle as you wish. From the Mary Katrantzou girl who adorned blue painted lashes (which we LOVED) t0 the sprinkle of blue glitter in place of liner by makeup guru Peter Philips at Dries Van Noten, interpret this trend to match your style and most importantly, have a little fun with it!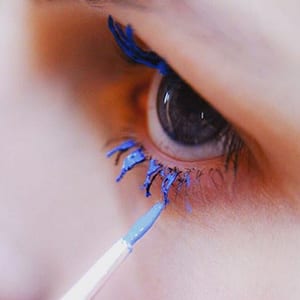 There's no smoke without…kohl
While smokey eyeshadow may not generally be associated with the warmer months, we're obsessed with the smudged, smoked eyeliner looks that are in store. After all, it's perfect way to amp up your BBQ look for a night out, don't you think? Val Garland was well and truly championing this at Issa London, where she traced the lower lash line with a little kohl liner before lightly smudging it in. Simple and effective.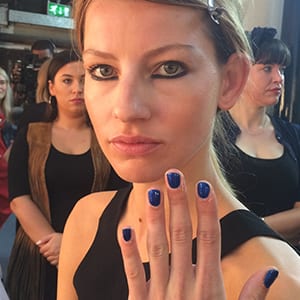 MAX your lashes
Lashes have been the focus for a number of seasons now, but the spring/summer 2016 shows took it up a notch – and a pair of false lashes is key. We saw ironed false lashes at Sibling and fluttering falsies at Alberta Ferretti, while at Marni excessively long false lashes were used to create a ever so spidery effect. But if they're not for you, no need to worry – mascara heavy doll-like lashes are also on the cards. There's something for everyone.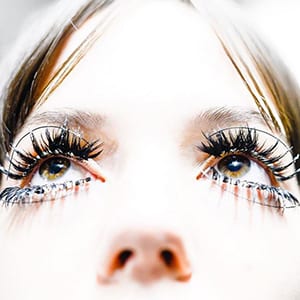 The post-gym face
Ok, we know what you're thinking – we usually do our best to avoid seeing people post-workout too. But this isn't about sweaty upper lips and scraped back locks – it's all about the healthy glow our faces sport after a session at the gym. After all, there's nothing quite like the dewy luminosity and flushed cheeks a bit of exercise gives us. At Roland Mouret and Preen, makeup maestro Val Garland gave each and every one of the models post-gym skin and let us tell you – it's the summer skin dreams are made of.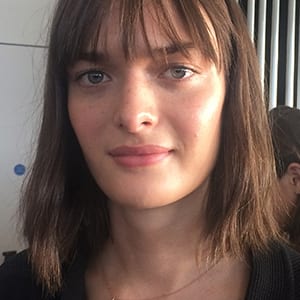 Dialing up the creativity
If you like experimenting, there is some fun to be had next summer. A personal favourite of ours were the stained glass window eyelids at Holly Fulton, which were (very) cleverly created by the makeup genius that is Andrew Gallimore. The secret? A sweep of colourful pigment topped off with a little dab of gloss. Makeup artist Pat McGrath was also on top form. At Prada she painted the most incredible gold lip on each of the models, set against bare but glowing skin. It may be a bit of a punchy look, but we're totally and utterly obsessed.
Come as you (already) are
The word 'individual' was bandied about numerous times backstage, where hair pros backed the fact they wanted to embrace each of the models' natural hair textures. This is something we can totally get behind – especially when we've woken up late and have 5 minutes to get ready! Loose, natural waves lead the way at Roland Mouret, while at DVF it a was a celebration of celebration of Diane's natural hair back in the 70s.
Pigtails
It's safe to say that pigtails are set to be the chicest style of next summer. From Marni's neatly twisted 'do to Sam McKnight's creation at Chanel, which was fasted with a wide barette low at the back, they're grown-up yet girly – yet have a modern twist.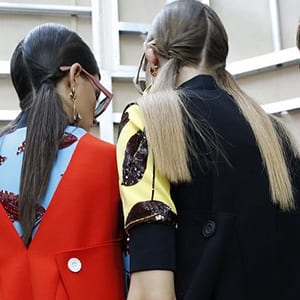 New modes of transport
Skateboards and moving runways. Need we say more? The last thing we expected was for the spring/summer 2016 Ashish girl to be cheerily skating her way down the catwalk. Yes, really.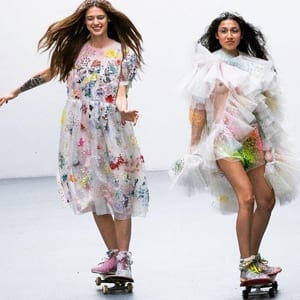 FYI, hair accessories are staying put
Hair accessories were seen backstage at countless shows last season, from Dolce and Gabbana to Fendi, and it seems they aren't going anywhere fast. One of our favourite looks was at Diane Von Furstenberg, where curly locks were beautifully finished with a floral hair accessory, fastening the hair behind one ear.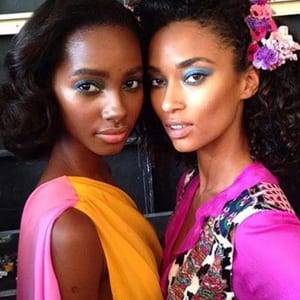 Here come the braid
Braids for spring and summer are nothing new – in fact, they're pretty much a festival essential – but at the shows they took a more creative turn. And what a surprise, we want them all. At Public School, an ultra shiny rope-like braid was plaited in loose ponytails to create a pretty yet sophisticated finish. Then at the Desigual show, a more punky, grungy look was achieved with a wiggly plait that worked its way down the back of the head.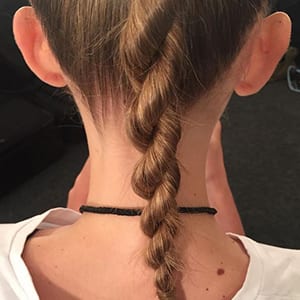 Let's all welcome the newbies
It's backstage at the shows that we often spot some of the most coveted soon-to-launch products, and this season was no exception. We spotted a new palette from James Read at Holly Fulton and let us tell you, you'll want to get your glossy paws on it come March. The duo sculpting palette debuted at the show and features an illuminator and mineral bronzer – both of which are infused with a dash of self tan, designed to deepen in colour over a four hour period and leave a subtle tan in its path. We. Can't. Wait.
Photos: Instagram Balmain, Giles, Pat McGrath, Eugene Souleiman, Wella Pro, Marni, James Pecis, Aveda, DVF, Ashish, MAC Cosmetics