Whether you use a Foreo and its 'Foreo for you' app, or you read my article on La Roche Posay's UV tracker or John Lewis' lipstick app, you've no doubt caught wind of the fact that technology is slowly becoming a significant part of the beauty world. So, to make sure that you're keeping ahead of the curve, I've found the five best skincare apps you need to know about.
For All Skin Types: Olay Skin Advisor
One of the first brands to launch a skin analysis app, Olay first introduced its Skin Advisor in 2017.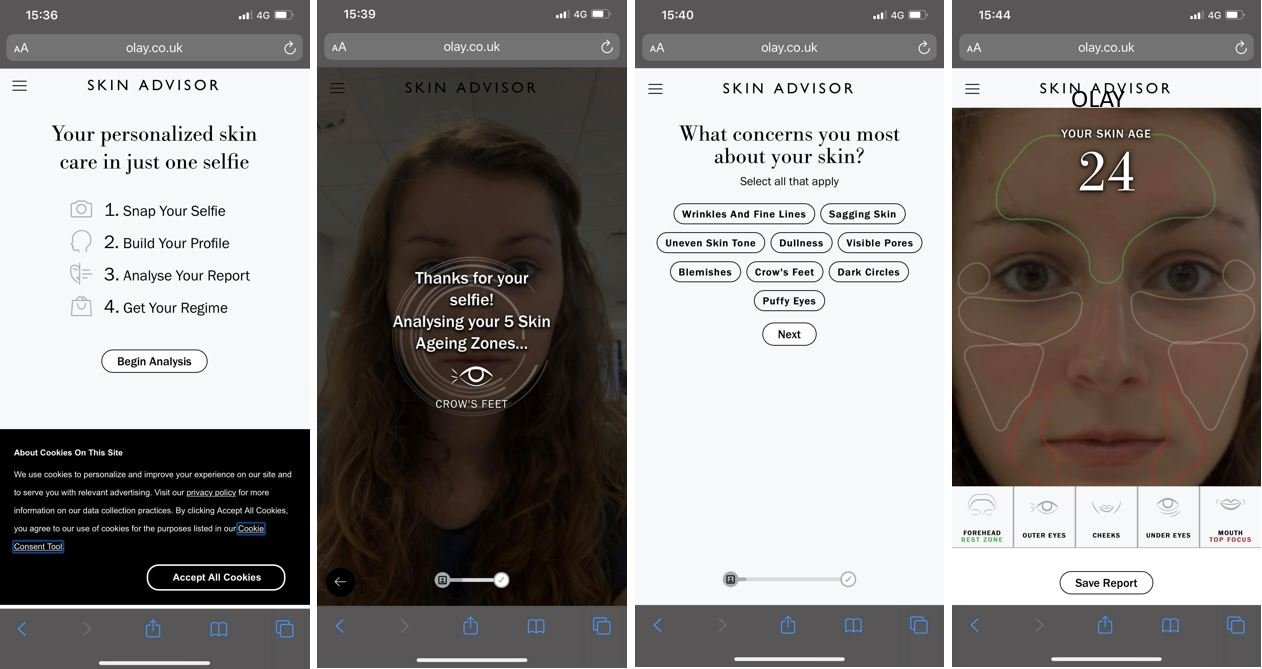 A web-based skin analytics tool, it uses a selfie to examine your five skin ageing zones, including your forehead, outer eyes, cheeks, under eyes and mouth. It then asks you about your key skin concerns and your skin type, before inquiring about your existing routine and preferred products.
With this information, it creates a report, estimates your skin age and highlights the areas you should be focusing on. It also recommends a skincare routine using Olay products. To give the tool a try, visit their website here.
For Acne-Prone Skin: La Roche Posay Effaclar Spotscan
Let's face it, knowing how to treat acne and breakouts really isn't easy. Choosing the wrong product can just anger your spots even more, but going to a dermatologist isn't always necessary either. So what to do? Well, that's where La Roche Posay's Effaclar Spotscan comes in.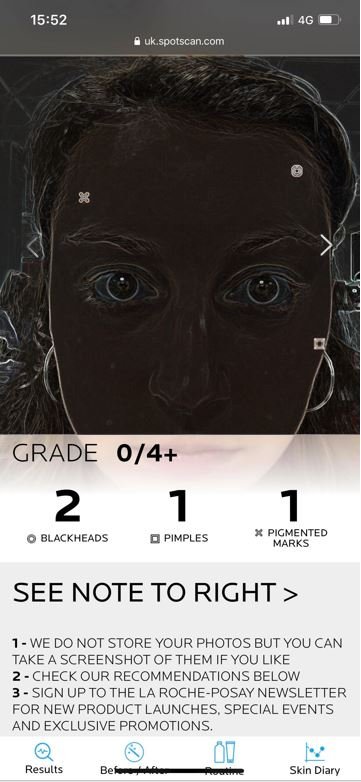 The first free acne diagnosis tool powered by artificial intelligence, this skincare app was created in collaboration with dermatologists. All you need to do is upload 3 selfies and it will compare your images with over 6 thousand patient photos.
It then gives you a grade (between 0 and 4+) based on the number of blackheads, inflamed spots and acne scars you have. Finally, it recommends products from the La Roche Posay Effaclar range to best treat your skin, as well as personalised skincare tips. If you struggle with acne and blemishes, you should check out their app here.
For Ageing Skin: Vichy Skinconsult AI
Much like the La Roche Posay app above, this skincare app was developed with the help of dermatologists. It asks you to upload a selfie (facing head-on and wearing no makeup) and analyses it against 10,000 graded images for signs of ageing. It then asks you your age and skin type.

Based on the visibility of your pores, how deep your wrinkles are and how firm your skin is, it highlights the areas of your face that need extra care (don't worry, it tells you the areas that are your strength too) and recommends a skincare routine.
If you want to give it a try, visit their website here.
For Wrinkle Prevention: RYNKL
When you look at yourself in the mirror every day, it's difficult to tell whether or not your wrinkles are becoming more pronounced or if your anti-ageing skincare treatment is actually working. Well, the RYNKL app acts as your personal wrinkle doctor.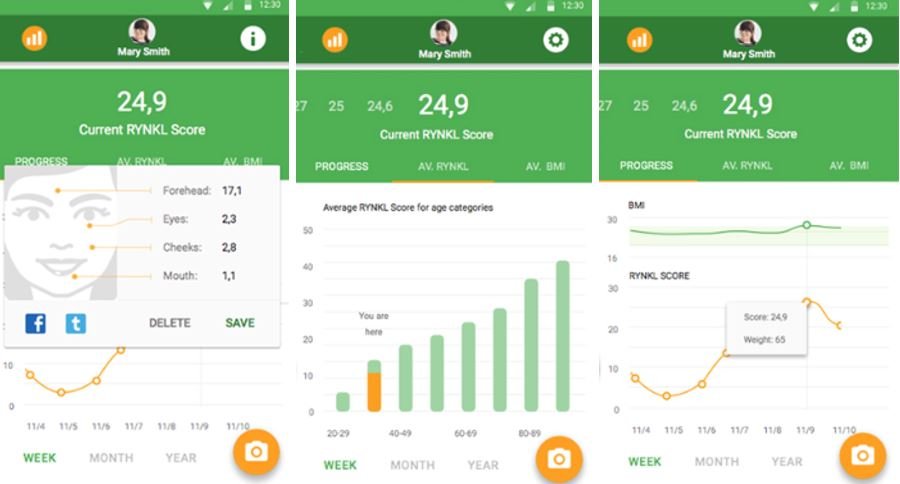 All you need to do is take a selfie every day (or every week, that's up to you) and it will use AI technology to analyse the changes in your face. It pinpoints existing fine lines and wrinkles, whilst also highlighting the areas where fine lines are starting to form. You'll be able to gauge whether or not your wrinkle cream is actually working and keep track of your progress.
Basically, you need to think of this skincare app as your annoyingly honest best friend. It may be frustrating to have your flaws pointed out, but you know they're doing it out of love and you'll thank them for it in the long run.
You can download from the Apple Store And Google Play here.
Skincare Apps To Keep You Motivated: Trove Skin
Some days you remember to cleanse, tone and moisturise, whilst others that all goes out of the window. Sound familiar? Then, you need to start using Trove Skin.
This app uses AI technology to analyse your selfie and detect your key skin issues (including pigmentation, enlarged pores, the deepness of wrinkles and the evenness of texture). It then gives you a score for each concern. The higher the score, the better your skin is doing (so don't be alarmed if you score highly on the wrinkles scale). You then re-upload a selfie every few days so that it can track the quality of your skin over time and recommend products accordingly.
For those of you who struggle to stick to a routine (let's be honest, it happens to us all at times), this app is the perfect way of getting you motivated. It's so satisfying to see your score increase over time! You can download the app from Apple Store and Google Play here.
Whatever your skin concern, there's no doubt a skincare app out there that will help you to find the right products to treat it and keep track of your skin's progress.
Subscribe to GLOSSYBOX
If you love all things skincare, why not subscribe to GLOSSYBOX? Every month, we'll send you refreshing skincare, as well as makeup and haircare, straight to your door. Who doesn't love a box of beauty treats?