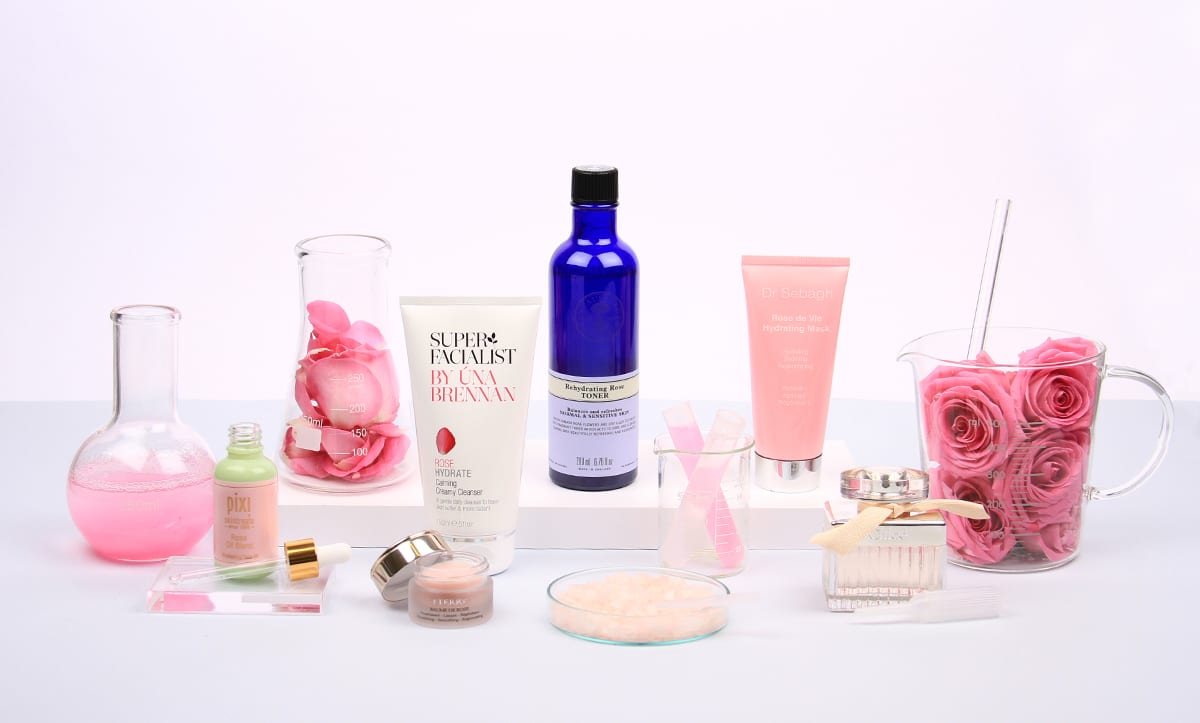 Roses: they look beautiful and they smell incredible, so wondrously so in fact that even Shakespeare immortalised their beauty in a sonnet. But what Will might not have been aware of was quite how beautifying the rose can be.
The Greeks and Romans are said to have perfumed their baths with the petals, in its first practical spa-style use, but it's the fact it's anti-inflammatory, antibacterial and antioxidant that make it such a popular beauty ingredient today.
So if you're after some beauty products that contain a natural feel-good, but also high-performance ingredient look no further…
The Cleanser
Superfacialist Rose Hydrate Cleanser, £7.99
The creamy cleanser has enjoyed something of a resurrection thanks to the cult of double cleansing, and combining the invigorating benefits of rose with shea and cocoa butters puts this firmly in the 'feels luxurious' category.
The Toner
Neal's Yard Remedies Rehydrating Rose Toner, £16
You can count on roses to make you feel good in lots of different ways, and in this natural mist it calms, soothes, balances and hydrates. Use on cleansed skin, over makeup or to freshen-up.
The Moisturiser
Jurlique Rose Moisture Plus, £28.50
Rose invites soy proteins and green tea extracts along for this moisturising ride. Not only is skin hydrated and nourished, but it actively tackles the signs of ageing and invigorates tired and lacklustre skin.
The Serum
KORRES Wild Rose Brightening and Line Smoothing Serum, £30
This wild rose serum is great for an instant boost of radiance, while also smoothing fine lines for a fresh, glowy complexion. Massage it into the skin before your moisturiser to reap the benefits.
The Face Mask
Dr Sebagh Rose de Vie Hydrating Face Mask, £74
A quenching mask that not only instantly hydrates, but works deep-down in the skin to maintain and boost the skin's moisture levels for a long-lasting feeling of plump, supple skin.
The Oil
Pixi Rose Oil Blend, £26
One of the first signs of ageing is the loss of elasticity within the skin's structure, but rose can be very effective at keep this 'drop' at bay. A combination of rose, sweet almond oil and pomegranate seed oil helps strengthen the skin from within. Massage into skin or add a drop or two to your moisturiser for a bespoke boost.
The Fragrance
Chloe Fleur de Parfum, £46.50
The Chloe family of rose-based perfumes is one of the most popular in terms of signature scents, and this new incarnation incorporates the verbena flower and cherry blossom for a whole new, but no less beautiful, imagining of this favoured scent.
The Body Lotion
Le Labo Rose 31 Hand and Body Lotion, £44
You'll fall in love with your skin all over again once you try this lotion. It softens and protects your skin, while covering you in a rose-scented veil of perfume.
The Balm
Jurlique Rose Love Balm, £10
Enriched with vitamin E, olives, soybean oil and safflower oil, this rose multi-use balm softens lips and can be used anywhere on the body—hands, face, elbows—where your skin needs a little extra love.
The Hair Mask
Christophe Robin Cleansing Volumizing Paste, £42.50
French hair guru Christophe Robin has harnessed the power of rose water and Rassoul clay in this cleansing hair mask, which leaves your locks thicker, stronger and super soft.
Love this? For more beauty tips, news and tutorials see what's new on Beauty Unboxed today.