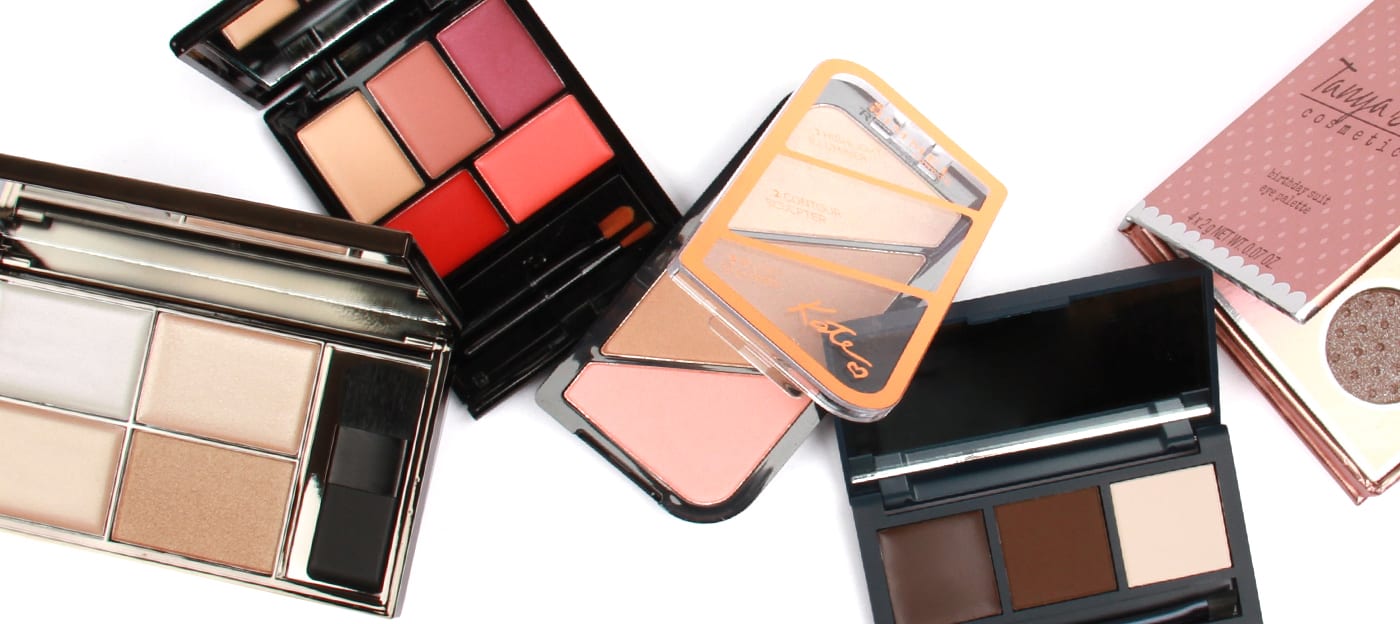 A new foundation, that lipstick you've been eyeing-up for a while, the concealer you've seen people raving about on YouTube – there's no doubt about the fact we get an endorphin rush with each and every single purchase. But sometimes, we need to save the pennies: enter the brilliance of the cheap makeup palette.
Palettes are a great way forward if you're after a combination of eyeshadow hues, lip colours or shades to sweep across your lips in one pretty compact. If they do a great job and cost less than a tenner, even better!
So if you're currently watching the budget but still need new some makeup, here are some of the best palettes around, each coming in at under £10…
Makeup Revolution Fortune Favours the Brave Palette, £9.99
A 30-shade palette created by British Beauty Blogger herself, Jane Cunningham, that allows you to create anything from the subtle subtle and sheer to the dramatic and bold. Be particularly taken by the fact that whatever your skin tone or eye colour, there's a mix of shades within this affordable palette that will bring out the best in you.
Tanya Burr Birthday Suit Eye Shadow Palette, £5.99
Everyone needs a wearable palette of nude, tonal browns and buffs. Why? Because although they may look fairly 'beige' from the outside, the power of brown is that it can instantly brighten and make eyes look bigger. This little quad contain the four perfect shades for a suits-all, must-have for any makeup bag.
I Heart Eye Shadow Slogan Palette, £7.99
On first glance this looks like it contains every colour under the sun, but actually if you love to experiment there are some brilliant 'wild' shades, with some amazing colour pay-off, that'll put some fun into your style. Though it may be an eyeshadow palette, the pigments are bold enough use with water to create a liquid liner, or as highlighters and contour colours.
Freedom Pro Lipstick Palette x24 Naked, £10
A nude lip has long been a staple of a chic, underdone style. Victoria Beckham loves hers, and can work with a multitude of looks, and is often the perfect anchor to a smokey eye. But how do you find your perfect nude? It's actually harder than you think, which is why this palette, with a kissable 24 shades of nudes to choose from, can help you create your very own, bespoke perfect nude.
MUA Paintbox Lip Palette in Rose Rouges, £4
We're fairly confident you have more than one lipstick already, but lip palettes can help you add life, colour and 'oomph' to the colours you may already have in your beauty arsenal. The matte and gloss shades within this cute, handbag friendly kit mean you can add depth to a creamy lip, bring life to a matte stick or turn a stain into a longwear cream lipstick.
Rimmel Kate Moss Moss Sculpting Palette in Coral Glow, £6.99
We all know the power of a contour; the way it can slim the face, lift the cheekbones and sharpen up your entire look. This clever palette means you can create light and shade, but with the prettifying blusher you're also left with something that looks natural and effortless.
Sleek MakeUp Highlight Palette in Precious Metals, £9.99
There's shimmer and then there's shimmer, and if you love your look to look 24-carat then this palette adds the Midas touch to your highlight. Rather than looking metallic on the skin, they actually give a high shine, can't-miss-it finish to your skin. These tonal shades allow them to blend seamlessly into any skin tone for a very flattering and easy-to-wear finish.
Makeup Revolution Ultra Brow Palette, £7.99
Yes, brows frame the face, but they also complete any look. A little brow-grooming goes an awfully long way and this kit gives you everything you need to shade and sculpt and add definition. Choose from either the Fair to Medium or Medium to Dark palette.
Love this? For more beauty tips, news and tutorials see what's new on Beauty Unboxed today.