Getting excited about next winter may seem like jumping the gun slightly when we're just getting our head around spring's impending arrival, but it's time to think a few seasons ahead as the fashion and beauty world converges for four weeks dedicated purely to autumn/winter 2015.
These coming weeks will define what we'll be wearing – but your new season wardrobe is just the half of it. Hours before a fashion show even begins, beauty pros are busy backstage shaping the hair and make-up trends for September and beyond. Ok, so the looks we see on the runway may sometimes seem a little bold for us to wear on an average day in the office, but these mini works of art will trickle down to the high street, inspiring us to recreate and interpret them as we choose.
This season, we wanted to give you an insider's glimpse of things to come. From new beauty products we'll all be using and tricks the pros use to achieve each look to the topic of conversation on the front row (cough, fashion week tears from baby North West) and the juices just about EVERYONE was – and will be – drinking.
Juice Press
Bottoms up! It would be an understatement to say there's a craze over juicing at the moment. Anyone who's anyone is after a glass of the green stuff – and we're not surprised when you consider the wellbeing benefits. From concoctions created to boost energy levels to tasty blends that give you luminous skin, just about everyone at the New York shows was seen with a bottle of Juice Press in their (frost bitten) hands.
The great baby FROW debate
Should toddlers be on fashion's front row? We've become pretty used to seeing the likes of Harper Beckham perched on the front row of Victoria Beckhams's biannual show, but fashion week tears from a certain North West in the middle of daddy's show (Kanye's collection for Adidas was shown on Saturday) caused widespread debate. Yes, Kanye, she may have just been "scared for her daddy" – or maybe it's just that she's a toddler, and probably needs a nap?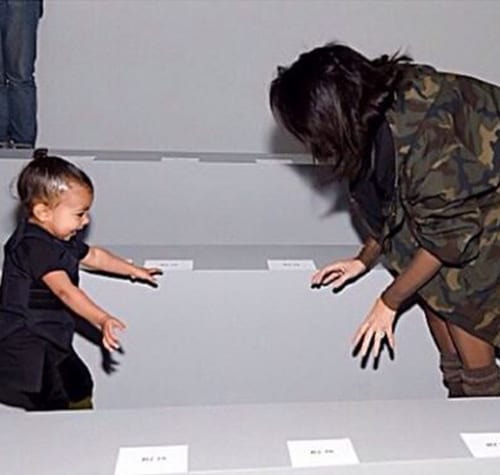 The made-to-measure facial
Ever wondered how models keep their skin looking radiant and flawless – despite the lack of sleep during fashion month? Well, at the New York shows, special thanks were paid to the complexion-enhancing benefits of the bespoke facial. Sheet masks were used at Victoria Beckham to provide quick hits of hydration, while at Charlotte Ronson Skyn Iceland's facialist applied Hydro Cool Firming Face Gels in a patchwork-style to parts of the face that appeared parched. The clean, fresh and utterly dewy faces that went down the runway shortly afterwards are reason enough to give it a go pronto.
Hair decor
One thing's for sure, hair stylist Orlando Pita has a thing for hair accessories this season. Beautifully wrapped pony tails led the way at Carolina Herrera and according to the man himself, they are an 'easy update to bring a little more drama to an evening look' – you could even recreate the look by wrapping a GLOSSYBOX bows around your pony! Meanwhile, the Derek Lam girl sported a handmade leather hairband – once again, courtesy of the one and only Orlando Pita.
Undone hair
It's time to go eau naturel – well, kind of. 'Undone' was the word on many a hair gurus lips, as natural texture, worn-in styles and tousled tresses were the name of the game, from beautifully soft, natural waves at Rodarte to a messy texture at Jason Wu. It was a celebration of personal style, as the likes of designer Misha Nonoo encouraged models to create their own textured, low pony tails in a bid to 'champion the hair's natural beauty'. Hear, hear.  And what's more, a bottle of texturizing spray is all you need – it's all about texture and movement. We love Kerastase K Spray A Porter Tousled Effect Spray, £19.95 and TRESemme Perfectly Undone Wave Creation Sea Foam, £5.49.
Twisted buns
Whether it was neatly coiled knot-like chignons or messy twists, buns reigned in New York – providing the perfect up-do alterative to undone hair. At Vera Wang, stylist Paul Hanlon messily pinned hair back, with a few strands swept across the forehead. Meanwhile, the creative hands of Orlando Pita at Diane Von Furstenberg sculpted sophisticated knotted buns at the nape of the neck. We love!
Curve-line Nails
When nails weren't nude, they heralded a loose take on chevron nail art. Essie manicurist Michelle Saunders created a curved squiggle at Rebecca Minkoff, separating black and red hues to perfectly reflect patterns in the collection.
The diamond touch
It was all about sparkles. NARS make-up artist James Kaliardos placed delicate Swarovski crystals under the lower lash line to 'add depth and shine' to the eyes of girls at Rodarte, while at Carolina Herrera we witnessed MAC Pro Silver Glitter being sprinkled over the eyelashes.
Lips go nude
We love a red lip as much as the next person, but the peachy, skin-toned hues painted on models at the likes of Proenza Schouler, Altuzarra and Diane Von Furtenberg (need we go on?) left us reaching for a more subtle shade and we're not waiting for September. Think light pinks, nudes and, dare we say it, lightly patting lips with concealer.
Grit and glamour
If the autumn/winter shows didn't bring us a bout of deep tones, we'd be disappointed. We're talking smudgy black lines, the deepest of rouge lips and the fairest of washed-out complexions known to man. Alexander Wang being the prime example, with buzzwords including gothic and grunge – bring on winter we say!
Imagery: Mac Cosmetics Instagram, Kim Kardashian Instagram, Orlando Pita Instagram, Juice Press Instagram, Skyn Iceland Instagram