Estée Lalonde, the beauty blogger behind Essie Button, talks us through the hero products that have earned pride of place on her bathroom shelf…
"I've been through many different beauty stages, but I always seem to come back to a more natural aesthetic: tinted moisturiser, mascara and some lipgloss.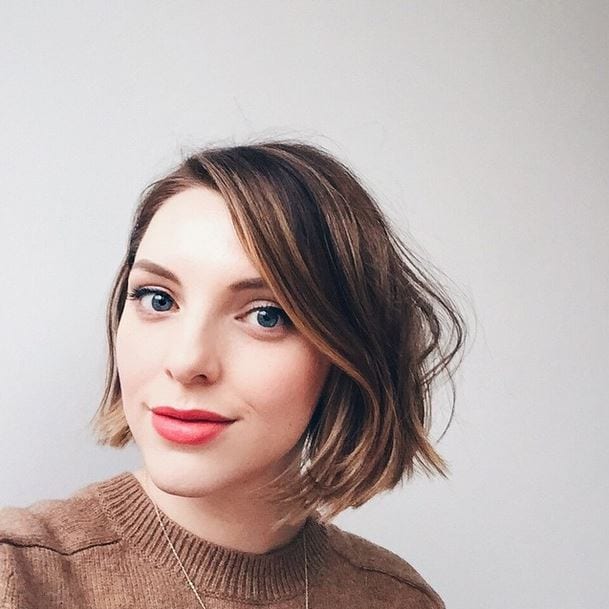 I'm a less is more kind of girl, but I still love to experiment with different products. I remember trying a really abrasive exfoliator as a pre-teen and thinking it was the best thing ever! As far as I was concerned the redder my face, the more a product was working!
Now I have a trio of gentler masks. GlamGlow Thirsty Mud Mask, £49.99 is like a big drink of water for skin and it smells like summer in a jar! When I'm dealing with hormonal breakouts, I immediately grab Aesop Chamomile Concentrate Anti-Blemish Masque, £33. It's intense, so I always follow it up with a hydrating moisturiser. I would be lying if I said I wasn't drawn to Tata Harper's products because of the packaging, but this Resurfacing Mask, £44, turned out to be amazing at combating blemishes and creating a gorgeous glow too!
A product that has done wonders for my blemish-prone, sensitive skin is Pai Instant Calm Redness Serum, £42. It's very lightweight, so it doesn't feel like it's clogging my pores. Another not-so-secret weapon is La Roche Posay Serozinc, £7.20. an ultra-fine mist that I use before my moisturiser. I had heard so much hype about Kate Somerville Goat Milk Cream, $65 and you have to try it to understand why. It's a gentle, simple and effective moisturiser that does what it says on the tin and I love its ultra-hygienic dispenser.
I am a cleansing balm obsessive: not only do they remove make-up, but they are incredibly moisturising too. I've tried many but I recently discovered Omorovicza Thermal Cleansing Balm, £46 and have bought it twice since! I've used The Body Shop Vitamin E Cleanser, £8.50 since school and I still keep one in the shower to cleanse with every morning.  And it wouldn't be a shelfie without some Bioderma, £10.20, would it? This is an ultra-gentle make-up remover that works like a charm. I said I was obsessed…!
For night I love a heavy-duty eye cream such as Kiehl's Creamy Eye Treatment, £33, which is bright green due to the avocado it contains. I rub it between my fingertips before applying it so it's easier to blend around the eye area. Rose scented products are also a favourite: Estelle & Thild Biodefense Instant Recovery Night Cream, £41.90. is not too rich, or too light – it's just right.
Facial oils are wonderful things, but Kiehl's Midnight Recovery Concentrate, £36 is the magical blue jar that fixes everything! Whenever I use this one I wake up with glowing, moisturised and happy skin – even my boyfriend is hooked!"